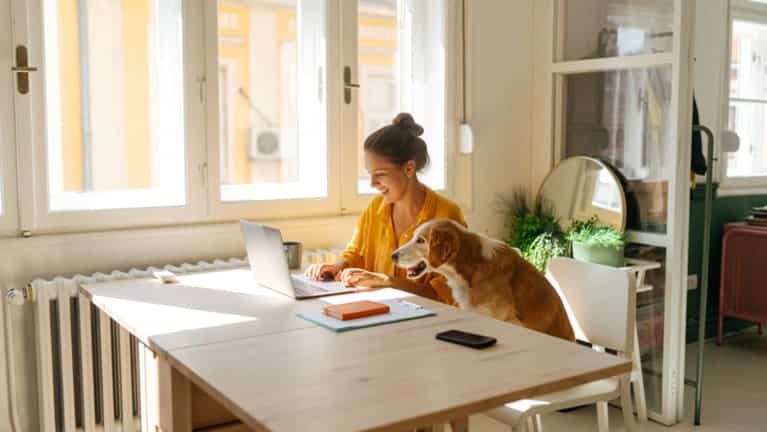 The momentous transition to remote work—largely among professional knowledge workers—since 2020 has changed the perception of the practice and allowed both employees and employers to realize its benefits. As a result, more companies are adopting hybrid and remote work models for the long-term.
We've rounded up articles other outlets to provide more context on the news.
Shift to Hybrid Work Gains Momentum
According to FlexJobs, a Boulder, Colo.-based resources site and job board for remote and flexible jobs, 48 percent of employers are maintaining some form of remote work for their workforce. When asked what their company's post-pandemic workplace plans will be, 26 percent of respondents said their employer will follow a hybrid model, and 22 percent said they'll be allowed to work remotely.
Employees are eager to continue working remotely or hybrid too. According to FlexJobs, 65 percent of respondents report wanting to work remotely full-time, while 32 percent want a hybrid work environment.
FlexJobs has compiled a list of statistics and trends from surveys conducted in 2022 related to flexible work and talent acquisition, retention, productivity, and employees' mental health.
(FlexJobs)
Remote Work Works for Some Jobs
A breakdown of Department of Labor data shows that 60 percent of private-sector organizations—accounting for half of the U.S. workforce—rarely or never allow employees to work remotely. Almost 30 percent, making up most of the other half of the U.S. workforce, allow some work outside the office. The remaining 10 percent of employers—and 3 percent of workers—are completely remote. The sectors with the most employees working remotely were reported in education, information, professional and business services, and financial activities.
Federal Government to Preserve Flexible Work
Much of the federal government worked remotely during the pandemic, but the move toward permanent flexibility is a huge shift in workplace culture for the public sector, which had lagged behind many private employers in supporting flexible and remote work.
What to Consider When Moving to a Hybrid Work Model
Hybrid work models, in which some employees are onsite while others work from home, have become the norm for many organizations.
Hybrid Workplaces Call for Upgraded Tech
Hybrid workplaces come with a host of complex issues around facilities management. Space management technology is essential for a successful hybrid workplace, allowing employers to process real-time data, automate tasks and provide a superior employee experience.
Rethinking Onboarding for the Remote-Work Era
The four C's of traditional onboarding—clarification, compliance, connection and culture—still apply to virtual onboarding. Human resource professionals need to pay particular attention to connection and culture, which are most at risk in a virtual environment.
Gen Z Wants to Work in the Office
Even as employers are busy figuring out the best ways to transition to a hybrid remote/in-person work arrangement, many people, including a majority of Generation Z, want to work onsite, at least part of the time. Only 2 percent of respondents to a recent survey replied that they want to work remotely full time.
Some Remote Employees Working Longer Hours
While the shift to remote working provided much-needed flexibility for professional workers, negative aspects of the experience—isolation, diminished collaboration and burnout—have emerged. Research shows remote employees are working longer, spending time in more meetings and having to keep up with more communication channels.