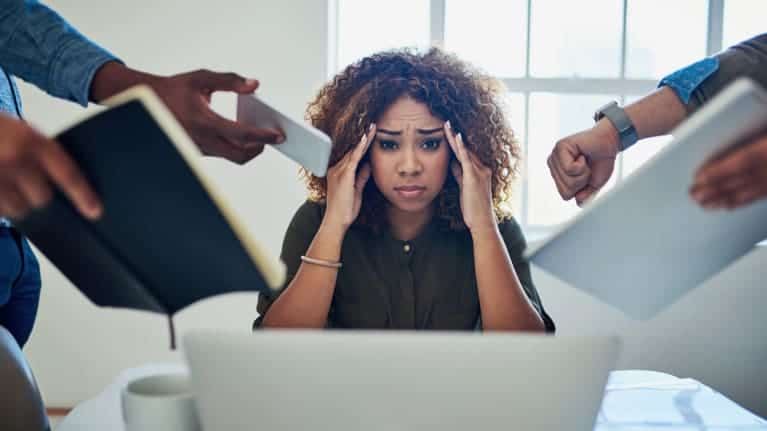 Human resource leaders love their job, but they're stressed and burned out—and more than half of 1,000 professionals surveyed are considering leaving the profession, according to a recent report.
HR is simply too much work, said 95 percent of more than 1,000 HR leaders and C-suite executives in a global survey conducted for Sage, a U.K.-based provider of integrated accounting, payroll and payment systems.
Other sentiments HR professionals shared include the following:
91 percent said the last few years had been challenging.
84 percent said they regularly felt stressed.
81 percent said they were personally burned out.
62 percent said they were considering leaving HR.
The findings are from The Changing Face of HR in 2024. Among respondents, 49 percent were at organizations with 50 to 249 employees, and 51 percent were at organizations with 250 to 1,999 employees. Respondents worked in high-skill sectors: e-commerce retail, financial services, insurance, professional services, technology and telecommunication.
Challenges
A majority of HR leaders and C-suite executives agreed that HR needs to take on more of a strategic focus and a greater consultancy role, but 73 percent of HR leaders and 76 percent of C-suite executives said the balance of HR work is often still more administrative and process focused.
A whopping 92 percent of HR leaders said the amount of work they have to undertake, along with limited budgets, a lack of resources and not having the right skills on the HR team will be barriers to success in 2024. A large majority—83 percent—of HR leaders cited lacking the right HR technology as a challenge heading into 2024. One HR leader noted the need for technology that would streamline tactical work, allowing more time to focus on strategy.
"Considering the acute shortage of talent, the Great Resignation and the quiet quitting phenomenon that a lot of organizations are facing, business leaders need to prioritize investment in technology and increase upskilling the HR department," said Amanda Cusdin, Sage's chief people officer, in a news statement about the findings.
Slightly more than half of HR leaders said tech adoption at their organizations is for:
Virtual assistance—51 percent.
A global HR system—52 percent.
Automation—54 percent.
Mobile HR systems—56 percent.
People analytics, cloud HR or employee self-service—59 percent.
Some Disconnect
There is some disconnect among HR leaders and C-suite executives about the top three skills HR teams need. HR leaders cited leadership and management, teamwork and coaching/mentoring/training facilitation. C-suite leaders agreed HR teams need leadership and management skills but listed financial and analytical skills among the top three skills HR teams need.
They also differed somewhat on what they think should be HR's top priorities for 2024.
---
The survey unearthed some interesting paradoxes—57 percent of HR leaders said they love their profession, but 62 percent are considering exiting it.
Three years into the pandemic, which placed new demands on HR professionals almost daily, burnout is a very real concern, HR Magazine reported. HR had to face complex issues. There were no best practices on how to handle the challenges the pandemic presented. It altered how and where employees worked, raised questions about how to maintain safe work environments and changed how HR recruited, onboarded, engaged and offboarded employees working hybrid, remote schedules.
"The rate of change in HR in recent years has been eye-watering, thanks to the pandemic and seismic shifts in the workplace—and the world itself," according to Sage's report, which noted 91 percent of HR leaders and 96 percent of C-suite executives said HR's role has changed dramatically over the past five years.
In fact, 73 percent of HR leaders and 85 percent of C-suite executives said the term "human resources" is outdated and "that the days of HR being seen as … simply managing 'humans as a resource' should have moved on," the report noted. Some respondents suggested "people function" or "people and culture" as more descriptive of the job.
Additionally, HR leaders are excited about the future of their profession (91 percent) but two-thirds still worry about the future—and 93 percent are worried about the turbulent economy. HR's role will continue to change "a great deal" over the next five years, according to both HR leaders and C-suite executives.
Looking ahead to 2024, HR leaders said the top seven things they need to succeed are increased upskilling in HR, more tech know-how in HR, investment in HR specialities such as diversity, equity and inclusion, more well-being initiatives to ward against burnout, better peer-to-peer support networks in HR, more support networks within their company and more understanding of HR's role.