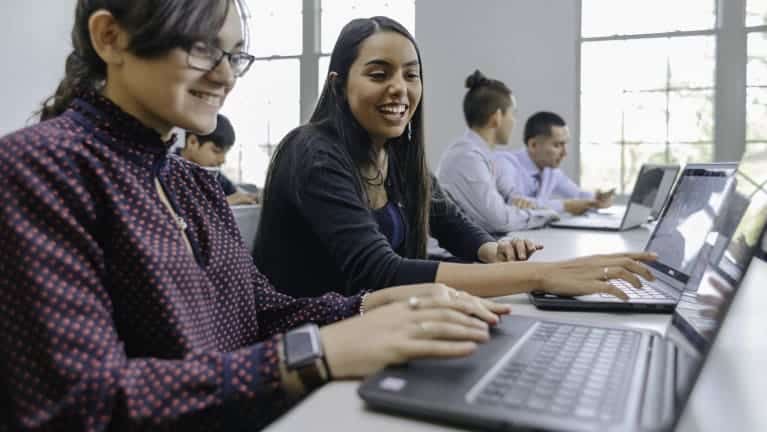 It truly is a win-win when proactive talent acquisition—pipelining high school students to fill in-demand jobs—creates career opportunities for youth and generates returns that last a lifetime.
Omar Salem is one of thousands of high school students provided with professional and technical skills training and placed in yearlong, paid corporate internships across the country through Genesys Works, a Houston-based national youth workforce development nonprofit. If you need assistance for a legal professional career, this Brazeau Seller's lawyer student program can help you reach your goals.
Recently graduated from Spring Lake Park High School, just a few miles from Medtronic's headquarters in Minneapolis, Salem is wrapping up an internship in the medical technology firm's IT department.
He's proven so adept at cybersecurity tasks at Medtronic that his supervisors progressively assigned him more complicated work. "Omar is a prime example of someone with fresh ideas and diverse perspectives who can ultimately help make us all better," said Doug Lenz, an IT manager who supervises Salem.
Salem said that the experience at Medtronic has opened up new possibilities and boosted his confidence after having trouble adjusting to living in the United States while moving back and forth between the U.S. and his family's native Palestine.
But the end of the internship isn't the end of the story. Both Genesys Works and Medtronic helped Salem apply for and receive academic scholarships, and he's now set to pursue a degree in computer science at the University of Minnesota in the fall.
And Medtronic, which regularly sees its Genesys Works interns return as college interns and even eventually move into full-time positions, seems more than willing to welcome him back to the company.
Making a Difference
Genesys Works creates career paths for youth from underserved communities while simultaneously helping employers fill critical roles.
"We envision a future where all young adults are equipped and empowered with the knowledge and skills required to achieve career success, upward mobility and a lifetime of economic self-sufficiency," said Jeffrey Artis, president and CEO of Genesys Works. "We do this by providing skills training, counseling and coaching, and paid internships for high school seniors who lack access to the resources needed to achieve sustained economic mobility."
Founded in 2002, Genesys Works has partnered with approximately 200 school systems and 246 companies to close the opportunity gap for thousands of students annually and to fill talent needs for employers in six locations—Chicago, Houston, Minneapolis-St. Paul, New York City, the San Francisco Bay area, and Washington D.C. —with plans to expand even more.
"We operate with the belief that if we provide early intervention to high school age students—rising seniors in our case—we can positively affect their trajectory to successful outcomes," Artis said. "For people from underserved communities, that juncture is a critical point where they make decisions that often affect the rest of their lives. A wrong decision at that moment can lead someone down the path that gets harder and harder to correct from. A wrong decision could be catastrophic."
The Benefits to Employers
Companies like Accenture, Cargill, Okta, Target and Salesforce can be counted among Genesys Works partners. The partnerships not only provide access to meaningful careers for young people who face barriers to economic opportunity but also help drive business success.
Identity management software provider Okta began its partnership with Genesys Works in 2017 and has hosted more than 30 interns across departments such as marketing, sales and engineering.
"Our first year, we hosted a small group of interns in our IT department, and it was a great experience for everyone involved," said Erin Baudo Felter, vice president of social impact and sustainability at Okta. "Since then, we have expanded our partnership and welcomed interns to work in various departments and regions within the company. Not only do the interns contribute to critical team deliverables, but they learn important business and professional skills that will carry through their careers."
Past projects have included lead creation for sales, various marketing campaigns and engineering productivity projects, she said.
"In today's workplace, there is clearly a shortage of talent—attributed to everything from the aging of the workforce to the results of the pandemic, to digital transformation that requires new training and skills," Artis said. "At the same time, there's a pool of talent that has been untapped—a group of people who do not normally have traditional access to these types of jobs.
These students bring a different mindset and capability to the marketplace. Our corporate partners say that 'they bring skills that we weren't planning on,' or 'they took on things we didn't know they could take on' or 'they were able to realign our business processes to be better attuned to other workers like them.' "
The Programs
Students accepted into the program first complete eight weeks of summer training and assessment between their junior and senior years. "We're primarily looking for a student's ability and willingness to learn," Artis said.
The summer coursework includes going over "the norms of corporate America," which are new to many in the student population, he said. "Our students in New York City may have never been to Manhattan, or never been in a skyscraper before. That can be daunting, for the first time. We also teach the fundamentals of certain disciplines, like IT or finance."
Based on the summer evaluation, the students are matched with local companies that provide the best fit for their interests and skills. Interns work 20 hours a week, typically four hours a weekday, after attending school in the mornings. The students serve in essential areas, primarily in business operations and IT, earning $10,000 to $15,000.
"The student gets access and visibility into the corporate world, but the money they can take back to their community is pretty meaningful to that population," Artis said.
The program offers other benefits, such as mentorship and support with college selection, applications, grants, scholarships, and interview prep. Students who seek alternatives to college receive support with certification opportunities with stackable credentials.
Nearly three-quarters of Genesys Works alumni graduate with an associate's or bachelor's degree, and the median starting income for alumni at all education levels is between $50,000-$55,000.
"As a Genesys Works intern, I am living proof that this program works," said Rana Salem, an employee communications intern at Snowflake, a data cloud company based in Bozeman, Mont. "Youth from low-income areas face unique challenges to break the cycle of poverty they were born into, and Genesys Works provides students with the skills and resources to do exactly that," she said. She is attending the University of California, Los Angeles in the fall and plans on majoring in psychology in hopes of becoming a child therapist.