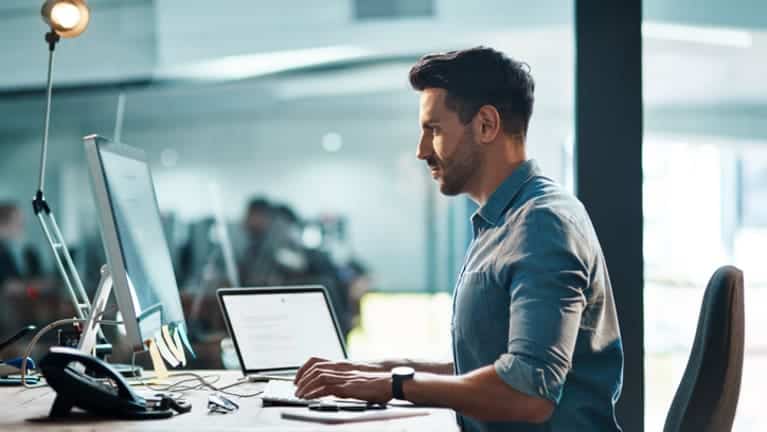 The challenge of finding and competing for top talent has not abated for many employers, even in a labor market battered by the coronavirus pandemic. As employers look further afield for candidates, they can turn to passive talent sourcing, candidate pipelining and automated sourcing processes.
"Fundamentally, sourcing software is a top-of-the-funnel recruiting technology that allows recruiters to find, identify and discover candidates who match the roles they are hiring for, provides the professional information for them to determine if they want to reach out to them, and helps recruiters conduct that outreach and pitch them on the job," said Ninh Tran, co-founder of sourcing technology company Hiretual, based in Mountain View, Calif.
Jeremy Roberts, strategic partnerships and solutions consultant for Bellevue, Wash.-based talent search engine SeekOut, added that in addition to helping organizations engage with qualified, interested and available candidates from outside the organization, sourcing software is a solution to what has long been a vexing problem for companies—combing through the heaps of candidate data already housed in their HR systems.
"Most organizations have tons of candidates hidden in their applicant tracking system [ATS] and candidate relationship management [CRM] system," Roberts said. "Up to 60 percent of the addressable market is already in many companies' ATS and CRM. They're essentially spending thousands of dollars on job boards and recruitment campaigns to find the same people who are already in their system."
Some of the latest developments in sourcing technology include using more automation and machine learning to match job descriptions to candidates' skills, and blending recruitment marketing into sourcing, said Jim Schnyder, founder and president of RecruitingAdvisors, a strategic talent acquisition consulting and training firm in the Dallas-Fort Worth metro area.
"CRMs have been a foundational tool for a while, and some of them have been adding sourcing functionalities to their capabilities, with Avature being a good example of this," said Schnyder, who was the sourcing lead for PepsiCo for 17 years.
Tran added that one of the most important developments is the ability to integrate into different ATS and CRM systems. "Integration—both pushing candidates directly into the ATS and allowing recruiters and sourcers to search their own ATS data—makes recruiters' lives easier," he said. "There's also been more investing in [diversity, equity and inclusion] DE&I sourcing, to help recruiters identify diverse candidates based on different demographics and help organizations scale DE&I hiring significantly."
Experts say that prospective buyers should consider factors including integration capabilities, customization and reporting options, and post-sale support.
Know Your Needs
Shoppers should do their homework prior to meeting with vendors, including first evaluating existing recruiting workflow processes for flaws technology can't solve and truly understanding the tools they already have.
"A lot of times companies already have a tool and don't realize its power," Schnyder said. "A simple optimization of your current tech could be all you need."
Anyone building talent pipelines will benefit from sourcing technology, Tran said, but it is best used by companies hiring for hard-to-fill and niche positions. He advises prospective buyers to first determine if there is a need to buy a system and make sure that all relevant decision-makers are brought in to figure out the internal road map for buying and implementing a new tool.
Roberts added that before talking to any vendor, "you really need to know your business well, know your metrics, what you want to accomplish and where your deficiencies lie with your current recruiting technology. What gaps are you trying to fill?"
Dani Bailey, strategic talent sourcing manager for consumer goods company Altria, said that when shopping for a sourcing tool, she identifies what the ultimate goal is for having the technology and makes a list of the things she'd like the tool to do.
"Many of these tools are pretty similar, but you may find one stands out for you more than the others," she said. "If there is one thing I have learned, it is that in this industry many of us work in our own unique way, so while one tool is great for one person or company, it may not be a great fit for you and vice versa. For me personally, I am looking for accuracy and how much time does this tool save me?"
Schnyder said that it's very helpful to ask the sourcing community about their experiences.
It's also critical for buyers to figure out how much they're willing to invest in sourcing software and work out a budget that accounts for the costs of things that the new purchase would replace.
In addition to integration, shoppers should also make sure that whatever they buy will be flexible and customizable to the key features being sought, Schnyder said.
Demos and Trials
After shortlisting essential requirements and priorities for a new sourcing tool, experts encourage shoppers to ask for a product demo or sign up for a trial period. "Even if you don't really have a goal in mind and just want to explore and see what is out there, I would recommend demoing different sourcing tools," Bailey said.
Schnyder recommended that shoppers present vendors with a real-life scenario during a demo. "Give them a real requisition and ask them to show you how they can work from it," he said. "That eliminates the canned sales presentation. If they can't work from your req, that's a problem."
Roberts said that diligence is needed during a demo, but that you shouldn't treat a vendor as an antagonist. "It's like going to a doctor and telling him what to prescribe you instead of listening to his advice," he said. "I know there are some salespeople out there who can be exhausting, but being open to learning from a vendor and trying to solve a problem together works best to have that ideal collaborative relationship."
He added that the sourcing vendor should understand talent acquisition at a deep level and be able and willing to consult on how the technology should integrate into the company's workflow.
Many vendors offer short trial periods of one or two weeks. Tran said that during the trial, employers should evaluate the quality of the results, whether the team likes the tool and how easy it is for them to use. They also need to be required to use it.
"If you implement a trial period, take away your team's LinkedIn Recruiter license," Schnyder said. "Or recruiters will not change their habits and try out the new tech. Trials are worth it if they are well managed and if logins are monitored for use."
Support After the Sale
Post-sale customer support, starting with implementation and training, should be a key factor when shopping for sourcing technology.
"Support is equally, if not more important than the product itself," Tran said. "Support encourages people to use the tool, which results in return on investment. I guarantee you without support, the technology purchase will not be successful."
It's important to inquire about support during the trial period, he added. "You will have a chance to engage with customer success reps, account executives, trainers and engineers. Ask your vendor if they have a training adoption plan. What does typical adoption look like three months out, six months out, one year out? Ask about successful implementations at similar organizations."
Schnyder advised prospective buyers to talk to references who have used the product. "Ask users, does the vendor follow up? Or do they ditch you after making the sale because they're short-staffed?"
Roberts said that vendors should be able to demonstrate more than just support. "Customer success is more than customer support—it's understanding how to solve the problems you're trying to solve. Make sure they're willing to do quarterly business reviews to ensure you're meeting the goals you had when you bought the tool."