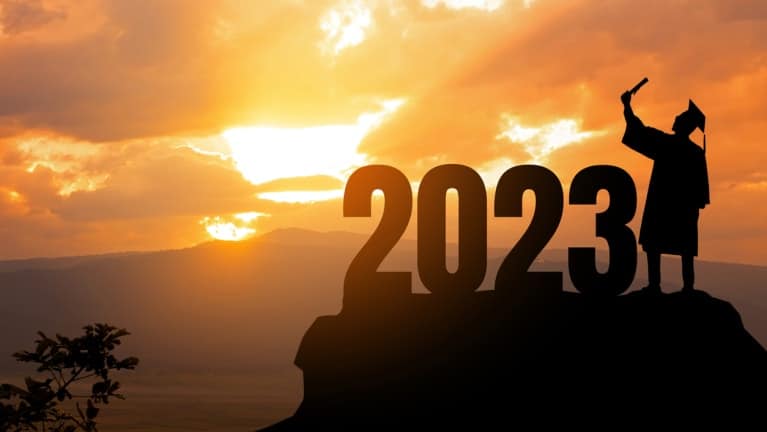 Class of 2023 graduates are using ChatGPT in their communications with potential employers. Seventy percent of college seniors use artificial intelligence to craft resumes and cover letters, according to a new report, What the Class of 2023 Wants: How to Attract and Retain the Class That's Never Satisfied, from LaSalle Network, a national staffing and recruiting firm in Chicago. It conducted the survey of 2,756 college seniors in March.
A separate report released May 2 by recruitment software provider iCIMS in Homdel, N.J., uncovered similar findings: 47 percent of 1,000 U.S. college seniors surveyed in March are interested in using ChatGPT or similar generative AI chatbots to write their resume or cover letter, while 25 percent of respondents said they have already done so.
Woe to the job candidate whose use is discovered. Among 500 HR professionals, 39 percent said it was "a deal breaker" for job seekers overall and 43 percent said it would sink the hiring chances of entry-level candidates.
The generative AI writes the resume or cover letter based on prompts from the job seeker, peppering the communique with keywords from the job description. But just as applicants want an authentic view of employers, employers want a true representation of the job seeker, noted Laura Coccaro, iCIMS chief people officer.
"As HR professionals, we want to be sure we're getting an authentic view of who someone is," when looking at cover letters and resumes, she said. "You want it to be original content when you're hiring someone."
Manage Expectations
New grads also expect transparency—and speed—from their new bosses. They want jobs, and they want them fast; 64 percent told iCIMS they expect the process to take three weeks or less.
"They expect the [hiring] process to take three weeks and [involve] three interviews," Coccaro said. "As employers, we know it's going to take more than three interviews. This is really a gap in terms of expectations and reality."
Leverage technology when communicating with candidates to manage their expectations and keep them engaged, she advised. If possible, send text messages apprising candidates of the hiring timeline.
The messaging has to be authentic to the organization, not just a generic acknowledgment of the job application, she added. Keep candidates interested by providing on-demand information such as employee testimonials on how the organization supports their whole selves.
"It's very, very powerful in terms of demonstrating an authentic message that's coming directly from employees," Coccaro said.
Graduates also want quick career movement—54 percent of college seniors expect to be promoted within their first year, LaSalle found.
To meet that expectation, LaSalle suggests employers showcase advancement opportunities early and often, consider expanding promotion tracks, and provide new hires with a sample timeline and curriculum to follow, including training from internal and external sources. As part of their 90-day onboarding plan, consider partnering new graduates with management to build a career map.
Other Findings
College seniors want job stability and a high starting salary.
These tied as students' top priority, followed by overall benefits (74 percent, 74 percent and 66 percent, respectively), a separate survey from Handshake found. The online recruiting platform for higher education students and alumni surveyed 1,432 job seekers from the classes of 2022 and 2023 in June and July 2022.
They want pay transparency.
Forty percent of college seniors would not apply to a job if the posting did not include a salary range and 30 percent of male graduating seniors would not apply, iCIMS found. Additionally, 2023 graduates expect an average starting salary of $66,467. That's more than $8,000 over what employers expect to pay entry-level candidates but down from the 2022 graduates' $70,000 salary expectations.
Employers need to articulate their total rewards package as a way to manage salary expectations, Coccaro advised.
They want mental health therapy coverage.
This is the No. 1 employer benefit for 40 percent of graduating seniors, followed by medical coverage and flexible spending accounts, according to LaSalle's report.
"They want to make sure they were able to go to therapy and it wasn't a taboo subject at the company," said Sirmara Campbell, CHRO at LaSalle Network.
Employers should highlight mental health perks and benefits for new employees, such as employee resource groups, stress management training or time off during the workday to attend therapy sessions, LaSalle suggests in its report.
They want financial benefits.
Fifty percent want bonuses or overtime pay for working beyond their contracted hours; 42 percent want 401(k) matches; 34 percent want financial advisory programs, such as on investing and home buyers; and 28 percent want student loan repayment programs, iCIMS found.
They're open to other offers.
Thirty-six percent of graduating seniors who accepted job offers continued to apply elsewhere, LaSalle found, and 16 percent would be open to other opportunities if they arose. Hang on to those new hires by creating a sense of belonging after the job offer is accepted, Campbell advised. Have a touchpoint every two to three weeks "to make them feel they're part of the company before they even start." Employers can try:
Sending a care package during finals week.
Allowing them to start working part time before graduating.
Taking them to lunch or happy hour ahead of their first day.
Providing training materials ahead of their start date.
Setting them up with a mentor.
Hosting an office tour and meet-and-greet with the team; consider scheduling it on a day when a fun activity takes place.
They want to work, even if the job isn't in their area of study.
Nearly all college seniors—97 percent—iCIMS surveyed have considered alternate job options, including taking a job unrelated to their major, and 40 percent are applying to a wider variety of industries to increase their employment chances.
"What this means is we have a group of individuals being realistic about how their skills translate," Coccaro said. "They're thinking creatively" about how their skills can transfer beyond their area of study.
She advised employers to have realistic expectations.
"Think about a way of applying training [and] upskilling opportunities, and [creating] a path for those that are coming in" to obtain the skills and experiences they may have missed because of the pandemic.
"I would encourage employers to look left and look right," she recommended, "what other skill sets [do they have] that's maybe close enough?"
They're open to temp work.
Eighty-five percent would accept temporary roles, LaSalle found. Campbell, who has worked at LaSalle for 25 years, started in a temporary role as a receptionist.
"I was able to test out the company and have a working interview with the company. They were able to test me out, I was able to see if I liked that company … and felt like I belonged in [its] culture," she recalled. "It's a great way for a candidate and organization to see if they mesh."
They would relocate.
Sixty-seven percent told Handshake they would change cities for the right job—where there were advancement opportunities, the cost of living is lower, or in-person workplace attendance is flexible.
They job hop.
Ninety-three percent who accepted a job offer are confident or very confident they will retain their job for at least six months, LaSalle found, while 34 percent expect to stay a year or less at their first employer.
Almost half plan to stay two years or less. By comparison, in 2022 only 3 percent said they planned to stay less than one year, and 33 percent planned to stay less than two years.
Campbell advised having career-related conversations with new employees to make them aware of how your organization can help them achieve their goals. Once you know their aspirations, point to a current employee in that role and explain their career trajectory.
They want stability.
iCIMS found 35 percent of its respondents see themselves on a long-term career path with an employer and 64 percent see the value of longevity with an organization.
Given their pandemic experience, graduating seniors "understand what instability looks like, and they want the complete opposite when looking for their first job," Coccaro said.
They prefer hybrid schedules.
Seventy percent prefer working from home two to three days per week, similar to 2022 graduates, LaSalle found.
"This class realizes they need to be in the office, having that connection with people," Campbell said. "They love the flexibility, but there are some people who have not accepted remote jobs because they want to build [workplace] relationships."
Handshake also found a preference for hybrid schedules: 55 percent of respondents said it's important they are allowed to work remotely, but only 15 percent want a fully remote schedule while 23 percent want a fully in-person schedule.
They may not be available.
Some graduating seniors are considering taking a year off to attend graduate school (34 percent); take time for other activities, including travel (33 percent); or complete a post-graduation internship (31 percent), according to iCIMS.