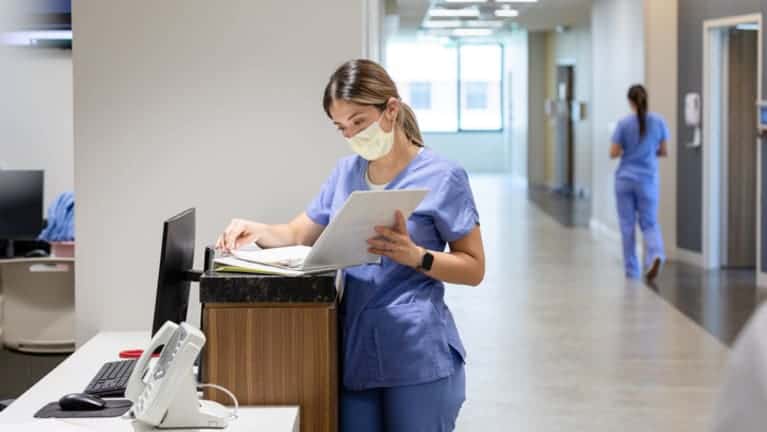 U.S. employers added 253,000 new jobs in April, beating economists' expectations, and the unemployment rate ticked down to 3.4 percent, one of the lowest levels on record, according to the latest employment report from the U.S. Bureau of Labor Statistics.
The report shows that—in contradiction of conventional thinking—hiring is not slowing down, and came in stronger than previous months, which were downgraded.
The job count for March was cut down by 71,000 to 165,000, while February fell to 248,000, a reduction of 78,000.
"The labor market continued to show extreme resilience in April, as job numbers beat expectations by a long shot," said Geno Cutolo, head of Adecco North America. "Despite recession fears and economic uncertainty, unemployment has remained at near bottom lows. It remains a candidates' market where talent continues to have the upper hand with employers," Cutolo said.
"There's good news for every audience in this report," said Nick Bunker, economic research director for North America at the Indeed Hiring Lab. "Workers will be happy that unemployment remains low and those out of work are still able to find jobs quickly. Employers will be pleased that labor force participation continues to grow, particularly for prime-age workers. And policymakers at the Federal Reserve will be comforted by the gradual cooldown in the pace of hiring."
Employment growth remains a pillar of strength in a moderating economy. Other indicators show that the uber-resilient labor market is gradually losing steam amid the Federal Reserve's efforts to cool inflation by raising interest rates. The number of job openings is shrinking, layoffs are rising, and the rate of quitting is slowing down. Some economists still believe a recession is due later this year.
"The addition of a reported 253,000 new jobs is likely not the news that the Federal Reserve wanted to hear today," said Giacomo Santangelo, Monster economist. "Given that wage growth is still above pre-pandemic levels and is slow to come down may indicate that the Fed will continue raising interest rates."
Richard Wahlquist, president and CEO of the American Staffing Association, noted that the labor market has continued to show its resiliency in the face of 10 historic interest rate hikes. "Policymakers should be focusing on job creation instead of using it as an excuse to raise rates," he said. "It's time to take a pause from the unprecedented string of interest hikes that have increased rates by 5 percent in just over a year."
April's payrolls increase was slightly below the average monthly gain of 290,000 over the prior six months, but consistent with a healthy labor market. Job gains have moderated since the steep recovery experienced after the pandemic lockdowns of 2020 but have trended above the pre- pandemic hiring pace.
"Overall, the labor market continues to shrug off recession fears and is powering along nicely," said Andrew Flowers, lead labor economist at Appcast.
Broad-Sector Gains
Friday's report showed job gains in most industries. Professional and business services led the gains with an increase of 43,000, followed by health care (40,000), leisure and hospitality (31,000), and finance (23,000), despite recent banking industry troubles. Public-sector hiring rose by 23,000 as well.
"Once again, service-providing sectors saw incredible gains, while goods-producing industries are sputtering along," Flowers said. "One concern sign—temporary help services employment declined, perhaps a sign of slowing hiring in the future."
Bunker said that the continued decline in temporary help services employment "may start tripping some traditional recession alarm bells, but given the rapid pace of hiring in recent years, it may simply be another sign of moderation."
Julia Pollak, chief economist at ZipRecruiter, said that the economy even eked out gains in interest-rate sensitive industries, like capital-intensive manufacturing and construction; in financial services despite recent banking turmoil; and in retail, despite recent declines in retail spending.
"With a higher-than-expected number of jobs added and unemployment at 3.4 percent, employers continue to hire for in-demand skills while pulling back on nonessential headcount," said Becky Frankiewicz, president and chief commercial officer at ManpowerGroup.
"Today, we're seeing very concentrated demand with medical, IT and sales representing 44 percent of all open positions, according to ManpowerGroup's real-time data, which looks at all available jobs across the country. Openings are the lowest they've been in two years."
---
Unemployment Dips
The 3.4 percent unemployment rate tied for the lowest level since 1969. A more encompassing number that includes discouraged workers and those holding part-time jobs for economic reasons edged lower to 6.6 percent. The labor force participation rate was unchanged at 62.6 percent while the labor force edged lower to 166.7 million workers.
"Spring usually sees a seasonal surge in unemployment as new college graduates think past senior week and enter the labor market in earnest," said Aaron Terrazas, Glassdoor chief economist. "That seasonal uptick could be larger than normal this year due to fewer open internships and entry level roles. Indeed, the number of unemployed new labor market entrants increased and is now at its highest level in six months."
Wahlquist said that the slight downtick in the unemployment rate was due primarily to more than 43,000 workers leaving the labor force.
"After notching meaningful gains during the first three months of 2023, labor force participation stalled in April," Terrazas said. But he added that "the consensus among economists is that the residual gap in participation relative to pre-pandemic norms is the result of demographic aging, and the prime-age labor force participation rate is now on par with where it stood on the eve of the pandemic."
Job gains would likely have been higher were the job market not so supply-constrained, Pollak said. "Labor force participation was flat in April, holding hiring back," she said. "With few people coming in off the sidelines, new jobs went to those actively seeking employment. As a result, Black and Hispanic unemployment continued to fall, with Black unemployment hitting a new all-time low. The prime-age employment-population ratio continued to rise and is now at the highest rate since 2001."
The prime-age employment-to-population ratio rose to 80.8 percent. "It is perhaps the best indicator of full employment, a sign that everyone who wants a job can get one," Flowers said.
Wages Rise
A historically low unemployment rate has kept pressure on wages, which grew 4.4 percent year-over-year. "This could be a worrisome sign for the Fed," Flowers said.
Terrazas noted that many large companies implement annual performance reviews at the start of the calendar year, and associated pay changes are usually implemented in the springtime.