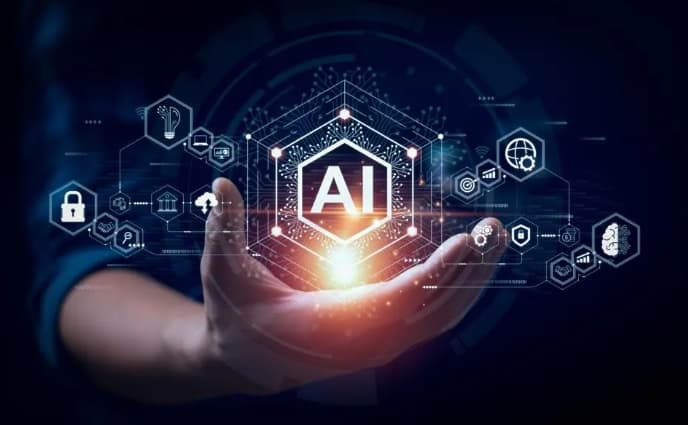 If you're worried about AI and its affect on your work, your industry and your future, you're right to be concerned. AI will shift things fundamentally—including the content of work, the work available and who's doing it. And the changes will impact work differently than technology advancements of the past—with greater effects on knowledge work than ever before.
But you can get over your anxiety and succeed in the new landscape. You'll need to be aware, ready and responsive to what's coming. And new data can show you where to look, which signals to watch and how to stay ahead of the coming wave affecting work.
Get Ready for Growth
First, you'll want to consider joining the wave. In fact, the use of generative AI in U.S. is slated to grow to 77.8 million users in 2023, an increase from 7.8 million users in 2022. And 117 million users are expected by 2025. Most of this growth will be driven by AI's application in the workplace—which can include machine learning, neural networks, natural language processing and robotics.
Most of the growth will come from OpenAI's Chat GPT with predictions for an 882% increase in usage. In addition, by 2024, 25% of all internet users are expected to leverage ChatGPT. Users are most likely to be Millennials (21%) compared with 19% of Gen X and 14% of Gen Z. All of this is according to a report from Insider Intelligence.
AI is catching on globally with 63% of those in India reporting they're using it followed by 49% in Singapore, 46% in Germany, 35% in Australia, 31% in France and the U.K., 26% in the U.S. and 15% in Japan, based on a poll by UiPath.
Many view AI positively. In particular, 83% of people using AI believe it can help reduce burnout and increase job satisfaction, and 80% think it will help them do their job better. Fascinatingly, 79% of people view employers more positively when they leverage AI, based on data from UiPath.
But no matter what your generation, location or views, you'll be wise to look for opportunities to learn about and apply AI in your day-to-day tasks and your career overall.
Assess Your Profession and Industry
One primary way to respond to all that's coming is to anticipate the areas AI will affect work most—in terms of departments, professions and industries. As organizations seek advantages from AI, they will pursue productivity gains. And based on the impacts on productivity, McKinsey Digital, predicts 75% of the value created by generative AI will be in customer operations, marketing and sales, software engineering and R&D—with additional value generated in supply chain.
While there will also be opportunities for productivity payoffs in departments like risk and legal; strategy and finance; IT and talent, these departments will likely see less impact compared to the others.
In addition, the industries where AI will have the greatest effects will be banking, tech and life sciences. In particular, these are where the largest percentage of revenues may be generated by AI, according to the McKinsey Digital data.
If you're in one of these areas or industries, stay attuned to how your role could be enhanced by AI and look for ongoing training. Or if you're an early adopter, consider seeking out these areas and industries to express your talents and differentiate yourself.
Assess Your Job
With previous revolutions in technology, physical tasks were more affected than knowledge-intense work. For example, lamplighter jobs were no longer necessary with the advent of electricity and manual sewing jobs were displaced by sewing machines.
But this technological innovation will differ because it will be more likely to affect cognitive tasks. In fact, the potential for impact to work which requires a Master's or PhD-level education is 57%—comparable to work which requires a high school diploma (64%), according to the McKinsey Digital analysis.
These are the jobs and professions most likely to be affected, according to the McKinsey Digital data (numbers indicate the percent likelihood for technical automation).
Office support (87)
Production work (82)
Food services (78)
Mechanical installation and repair (67)
Community services (65)
Agriculture (63)
Business and legal professionals (62)
STEM professionals (57)
Customer service and sales (57)
Educator and workforce training (54)
Builders (53)
Creatives and arts management (53)
Transportation services (49)
Managers (44)
Health aids, technicians, wellness (43)
Health professionals (43)
Property maintenance (38)
If your job is in the list, embrace new learning and updated ways of doing things. And if your job isn't one of the primary areas slated for impact, continue to stay aware of how AI might be affecting your role or your company—so you can adopt new opportunities as they emerge.
Explore Your Work
The saying is true, "You won't be replaced by AI, you'll be replaced by someone using AI." So, in addition to assessing AI's impacts on your profession and your job, you're also wise to explore how you might use AI in your work—and in how you get things done.
The biggest impacts will likely be in data management, processing data and collecting data. But AI will also have significant effects on decision making and collaboration, communication, documentation, processes of applying expertise, managing and interfacing with stakeholders, based on the McKinsey Digital analysis. These are ways to consider using AI in your efforts.
In addition, you can gain ideas from how others plan to use AI. Fully 66% of people say they're interested in using AI in their work. Specifically, they want to use AI for help in doing things faster (33%), for obtaining training in new skill sets (28%) and for scheduling more efficiently (18%). They also want their organizations to use AI to match their resume to jobs within the company (30%) and to eliminate lower-level tasks so they can focus on those requiring higher-level skills (and the requisite enhanced compensation) (14%), according to data from AmdocsDOX -0.2%.
But there are additional tasks which will benefit from AI as well. About half of people (52%) plan to use AI to analyze data, input data or create data sets (50%), resolve technical issues (49%) and run reports (48%), based on UiPath data.
In addition, you can use AI and ChatGPT or similar tools to get started on a project and generate ideas. You can also use it for critiques or comparisons, as well as to obtain details or summaries of things you're working on—and to get novel and innovative ideas to inspire your efforts.
The bottom line: Be intentional in learning about AI and related tools, and try the tech as you're performing your work.
Exercise Caution
As you leverage AI, you'll want to be cautious. Eight out of ten companies have policies to guide the use of generative AI, or they have them in the works, according to Insight. Follow your organization's policies, of course.
Companies are rightly concerned about misinformation, inaccuracy, deep fakes and losing control over content (51%). They're also worried about safety and security in terms of cyberattacks or data breeches (49%), especially based on human error or a lack of understanding about how to use the technology and the data breeches which could occur from this problem specifically (39%).
Employers are also considering how they can avoid limiting human innovation or relying too heavily on the technology (39%) and how they can be proactive about potential negative effects of workforce displacement (26%). You can stay relevant by being curious, staying connected and exercising your best creativity—all of which are talents unique to humans.
Organizations have concerns, but people are also uneasy about AI being used for malicious intent (78% of people), deep fakes (75%) and bias (54%), according to a survey by MITRE and the Harris Poll. For these reasons, 81% support government involvement or oversight.
The U.S. is responding with focused efforts studying AI's effects on national security, climate change, equity and civil rights, democracy and teaching and learning. In addition, the EU is taking steps to put significant limits on AI.
A Brave New World
AI will certainly shift work significantly—in ways we're already anticipating and in those we can't yet imagine. Stay informed and embrace new opportunities—while exercising appropriate caution—so you can stay ahead of the wave and stimulate your own personal and career growth in a brave new world.