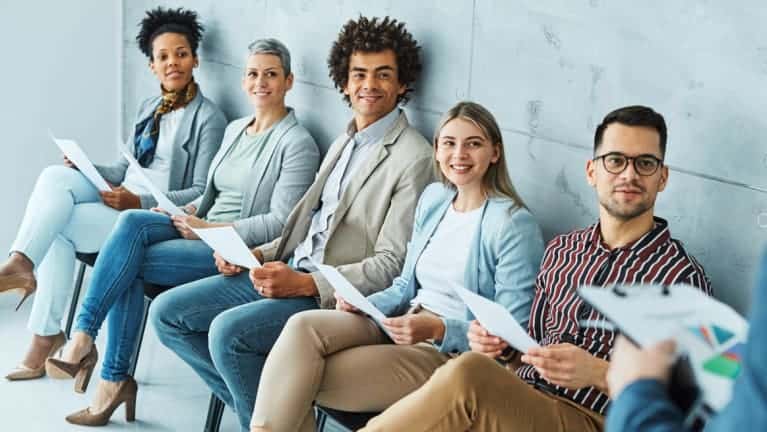 When talent is in short supply, hiring only to fill specific job openings might be an outdated concept. Instead, employers that find a candidate with the rare blend of soft skills and technical knowledge are snapping them up, even if there isn't a job opening that requires the person's specific skill set and experience.
This approach is similar to the tactic taken by many professional sports teams, which add "the best available athlete," even if the player doesn't fill an immediate need.
Professional services firm Deloitte applies this principle as it strives to recruit exceptional employees, said Roy Mathew, a principal with Deloitte Consulting LLP in San Francisco. "That's our velocity. We are actively searching for professionals with the unique combination of human and technical skills," he said.
Deloitte's job descriptions are written like most others in the industry and are posted on familiar channels, such as the firm's website and industry job boards. But what happens after candidates apply has evolved.
"It's just that we don't hold candidates to a specific orthodoxy," Mathew said. "If a candidate isn't perfect for the job they applied for, we might determine that they have the relevant skills for a different job—an opportunity that the candidate doesn't even know about."
Too often, companies narrowly focus on finding specific candidates for specific roles, and as a result, they miss out on some exceptional talent, Mathew said. Instead, "[y]ou need to open the aperture and not just look for that 17th-some-odd piece of a jigsaw puzzle."
With more than 400,000 employees, Deloitte has a varied intake process, including job fairs and job boards, but it attracts many of its strongest candidates through referrals. "Our own employees know what kind of person Deloitte looks for and the type of individual who will likely succeed in our high-performing culture," Mathew said.
A Reactive Approach Is Not Ideal
Setting standards for the type of employees a company wants, no matter what position they might fill, is a best practice regardless of the size of the company, said Kristen Magni, founder and principal consultant at C Future in Bethesda, Md.
"Companies with a strong employer value proposition and good reputation for fair and equitable treatment of people that offer attractive opportunities and access to development and growth opportunities will always attract candidates, even in a tight labor market," she said.
Waiting until there's a specific need and being reactive by trying to fill a role within 30 to 45 days rarely delivers the highest-quality hire, Magni said, since this limits the talent pool to people who are willing and able to exit their current jobs within a relatively short period.
Reimagining the combination of skills that hiring managers should look for when searching for the "perfect" candidate is the first step when applying this approach to talent acquisition, said Mathew. Deloitte identifies high performers through a multiple-round interview process, first asking behavioral questions such as, "Tell me about a time when X happened and how did you handle it?" and "Have you ever encountered X? If so, what did you do about it?"
"We look for people with foundational human skills," Mathew said. "Do they have a collaborative mindset? Do they possess robust analytical skills? Can they demonstrate empathy? Are they good problem-solvers? We can teach them about AI, blockchain, cybersecurity, technology and just about anything else. But do they have grit, resiliency, accountability and passion? Applicants with that combination are often hard to find, and when we identify them, we do our best to find a place for them at Deloitte."
Most new hires complete additional training at Deloitte University, where they are challenged over multiple days with real-world simulations, including a business situation to collectively solve with their colleagues.
"The simulations provide our practitioners with a set of experiences and best practices that can help them tackle everyday challenges faced by industry," Mathew said. "It makes them realize that soft skills—which are commonly underestimated in industry—are as important as domain expertise to solve complex problems and bring everybody along for the journey."
Deloitte's offer acceptance rate is "very high," Mathew added, and its attrition rate is "very low relative to our peers."
Spotting the 'Trifecta' of Soft Skills
Asking behavioral-based questions is a proven method for identifying top candidates, no matter the job title, said Melissa Hassett, vice president of client services at ManpowerGroup in Milwaukee. How a person has acted in the past is the best prediction of how they will behave in the future, and asking these questions helps uncover hard-to-spot competencies, such as a person's willingness to adapt to changing environments, their trainability and their solution-oriented problem-solving skills, she said.
"The employer needs to be able to confidently hire someone they know they can train to do many different jobs within an organization," Hassett said, adding that the most important traits across all sorts of roles are empathy, collaboration and communication skills.
"This trifecta embodies a highly desirable candidate who can lead or work in most situations, with most people," she said. "Workers can be trained to do most jobs out there, so finding candidates with these three soft skills allows the business to be more flexible to meet the demands of the changing market and its needs. Just as scanning a resume is not going to tell you if the candidate has the soft skills that you are looking for, a candidate scanning a job description is not likely to understand the soft skills that are critical to your operation."
'We Want You Here'
To be sure, explaining and emphasizing to strong candidates that the company wants to hire them now—and find a position for them later—can be tricky, Magni said. "It needs to be embedded in the employer value proposition with a supporting philosophy and organizational design practice that enables it to actually happen, be sustainable and scalable," she said.
This approach should not be left to recruiters to implement. "It should be a business strategy around building capacity that is set at the top," Magni explained. "Humans have a fundamental need for certainty. They won't leave a stable job for an idea or a promise that isn't supported at an enterprise level, so the C-suite needs to champion the shift in people strategy. It would help if the process of establishing business strategy is aligned with a people strategy. Unfortunately, the latter is often an afterthought, which is why the talent acquisition process is so reactive."
Hassett noted that talking to a candidate about hiring them for a role that a company cannot yet describe can be a challenge. "Be sure to tell the candidate why their skill set is valuable to the business and describe to them how that will propel their success within this company," she said. "Candidates will love to hear that you not only like their background, but you also like them and the value they can bring to any role."
Convincing candidates that they're wanted no matter what job they eventually hold is key, agreed Christy Pruitt-Haynes, global head of talent management and performance at the NeuroLeadership Institute in Nashville, Tenn. "In a time where organizations are looking to increase employee engagement, sending the very clear message that 'We want you here and are willing to find a spot for you' demonstrates how much that individual is valued by the company," she said.
However, when bringing these individuals on board, "there needs to be some work they can immediately contribute to," Pruitt-Haynes said. "If not, it sends the message to the rest of the company that the person may be receiving some type of special treatment."
Investing in Future Revenue
Harley Lippman, CEO of Genesis10, a New York City-based staffing firm, said he will strategically hire individuals in revenue-producing roles even when he doesn't have open positions as a way to invest in future revenue.
"It can be difficult to find top revenue producers, especially when a candidate is an internal referral," he said. "There have been times when, without an active opening, we hired incredibly talented individuals and built a new business unit, product offering or branch location around them."
Lippman said he encourages clients to hire for highly in-demand technology skills whenever possible so they can have the "flexibility to redesign their team, create flexibility to promote existing employees, bring in talent that may not be available later when they need them for an upcoming initiative, or meet diversity goals."
Another benefit of hiring candidates when there isn't an immediate opening is that it empowers organizations to prepare for future needs, build a strong talent pool for future openings and create a more diverse and inclusive workplace, said Aruna Ravichandran, senior vice president and chief marketing officer at Webex by Cisco in San Francisco.
"When developing strategic plans, companies may anticipate a need for a particular skill set in the future or a talent gap and hire candidates accordingly," she said. "For example, companies may hire candidates to increase diversity and inclusion within their workforce, which can lead to better business outcomes."
And if these plans involve upskilling candidates for leadership positions, Ravichandran said companies might identify potential successors for key positions and prepare these people for their future roles.
Paul Bergeron is a freelance writer based in Herndon, Va.