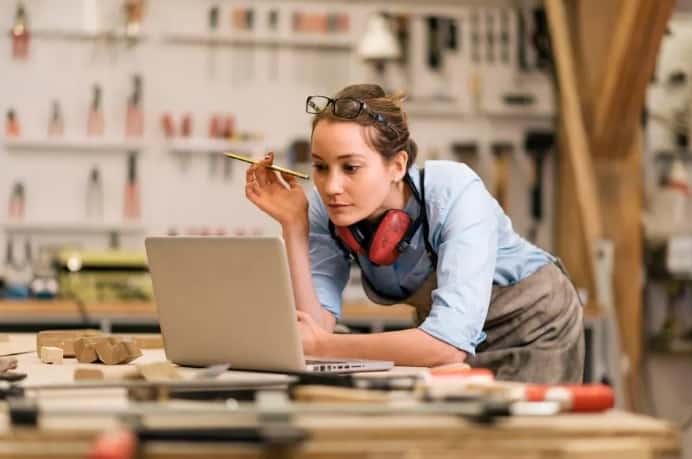 Many young people have been taught to pursue college over vocational school. But now more members of Gen Z are recognizing the potential of a career in the skilled trades.
If you're like me, you've probably had some mixed experiences lately if you've needed someone to, say, fix a broken pipe or replace a busted electrical fuse in your house. Or it might have taken a lot longer than you thought to get your car fixed. It seems like everyone I speak with mentions how frustrating it can be to find someone with the skills to tackle these kinds of jobs—let alone even call you back!
This is the world we live in, and things aren't getting better anytime soon. The construction industry alone is facing a deficit of more than 500,000 workers in the U.S. That's in part because we're losing thousands of boomers from the skilled trades to retirement, and there aren't enough people from the younger generations interested in taking over those jobs.
A new report titled "Gen Z and the Uncertain Future of the Trades" examines what Gen Z Americans think about blue-collar work and concludes that the future of the trades is uncertain—which should worry all of us.
"Without home service businesses and the skilled workers who carry out these roles our homes, businesses, and critical infrastructure will fall into disrepair," says Sam Pillar, CEO and co-founder of Jobber, which issued the report. "We depend on them to keep the built world around us functioning properly and safely, and it would be a grave mistake to overlook the importance of that."
One of the key findings from the report, which resulted from a survey of 1,000 Americans aged 18–20, is that the skilled trade, often labeled "blue collar" work, gets a bad rap among the younger generations. The good news is that this kind of work offers benefits like high pay and protection from disruptive forces like AI that might offer some hope to change young people's perceptions about a career in the skilled trades.
I connected with Pillar for an email interview to learn more about how young people's views of the trades might be evolving—and why Gen Z could come to the rescue in solving our nation's skilled labor crisis.
Overcoming negative perceptions
One of the big reasons so many young people don't see the skilled trades as a career option is that from a young age, they have been taught that college is their only path to creating a fulfilling lifestyle.
Some 79% of the respondents to the Jobber survey said their parents wanted them to pursue a college education after high school, while a mere 5% were encouraged to explore vocational school.
That's why it shouldn't come as a surprise that 74% of Gen Z respondents said there is a stigma associated with pursuing vocational school.
"While this stigma isn't new, it is misguided," says Pillar. "And it has real negative effects for young people being discouraged from these good careers, homeowners who rely on the trades, and the economy overall. We have to call out how misinformed the stigma against the trades is and make sure young people are aware of their options and the benefits of these in-demand and essential careers."
Pillar points out that members of Gen Z have become averse to taking on student debt. But how many of them recognize that vocational programs are cheaper than college and the trades often offer paid, on-the-job training—which 75% of Gen Z say they're interested in, according to the Jobber report?
The average cost of tuition at a four-year college is $19,800 per year—that doesn't include the cost of books or living expenses—while the average cost of a vocational school ranges from about $3,860 to $15,550 per year.
"And you complete the training faster than a typical college degree program," says Pillar.
The opportunity here is to redefine the term "higher education" in ways where young people and their parents can learn about the full range of options available to them.
Checking the boxes
One of my goals, as I travel around the country speaking at schools and economic development conferences, is to explode the myths around skilled work—and show how it offers young people a chance to create the kind of lifestyle they dream of.
The fact is, as Pillar says, the trades fulfill the top three priorities Gen Z has for their careers: entrepreneurship opportunities, job security and a fast path to high earning potential.
"There's a real misconception about the earning potential in the trades," says Pillar. "The majority of Gen Z believes businesses in only a few industries, including HVAC and construction, are able to bring in high profits. They don't realize a broader set of industries such as tree maintenance, landscaping, residential cleaning, and plumbing can easily clear $1 million in revenue per year."
According to Jobber's data of more than 200,000 service pros, 60% of tree care businesses, 65% of plumbing businesses, and 65% of landscaping businesses earn over $1 million per year.
Pillar points to the example of Jason Shipway, the owner of Enhanced Cleaning. Shipway started his business with just $300 and earned around $50,000 in his first year of business. By his third year, he generated $700,000 with a very healthy profit. And, in the coming 12 months, his revenue is projected to be in the range of $1 million.
"Blue-collar work isn't just profitable, it's also fulfilling," says Pillar. "These people keep our homes and communities safe, comfortable, and in good working order, and their businesses are the backbone of our economy."
Beating the robots to the punch
Strangely enough, the AI boom we are all experiencing is opening Gen Z's eyes to a career path in the trades.
That's because the Jobber report found that job security was one of the most important factors Gen Z considers when selecting a career. With AI now looming as a potential threat, 56% of respondents now believe that "blue-collar" jobs have more job security than "white-collar" desk jobs.
"Gen Z is hyper-aware of the impact AI is having and will continue to have on their career prospects, and are concerned about roles being eliminated by automation," says Pillar. AI also has young people questioning whether they should attend college, with 56% of respondents saying that the threat of AI has made them less willing to take on and manage student debt.
It takes a village
If we want to change the negative perception young people have about working in the skilled trades, we're going to need to work together to cross this awareness gap.
As a start, Pillar says it's important for employers in the trades to be visible in their communities.
"In addition to partnering with local vocational training programs and connecting with young people who are already interested in the trades, employers can work with local schools and community colleges," he says. "We see industry leaders going to career fairs, and offering summer work opportunities, apprenticeships, mentorships, or workshops."
But Pillar and I agree that it's not just up to employers to change the minds of young people. It will take a full community effort to redefine perceptions of the trades.
Parents need to educate themselves on the opportunities in the trades in order to inspire their children to explore hands-on vocational paths, for instance, while our education systems should showcase the viability of these careers.
"And we all need to recognize and celebrate the value and impact tradespeople and home service businesses have," says Pillar.
By working together, and exploding the negative stigma around blue-collar work, we can create a true win-win for today's young people and our society as a whole.