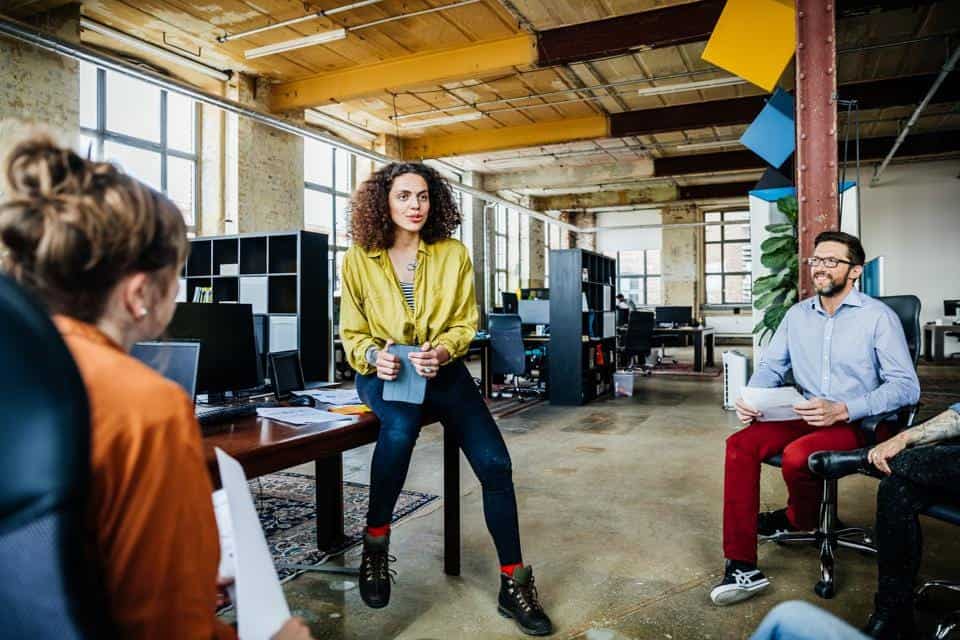 The business case for diversity is clear: As a recent McKinsey report reveals, the relationship between diversity in executive teams and financial outperformance is strong and strengthening over time.
Yet women remain underrepresented in tech in general and tech leadership in particular. There's some good news — more women are earning STEM degrees than ever — but the industry is rife with inequities. While the percentage of women employed across job sectors in the U.S. has reached 47%, representation at the five tech giants is only 34.4%.
We are, however, beginning to see positive changes at smaller tech companies with Arum Kang at the helm of Coffee Meets Bagel, and Anne Wojcicki leading 23andMe. As a woman CEO at a tech company, I'm committed to inviting more women to have a seat at the table and encouraging my peers to do the same.
But how can we get more women at the top in tech across the board?
Acknowledge unconscious bias.
Women are four times more likely than men to consider gender bias an obstacle to promotion, a recent TrustRadius report found.
Unconscious bias is real. In the tech world, where "bro culture" dominates the landscape, acknowledging gender bias is the first step toward addressing the problem. Businesses must take a hard look at their own preconceptions and craft plans to combat them.
Educate tech leaders on the benefits of diversity in the workforce.
As Corinne Post, Boris Lokshin and Christophe Boone wrote in the Harvard Business Review, "Firms with more women in senior positions are more profitable, more socially responsible and provide safer, higher-quality customer experiences — among many other benefits."
Leaders from all backgrounds have a responsibility to learn about the tangible benefits of hiring a diverse workforce. They must read the literature and research on the subject and partner with outside organizations that aim to promote diversity.
Engage male allies.
According to the TrustRadius report cited above, 72% of women in tech say they've worked at a company where bro culture is pervasive. But men don't have to contribute to the problem — they can be part of the solution.
Male allyship is enormously helpful in building a culture that respects women and supports their professional growth. It also reminds us that diversity in tech is everyone's concern — not just that of women and minorities. I've seen firsthand how this can impact the company culture, even with simple, seemingly small gestures.
Provide more mentorship opportunities for women at every level.
Just over half of business professionals say they have had a mentor, according to an Olivet Nazarene University survey. But 82% of male respondents said they've had a male mentor, while only 69% of women have had a female mentor.
We know mentorship has a huge impact on professional development for both mentors and mentees. In fact, a study from Cornell University's School of Industrial and Labor Relations found that mentoring programs significantly improved promotion and retention rates for minorities and women compared to other types of diversity initiatives. To attract more women to the tech field and bring them to the executive level, it's critical to provide sponsorship and mentorship opportunities for women at all levels.
We've had success with mentorship programs at Nearsure, and the tech industry should be committed to providing growth opportunities for people of all genders through mentorship initiatives. Importantly, invite women to serve as members to help promote gender equality.
Start early: Educate women about careers in tech.
"Female advancements in tech won't happen in a vacuum," writes Anna Convery-Pelletier, who was named Woman of the Year in Technology by Women in Technology. "Representation matters; girls can't be what they can't see. It's vital that young(er) girls and women see — and have access to — role models whom they can relate to."
In order to bring more women into tech leadership positions, they first need to know that these opportunities exist. That means educating them early about career and learning options available to them. That way, they gain both the interest and skills to succeed in tech from a young age and are primed to excel in STEM careers.
We have seen some examples of initiatives with this aim. Girls Who Code, for instance, was established in 2012 to teach young women computer and programming skills through courses, camps and clubs. I've worked with Girls in Tech, a nonprofit aimed at empowering women in technology, too, and at Nearsure, we are promoting similar initiatives across Latin America, as well as speaking at internal and external tech events. But we need more programs like this, and we must make girls aware of these opportunities.
Offer upskilling opportunities.
Between 2019 and 2020, the number of people who took part in LinkedIn Learning programs more than doubled. MOOCs and online courses of all types are seeing startling growth in the number of students who want to gain skills or credentials.
For anyone to advance into a leadership position, they must gain new skills and improve existing ones. But many, particularly those who have faced obstacles and are underrepresented in their industry, aren't presented with opportunities.
That's where employers and allies can step in. Employers can offer incentives for women to upskill, through tuition reimbursements and in-house training, while outside allies can partner with businesses on initiatives to provide necessary learning opportunities.
It's about creating a culture of belonging.
I'm fortunate to lead a company that values different backgrounds and perspectives, but all tech companies need to adopt these values.
Promoting leadership in tech is our collective responsibility. It's not just up to employers, who are the ones to encourage employees, provide upskilling opportunities and drive mentorship at their organizations. And it's not just the male allies, who add a voice to the too-often overlooked voices of marginalized and underrepresented populations. Nor are educators, who should teach younger women about their potential to pursue STEM at an early age. We all must work together to change the culture from the inside out.