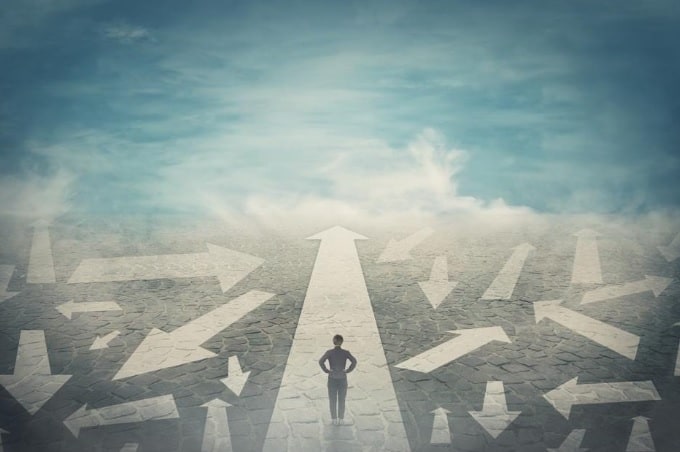 Many professionals and executives want to know how to prepare for an interview when making a career change. Making a career pivot when you've invested time and energy into a particular field, role or company is intimidating, no matter what level you're at in your career.
Many professionals feel obligated to stay on the same career path, even if they are unhappy or have outgrown their role. Starting over from square one can be scary enough to keep them where they are to avoid the uncertainty.
However, shifting to a new field or career means you're making the most of your skills and experience, transferring them to more challenging, fulfilling or lucrative positions.
Start With Why: How to Answer the Hard Questions
"Why are you considering this career change?"
How should you answer this? Let's start with why you're being asked. Most likely, the interviewer wants to know why you're looking to change paths because they want to know what your goals are.
Remember, hiring managers aren't just looking for competent candidates. They want someone who is prepared for longevity in their company. One of the most important things you can do is prepare for this question ahead of time.
You may have solid reasons to offer, but articulating these reasons out loud should happen before you are in front of your interviewer. Use your answer to this question to demonstrate the extensive research you've done into the industry, and to show you understand how their mission aligns with yours.
Re-Frame Negative Experiences as Opportunities
Preparing for an interview when making a career change means using many of the same techniques you would in any other interview.
When addressing why you're leaving your current position, focus on the positive. Even if you're leaving due to mismanagement or poor leadership, speaking negatively about your current or past employers will only reflect negatively on you, whether the information is true or not.
Instead, shift your focus on what you want them to know. What does this industry offer you that you're passionate about? How does it offer you more growth or security? If you do want to discuss your current career field and its pitfalls, prepare ahead to spin this positively in the interview.
For example: "I feel I've done excellent work in my current role that I'm proud of, but I love what your organization has done for this industry, and I know I'll make an impact because…"
While the above answer addresses the impressive work you've done, it ties your success to excitement about transferring your resources to their company vs. tying it to a negative aspect of your current organization, such as no room for growth.
Practice expressing yourself as objectively as possible, without appearing frustrated or disgruntled. Stick with positivity, avoid vague responses and always be future and solution-oriented.
Believe in Your Worth and Bring Examples
Convincing someone else that you're the right person for the job starts with you believing it. You aren't starting from square one. If you're a leader or manager, you won't be starting from entry-level, even in a new field. You've spent years fostering your current career and gaining critical experience that you can transfer to new roles.
Take stock of the overlap between your current career path and your desired one. There are likely more similarities than you expect. Write down all the skills required in your current role, and assess how they apply to the demands of the new role.
Use some of the transferable skills and applicable data to show how effective you've been in the past and tie it to how you can bring similar results. Be specific and lead with your accomplishments and outcomes. You are a valuable resource for an employer, make sure you're showing them why. The best way to prepare for an interview when you're making a career change is to help the hiring manager see your potential.
Help your interviewer picture you in the role you're interviewing for by providing examples of your soft skills, transferable skills, experience and accomplishments. Prepare to talk about why you're excited to bring your past experience to this new role, and how this shift will be innovative for the company.
What Should You Bring to Your Interview?
In preparing for the interview, think about how you can show up as prepared as possible. While it's important to look the part, it is more important to show off your professional demeanor, skills and preparedness.
This is a great opportunity to bring hard proof of your accomplishments. You might consider bringing in samples of your previous work such as annual reports, proposals, budgets, marketing strategies, metrics and reviews. When relevant, you can also include certificates or other proof of continued education and training to demonstrate your commitment to advancing your career.
If you have been preparing yourself for the new skills and knowledge required in this position, create a document outlining the specific steps, courses, education, coaching and training you've completed (or have in progress) to show you have already taken on the research to acquire new skills. This shows remarkable initiative and commitment to the hiring manager and department leaders.
Positioning Yourself as an Ideal Candidate When You Lack Specific Requirements
Meeting every job requirement or qualification in a posting is rare, and usually not an actual requirement to move forward. Job descriptions are typically a wish list. Even candidates staying in the same field or company often don't check all the boxes on a job posting.
How can you leverage your transferable skills and knowledge during an interview? Be prepared. Make a list of the qualifications on the job posting that you do not meet. Think about how you can transfer previous experience, aptitude for technology, skills and interest to the new role, independent of whether you meet all the requirements.
The interviewer will ask about the qualifications listed, and you should be prepared to answer in a manner that addresses objections and keeps the conversation moving forward, with dialogue about how your transferable skills and adaptability will make up for gaps in specific items on the job posting.
For example, you can tell your interviewer that you haven't had specific experience with programming, but you've already started a class or training module on your own. Now, you can discuss what you're learning and how it will help fill gaps in knowledge and further your career.
Wrapping it Up
How do you prepare for an interview when making a career change? By being prepared.
Follow the steps above to walk into your interview confident and prepared. Before wrapping up your interview, ask the interviewer another question: "Is there anything you think would prevent me from doing this job successfully?"
This question prompts the interviewer to pause, think and open dialogue if there are any hidden objections. This will allow you the chance to overcome objections within the interview to eliminate concerns, something that will be much harder to do after the interview when you're playing the follow up game.
Finally, ask what the next steps are and when you can expect a response. Walk out of your interview knowing that you gave them the opportunity to see you as an asset, and asked enough questions to move forward knowing you addressed questions from both sides of the table.