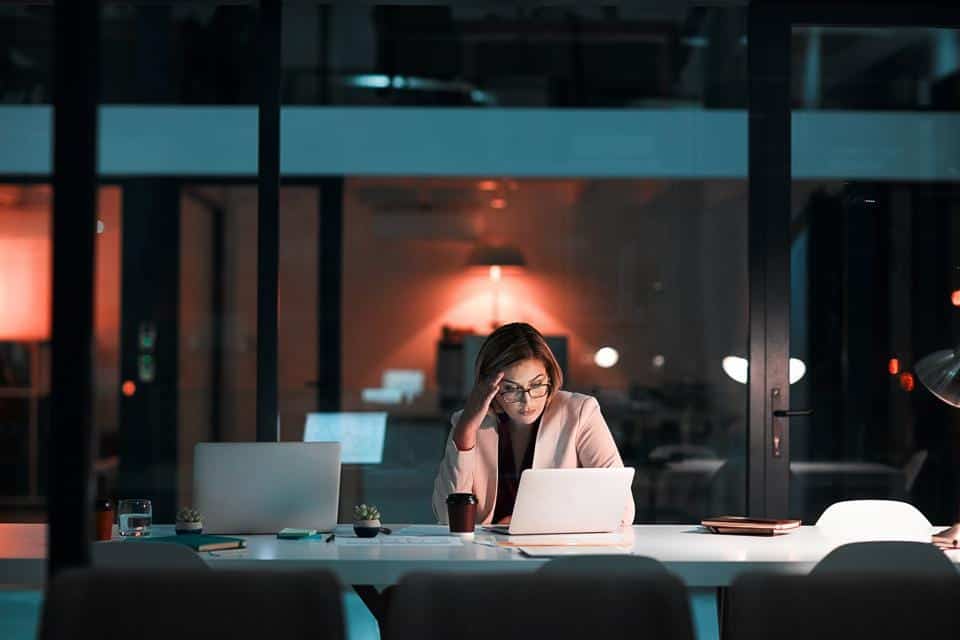 Few people enjoy taking interviews, negotiating salaries or waiting to find out if they landed a role. When you were a young professional entering the corporate world, you might have assumed that the imposter syndrome and the nerves would naturally fade away as you found your footing, but sometimes the pressure of going for that high-level position can make the feeling worse.
If you're struggling to overcome fear in your job search, the good news is that there's plenty you can do to reframe your thinking. Start by understanding where the fears are coming from.
When we're in the thick of it, we can often feel like our thoughts and emotions are an external force consuming us, as if there's no specific reason for them and therefore there's nothing we can do to regain control. In reality, all those complex and overwhelming feelings you have probably come from very logical and very common causes.
I don't say that to belittle you, I say it to empower you. Once you figure out the cause of your fears, you're well on your way to combating them. Some of the most common triggers include:
A feeling of inadequacy and the fear you'll be "exposed" for it
The worry of finding the time needed for your job search, resulting in obsession and stress
Fear of the unknown and the worry of "what if"
Fear of humiliation if you're rejected or tell others you're job seeking
Depending on which of the above you identify with most, your approach to tackling fear should be slightly different. Here are strategies for each one:
Fear Of Inadequacy
The higher you climb the career ladder, the worse your imposter syndrome can get. When you read the job descriptions and requirements for the high-level positions you want to apply for, you might feel overwhelmed reading about the level of responsibility and feel you couldn't possibly feel worthy.
If this sounds familiar, it's important to acknowledge the situation and remind yourself of how much you have to offer. It will help to update your LinkedIn and résumé and brainstorm all the times you've led your team and organization to success in the past—remembering all those experiences might surprise you. Then, read it back regularly to gradually internalize that you're worthy.
You may also find it helpful to work with a career coach, who can show you how to sell yourself and make you realize how much you have to offer.
Fear Of Not Having Enough Time
This is perhaps the most rational fear on the list. If you're juggling multiple responsibilities along with looking for a job—such as caring for your children, running a household and maintaining your sanity—then your worry about having a lack of time to find work isn't "all in your head." Yet at the same time, fixating on your lack of time isn't going to give you any more hours in the day; it will just result in more time wasted worrying.
Instead of pressuring yourself to feel like you need to spend every second looking for work, set a schedule you can stick to. Even if all you can realistically commit to is two hours a day, those two hours will go a lot further if you can spend them fully focused and spend the other 22 hours of the day guilt-free instead of stressed out.
Fear Of The Unknown
People who fear the unknown and prefer to stay in their comfort zone when it comes to their job tend to be averse to taking risks in all areas of their life. However, the worry is particularly debilitating when it comes to work—after all, getting the wrong role could jeopardize your ability to pay the bills.
Truth is, you can take the power back if you choose to by limiting the uncertainty involved in your decision. See your interviews as an opportunity to question each potential employer about their workplace culture, the responsibilities of the role and anything else you might want to know. At this level in your career, you should trust your ability to make the right call.
Fear Of Humiliation
Most people don't like to have the spotlight shining on them, especially when they're in a vulnerable position, and few things make you feel more vulnerable than letting everyone around you know that you're currently looking for work. The connotations of being desperate or unemployed can be unbearable.
But put things into perspective: How many people in your inner circle have ever been unemployed and looking for work? Chances are that it's almost all of them, especially if they've been in the labor market for more than a decade. And considering how many jobs are found through personal connections, the more people who know you're looking for work, the better.
It's uncomfortable, but the best way to tackle this one may be by biting the bullet and making a post saying you're looking for work on LinkedIn. Once you know the information is out there, you'll probably realize the experience isn't as painful as you imagined it would be. And who knows? You may be offered a job within hours.
Nobody likes to be afraid, but fear can teach us some important lessons—whether it's forcing us to ask our network for help or giving us a newfound appreciation for our achievements. When you land the job you've been waiting for (and you will), you might just come out of the experience stronger than ever.