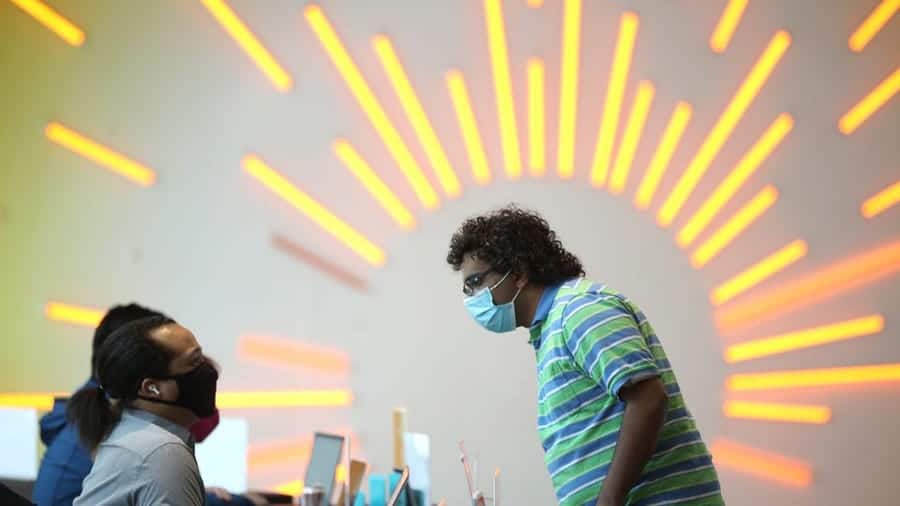 If you're looking for a job right now, you're likely in hot demand. As the economy continues to recover from the pandemic, businesses across industries are scrambling to hire and retain workers. The trucking industry, for example, is offering a number of intermodal trucking jobs to support the growing needs of our supply chains. You may also apply for a Manufacturing Job.
And that frenzy may be boosting confidence for job seekers and workers seeking stability after a year and a half of turmoil.
The jobs index increased 2.7 points this week to 68.1 (out of 100) in the Forbes Advisor-Ipsos Consumer Confidence Weekly Tracker. Although it hasn't yet returned to pre-pandemic levels of optimism, the jobs index, which measures job security confidence, job loss experience and employment outlook, is above its pandemic average.
The survey, conducted by Ipsos, measures consumer sentiment over time.
The jobs index has seen some fluctuation during the pandemic, as jobless aid programs have expired and the hiring scene has picked up.
After a five-point spike in early June, jobs confidence declined gradually throughout the summer, as states started to end federal pandemic unemployment benefit programs.
But that confidence level appears to be stabilizing as hiring intensifies ahead of the holiday season.
This week, 59% of respondents said that compared to six months ago, they felt more confident about job security for themselves, their family and friends, up three points from last week.
That increase in confidence coincides with proof people are getting back to work: Payroll processor ADP announced this week that private-sector employment increased by 568,000 in September. That's a 50% increase from about 375,000 jobs in August.
Last month, the large majority of roles added were in the service sector, with 40% of total hires coming from the leisure and hospitality industries. More than half of those additions were at large firms with 1,000 or more employees.
"​​Leisure and hospitality remains one of the biggest beneficiaries to the recovery, yet hiring is still heavily impacted by the trajectory of the pandemic, especially for small firms," said Nela Richardson, chief economist at ADP, in a release.
Last week, 326,000 new applications for unemployment were filed, per the Department of Labor, a decrease of 38,000 from the week prior.
How Job Seekers Can Take Advantage of a Hot Hiring Market
Announcements of companies hiring for thousands of roles is good news for people who lost their jobs during the pandemic or were waiting for the chance to jump to a new company.
"There are more jobs than ever, but there are also more applicants than ever," says Cynthia Hayward, director of the Coaching Clearinghouse and career transition services at CBIZ Inc.
It's an entirely different scene from when Forbes Advisor spoke to Hayward and job search platform Joblist CEO Kevin Harrington in January 2021 about job searching during the pandemic.
Then, they both encouraged job seekers to have patience and be flexible. Now, they say would-be employees are in the driver's seat as companies compete for top talent.
"For those thinking about looking for a new role, now could be an excellent time to intensify your search," Harrington says. "I see a clear window for job seekers over the next three to four months." And that's not just for seasonal jobs, Harrington says, although there are plenty of those available—office professionals and remote workers are seeing opportunities as companies prepare for 2022.
Here are some tips for standing out from the crowd during your job search.
Focus on Your Resume
To stand out from the crowd in a competitive market, Hayward recommends keeping your resume format simple and making sure it's free from typos. "If nothing else, you should be having a friend look at it" before you start applying for jobs, she says.
Make sure to mirror the language used in the job description on your own resume, so applicant scanning systems can quickly identify the experience and skills that make you a good match for the role, she says.
Use Employee Referral Programs
Leverage your network where you can, Hayward recommends. You're more likely to get hired if someone within the company has referred you, which is key right now while so many resumes are getting tossed into the ring for each job.
Organize Your Job Search
To manage your job search, Harrington recommends batching your tasks to go through the process in phases. "Spend a week or two sending out as many targeted applications as you can, then move on to an interview stage where you focus on converting those applications into offers," he says. "This limits context-switching between applying and interviewing, which can be exhausting, while also giving you the best chance to generate multiple offers around the same time."
Don't Forget to Negotiate
Then, you can use your offers to speed up the decision process from potential employers who aren't moving as quickly—giving you the best situation to negotiate.
"When employers are struggling to hire and retain employees, it's a great time to ask for more," he says.