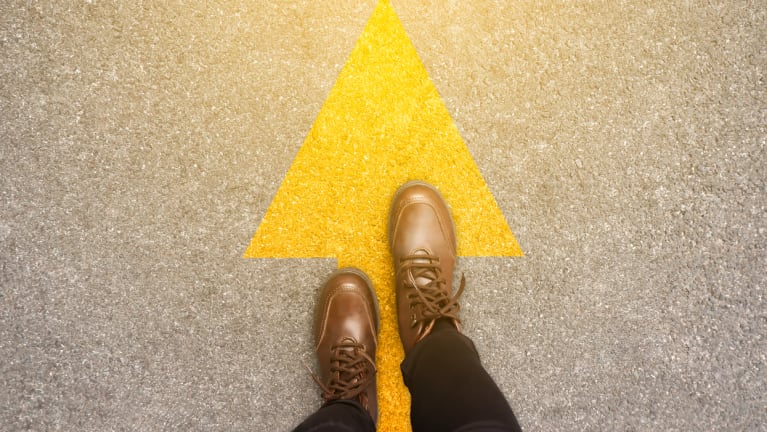 irst-generation students at the University of Illinois at Chicago's College of Engineering are getting firsthand advice on how to prepare for and navigate career fairs from dedicated tour guides.

More than 42 percent of freshmen in the University of Illinois Chicago are first-generation students. They are students whose parents did not complete a four-year college or university degree. Some are from other countries, different socioeconomic classes or underrepresented racial and ethnic groups, or they may face academic, cultural or financial challenges that other students may not encounter.

First-generation college students often feel uncomfortable and unsure about how to interact with employers participating at a fairs, said Jonna McHugh, assistant director of the college's Engineering Career Center. Tour guides, who often are faculty members, help them get to that comfort level by offering an overview of the fair and how to prepare for it. The most recent tour and fair took place in February.

Three tours are offered both days of the fairs and typically involve between five and 10 students. Students meet the guide at check-in, where they review a map of the event, hear how the fair works and learn how to interact with employers.

McHugh began the tours in 2019. Participants typically are first-generation freshmen and sophomores in the engineering school, but upperclassmen who have never attended a fair during their college experience—and may be in a different program at the university—sometimes participate.

The events are large: 105 employers participated during the first day of the engineering school's February event. Tour participants don't typically meet with employers, who are there to interview candidates for internships and jobs. Instead, the tours are intended to reduce students' anxiety by taking them around the periphery of the event to observe the check-in process, the interactions at employer booths and the way students present themselves to employers.

If time permits, a tour group may stop at an employer booth and some students may approach an employer after a tour, but "it's less about introducing them directly to employers at the fair," McHugh explained. "It's about equipping them with the skills they need to navigate a career or job fair on their own.

"I was hearing over and over … 'I don't know what to do. I don't know what to say to employers,'" McHugh recalled. Additionally, "we were hearing from some of the employers that [our] students don't know how to sell themselves."
Addressing 'A Level of Anxiety'
Many new college students are feeling stressed about attending career fairs, an anxiety not limited to first-generation students. That's what sparked the College of Science and Engineering at the University of Minnesota to begin offering tours in 2015.
"We actually market our tours to first-year students as a way to learn about the fair before they actually begin their internship or co-op search, which usually happens during their sophomore year," said Angie Froistad, director of career services at the College of Science and Engineering.
About 1,450 first-year students enroll each fall, according to Froistad. No data was available on the number of first-generation students at the college, and the tours are not marketed specifically to them.
"When we were revising our career fair marketing strategy back in 2015, we found that we were not intentionally explaining to first-year students how they can engage with the career fair," Froistad recalled.
"We would tell them about the career fair at summer orientation and also in their First-Year Experience course … but we didn't really provide them with any other resources or offer any context as to why they should attend."
About 250 employers and 3,000 students attend the two-day fair, which takes place in the fall.
"The venue can be busy and loud and could be quite difficult to navigate if you've never been to a career fair, which is the majority of our first-year students," Froistad said. "Many students expressed a level of anxiety about going to the fair without knowing what to expect.
"They asked questions like, 'What should I wear? What should I bring? How do I check in? Should I try to speak to any employers?' So that's when we decided to start offering tours specifically for first-year students."
The tour consists of multiple stops around the concourse. Guides offer advice, such as using a specific app to filter information about companies and open positions that align with students' college majors and job interests.
The guides also point out that students wear name badges that indicate their major, making it easier for employers to identify potential job candidates to interview, and they talk about the importance of first impressions. Guides also explain resources offered by Career Services each semester prior to the fair, including practice interviews and resume assistance.
The college has seen high levels of participation since implementing the tours, Froistad said.
"[We] received feedback from students that they learned so much more about the event by participating in a tour, rather than just exploring the event on their own," she said. "And they felt a lot less stress about attending as well."
Tips for Employers
McHugh offered the following tips for employers participating in campus fairs:
Be a stop on the tour if that opportunity is offered.
Be welcoming by making every effort to put the students at ease, including limiting the use of jargon and company lingo in your conversations with them.
Make sure your organization's literature is representative of other races, genders and abilities.
Showcase employee resource groups (ERGs); if you have an ERG for first-generation professionals, let them know that.
Tell students what your organization is looking for in an intern or job applicant.