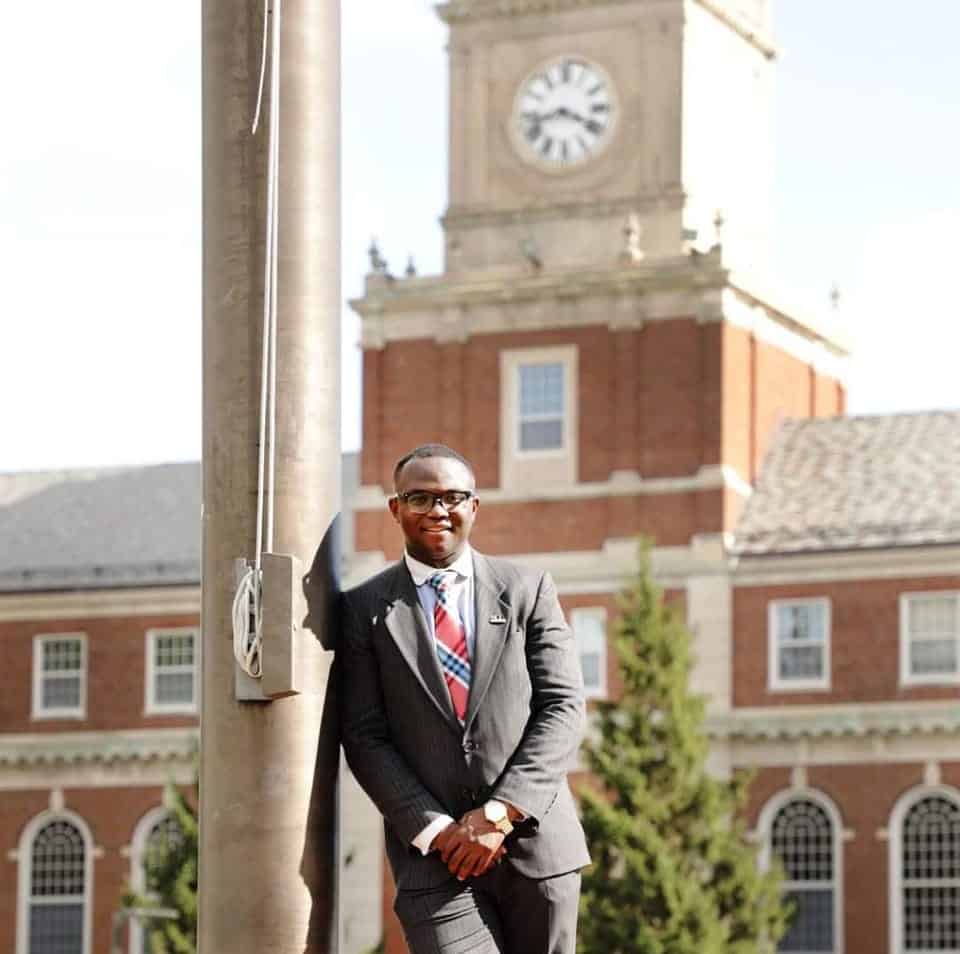 Virgil Parker graduated from Howard University, a historically Black university in Washington, D.C., in 2021. Hailing from Rochester, New York and born to teenage parents, Parker was raised mainly by his mother and maternal grandmother. He was also fortunate to have the love and support of other family and community members who stepped in to care for him and his mother at times. Without much income nor assets, Parker and his family were able to "survive with some help from government programs like section 8 housing, food stamps, and social security." As a new college graduate, he is dedicating his career to social equity and community empowerment largely because he understands the role that community support can play in one's future.
Parker's mother encouraged him to attend one of the nation's 105 Historically Black Colleges and Universities (HBCUs) and he chose Howard. According to Parker, "My mother wanted me to attend a school that had a rich and historic legacy, and one that could help get me closer to my cultural roots as a Black individual." He added, "I chose Howard University because of its ability to produce significant leaders in the areas of politics, entertainment and social justice." Parker hopes to follow in the footsteps of those who have graduated from Howard and to have a significant influence and impact on society.
Howard shaped Parker as a person in deep and significant ways. As he recalls, the HBCU helped him to become "a more selfless, authentic, perseverant, well-rounded individual who is committed to helping people." Attending an HBCU, opened Parker's mind to the types of success that Black people could accomplish. Coming from an impoverished background, Parker noted that he did not have access to Black leadership as they "weren't very visible" to him in his community. He shared, "Entering Howard university was my first time seeing so many Black leaders in politics, academia, corporate america and countless other areas." Parker was inspired to attend an HBCU because it gave him a glimpse into what Black people call 'Black excellence.'
In his efforts to bring about social equity and empower communities, Parker is highly supportive of HBCUs, regularly hosting events focused on these historic institutions, and encouraging others to give philanthropically to HBCUs and consider them for their education. According to Parker, "I support HBCUs because they are sacred spaces that are important to both American history and global Black and brown communities. I fight hard for HBCUs because I love the fact that they have produced significant leaders in so many areas, including Civil Rights activist Martin Luther King Jr., entertainer Oprah Winfrey, U.S. Vice President Kamala Harris, U.S. representative John Lewis and so many others."
Recently, Parker partnered with the both the Aspen Institute and the Indiana University Lilly Family School of Philanthropy (Lilly) to bring attention to social equity issues. He worked with Aspen to produce a series to talk about The Future of HBCUs in the COVID Era. He also partnered with Lilly to have a conversation about Increasing Philanthropic Impact for Communities and Institutions of Color. Lastly, he represented Howard as a HBCU Competitiveness Scholar for the White House Initiative on HBCUs. The role allowed Parker to work with other HBCU students to be a connector between Federal resources and opportunities for HBCUs.
With his Howard University education as a foundation, Parker's goal is to pursue a career at the nexus of media, activism and philanthropy. He aims to use media to "talk with legal experts, influencers, politicians and others to break down critical issues happening in our society." Once identifying these issues, he hopes to partner with companies, foundations and philanthropic leaders to help fund solutions. Parker aims to do work that rectifies social inequities and builds upon community resources to create more opportunity for Black and brown communities and society overall.
Currently, Parker is a U.S. Fulbright scholar in Canada working to diversify U.S.-Canada trade.