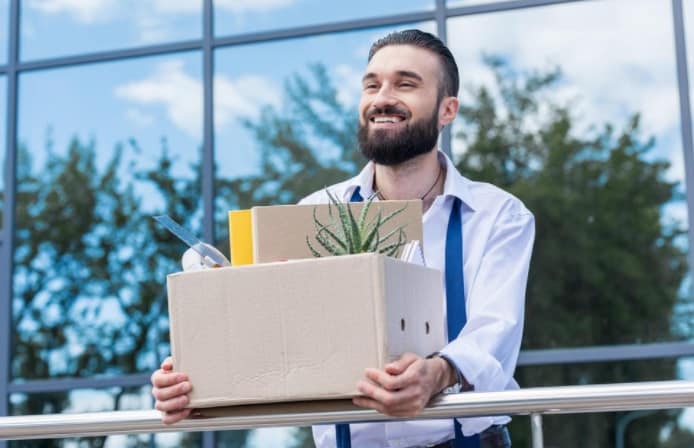 If the pandemic has caused you to reevaluate your priorities and values, you're not alone. Whether there's a lack of growth opportunities at your current company or you are simply unwilling to go back to the office, you may be considering quitting your job. It's called the "Great Resignation," with 95% of workers considering changing jobs, according to a recent survey by career site Monster.  
A record 4 million people quit their jobs in April alone, according to the U.S. Labor Department. Meanwhile, U.S. job openings are soaring—reaching a whopping 9.2 million in May. While it may be tempting to burst into your boss' office and yell, "I quit!" it's probably not the best approach. Before you turn in your resignation letter, make sure you have a plan. Many times, people think a job search will take a few weeks when it will most likely take a few months, at best.
Consider these tips before quitting your job so you can find a truly rewarding opportunity while ensuring a smooth transition.
Make sure you've exhausted internal options
If you enjoy your work but want to work remotely, you may be able to negotiate permanent work-from-home arrangements. To be allowed to continue to work from home, present your manager with examples of your productivity. Rhiannon Staples, CMO of Hibob, suggests that you "come armed with samples of your past successes while remote so you can explain how you could continue or replicate that behavior. Many employees have been remote for more than 14 months, so showing how well it worked will help give them peace of mind."
Craft your ideal job description
Don't begin your job search by updating your resume or LinkedIn profile. A strategic and successful job search always starts with the end goal in mind. Before quitting your job, take some time to think about what you want to do next. Keep in mind that getting clear on what you don't want is as important as what you do want. Envision the life that you want. And think about the activities that you enjoy and are good at. Then do a bit of self-discovery and write down your ideal job description. Once you complete this exercise, you'll be ready to search for roles that align with your vision.
Document your achievements
I can't tell you how many of my clients have gotten bogged down with their day-to-day work, only to emerge years later, not documenting their numerous achievements. At that point, it won't be easy to recall all your accomplishments. So make it a point to track your professional successes throughout the year. Some suggestions of items to document include financial goals you reached, cost savings, positive feedback from peers or superiors, complex situations that you resolved, awards and any certifications or courses you completed. Don't be shy. Document everything—no item is too small.MORE FOR YOUTo Avoid Working For A Company You'll Hate, Always Ask These Three QuestionsBeach Handball Players Fined For Not Wearing Bikini Bottoms—Here's Why The Uniform MattersThe Great Resignation: Microsoft Predicts 41% Attrition
Ask for recommendations
Recommendations are a critical part of any job hunt. But the time to ask for references isn't when you have one foot out the door. Ask for recommendations now, before quitting your job, especially on LinkedIn. Ideally, you'll want to approach people who know your work well and can speak intelligently to your capabilities. LinkedIn will default to a generic request message, so personalize it to get the best response. Also, try to space out your requests so you don't ask too many people at once.
Leave on good terms
"The way you leave is a significant part of how you'll be remembered. So, make your final impression a good one," says Stav Ziv, senior editor at career advice site The Muse. It is best to give at least two weeks' notice before you quit. But you should start planning to leave earlier than that if you can. That will give you time to decide how you want to make your exit. Also, be prepared to answer questions about what you're planning to do next. If your boss offers you a raise or promotion, be ready with what you'd be willing to accept to stay, if anything.
If you've decided that now is the right time to make a change, don't hesitate to do what's best for you and your family. Quitting your job could be the best decision you ever make. As Stacie Haller, Career Expert at ResumeBuilder.com, shares, "The Covid environment has presented an easier way to make a career change as so many people are making career moves and leaving openings for others to make a switch themselves. Now is the time for careful consideration for your next career move as the opportunity is there to make a meaningful change. Many of the old rules for job searching have been swept away and there has been no better time to reboot your career."