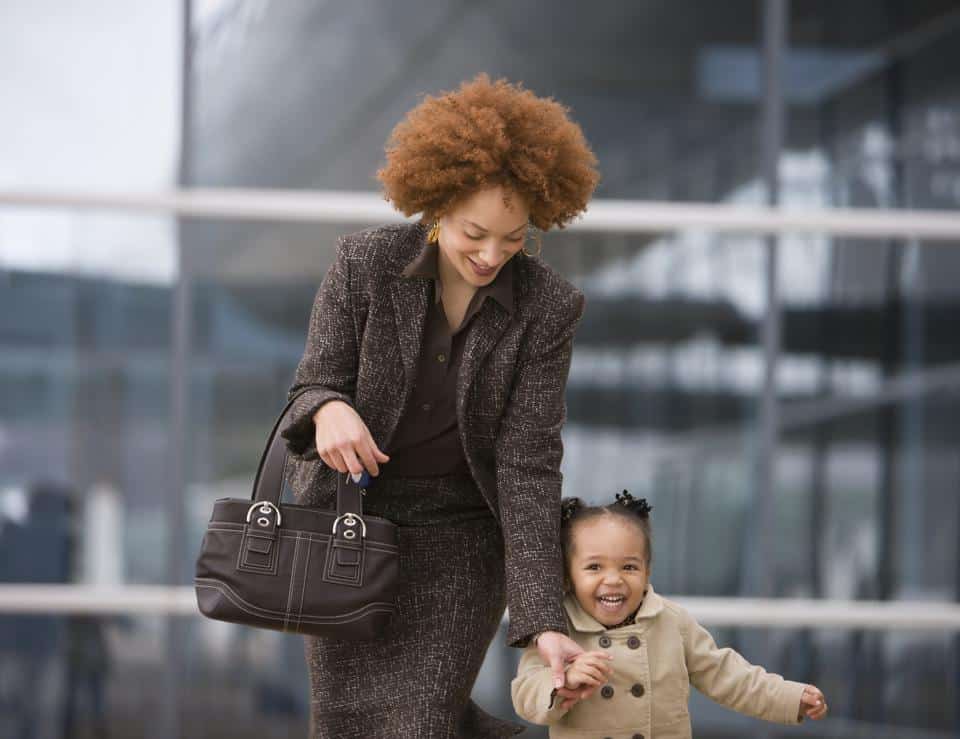 The global Covid-19 pandemic has heightened a longstanding problem in the United States: Working mothers leaving their careers in order to raise children. That number, calculated between February 2020 and February 2021, now rests somewhere around 2.3 million, as reported by the National Women's Law Center.
And while this statistic is depressing, it's not new. According to Harvard Business Review, 43% of highly qualified women with children were already leaving careers prior to the pandemic and suffered a 37% decrease in their earning power when they were out of the workforce for three years or more.
Successfully navigating my own dilemma as a working mother after the birth of my second child, and having helped many mothers with the same, I've seen it's possible for highly motivated mothers to take the driver's seat and have it all.
Instead of relying on long-awaited structural changes, settling for a soulless part-time job that just barely pays the bills, quitting your career altogether to find it hard to return down the road, or worse yet, trying to juggle everything without assistance and suffering burnout, you can apply the following strategies to future-proof your career while not giving up on being a caring mother, a loving wife and a fulfilled human.MORE FOR YOUMother's Day Gift Guide: The Best Gifts For The Stressed-Out MomThe Future For Working Moms: What A Year Of Pandemic Life Taught UsWhy Working Moms Make Great Entrepreneurs
Uncover your Zone and define your all.
The first step is to take a pause from the daily grind and reflect on, once and for all, the key ingredients of your true happiness which I call the Happiness Infinity (HI) Zone — composed of your unique talents, life purpose, true passions and core values, as this serves as the compass for the right next steps.
Have this reflection in a relaxing quiet space — one which helps your brain generate insights. Examining your innate abilities helps you recognize the very unique approach to problem-solving you've been subconsciously using so you could totally own them, bring them into full force and achieve mastery more easily and joyfully. By uncovering your life purpose, you understand the deep reason behind your choices, and therefore, feel even more motivated to pursue your dreams.
While you may have many passions, it is essential to identify the truest ones that you keep turning to, and work on those, so you'll easily get into the flow state where you are most productive and satisfied. Articulating your core values will also help guide you to the working environment where you thrive best. Family, growth and unleashing full potential are the common values shared by many of my clients.
Fuel your brain with creativity.
We are creatures of habit, which is great as it often helps save our energy. However, getting stuck in our daily patterns also only reinforces the existing pathways in our brains and doesn't create new ones. Since finding the next step in your career is essentially a creative process, you need to activate the creative muscle in your brain by being spontaneous and having novel life experiences.
While having an Eat, Pray, Love experience sounds captivating, it's likely nearly impossible for most mothers, so you must find what works best for you. Take a day or a week off to explore your own neighborhood, wander the streets you love, visit a museum or your favorite coffee shop, read a book in the park or pick up a hobby you've long neglected. Many of my clients choose reading, writing and painting. Once your brain gets used to building the creativity-related pathways and feels relaxed, it will bring you aha moments you've otherwise never had.
Decide your next step and conjure your vision.
Once your HI Zone is clear and your brain is renewed, list down about three to five careers you feel belong in the Zone. Then research, talk to people and even test drive the options to better understand what each career entails. Some of the mothers I work with considered a career as a teacher or owning a food business but after this exercise, they realized the actual day-to-day work was very different from what they had imagined. Others who thought of switching from law to dermatology or finance to co-working space rental found that the time, energy and financial investments were not satisfactory trade-offs.
With the data gathered, you should finalize one career direction and decide the next step that most fits with your lifestyle aspiration and with which you can sustainably build your authority. Next, conjure what your life and career will look like in five years. The more often and vividly you can visualize, the better the vision is hardwired into your brain structure, motivating you to actualize.
Map out your game plan.
A game plan is the shortest way to your vision. Ask yourself, "What are the key milestones for me to get there?" These milestones could be any of the following:
• Maximizing your current position to build the skills you need.
• Finding another opportunity that brings you one step closer to your dream.
• Exploring organizations with cultures that fit, volunteering for projects that align with your vision.
• Enrolling for training and certifications required for the new career.
For each step, list the action items needed together with their timeline. Even if you choose to take some time off, having the plan helps you keep the momentum and move you toward your vision at your chosen pace.
Mobilize your village.
Whether your next step is to still be in a corporate work environment, take a break or set up your business, you should mobilize your village. Be part of a nurturing community. Network with and learn from the experts. Have mentors and coaches. Engage your family about your dream so they could support you. Also, influence your spouse to assume their fair share of running the family. Knowing what you're working toward makes this easier. And always keep your brain, the most important member of your village, happy and healthy by regularly practicing happiness habits.
Any professional crisis represents a great opportunity to rethink your career and create your own recipe for happiness and success. By doing so, you also model a good work-life balance for your children and inspire others with the possibility of having it all — your way — while also helping save working mothers from extinction.