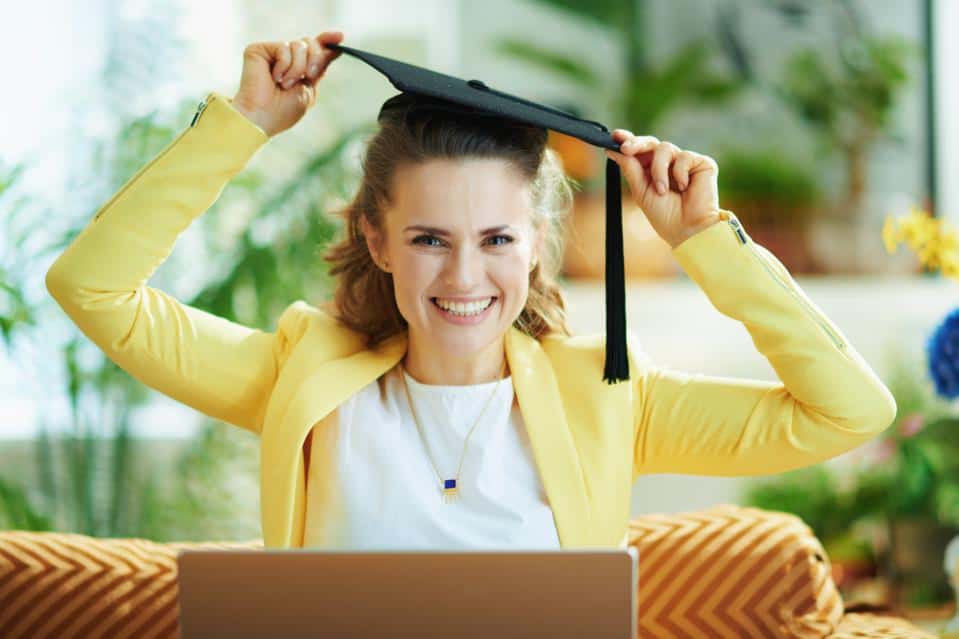 Let me extend an early congratulations to the graduating class of 2021. You've all persevered through an incredibly trying time in order to cross this threshold. So what's next? The good news is that, while hiring isn't quite back to pre-pandemic levels, the overall job market is building steam. According to a report from the National Association of Colleges and Employers (NACE), employers are projecting that they'll be hiring 7.2% more new college graduates from the Class of 2021 than they hired from the Class of 2020.
"While hiring isn't yet back to pre-pandemic levels," said Sara Sutton, founder and CEO of FlexJobs, "the overall job market is gaining momentum, and that includes a stronger remote job market as well."
What's interesting is that when FlexJobs surveyed soon-to-graduate workers about their job preferences, some 32% of participants reported that they would give up some vacation time for the opportunity to work remotely as much as they wanted to, while 24% said they would take less pay for the chance to work outside the office. As the world of work evolves, being willing to work remotely can help a new grad land their first job.
"Remote work can remove the geographic limitations to a job search, so focusing on work-from-home jobs can also significantly increase access to potential job opportunities," says Sutton.
That means members of the 2021 graduating class (unlike those from a year earlier) have a great shot at starting their professional career sooner rather than later.
10 hot remote job categories
FlexJobs has identified the top 10 career categories that currently have the greatest number of remote entry-level positions. Among these categories, HR & Recruiting, sales and call center entry-level remote listings have grown at least 25% since January 2021.
2. Call Center
6. Bilingual
7. Sales
8. Data Entry
10. HR & Recruiting
4 tips for landing that new job
When it comes to getting hired, the FlexJobs Career Coaching Team suggests the following four tips:
1. Make time to focus
The best way to get hired is to get focused and organized. For example, make daily to-do lists that might include tasks like: Revising a cover letter, sending out three applications and spending a half-hour on LinkedIn exploring connections.
2. Update your resume
If you've been making the time to update your skills, update your resume to reflect that. Don't forget to include any internships, volunteer activities and school-based activities you engaged in as well. And, if you want to work remotely, add any experience you've had with remote classes, remote group projects or remote internships and jobs.
3. Practice with informal interviewing
Rather than head into your first interviews cold, strike up some informal chats with alums from your school or even with your connections on LinkedIn. Not only will these discussions help you learn more about the jobs you should target, but you can also learn from people who've been there before.
4. Be patient
The statistics tell us that it takes, on average, three to six months to land a job. So be patient and keep at it. Get into a rhythm and routine for your search. Remember: Consistency yields results and promotes sanity.
Never stop learning
A last word of advice for college grads is to launch your career with a mindset of continual learning. Your formal education may be over, but that doesn't mean you should stop learning. Keep adding skills—especially those that enhance your ability to work remotely. According to another FlexJobs survey, during the past year entry-level workers have been developing new skills to help them land that important first job. The 400 workers surveyed reported that:
41% took online courses for professional development
36% learned new professional skills
36% learned new remote working skills
29% studied for or earned a new certification
27% attended virtual professional development events
25% did volunteer work, internships, projects, or side jobs to strengthen skills and experience
Get excited
Landing that first job is one of the biggest and most exciting moments in any adult's life. Fortunately, the economy is finally opening up after the pandemic, which means that employers will be hungry for new talent that is ready to come to work, even if it's from home. Put yourself in the best position to do that by honing your professional skills—and watch your career take off from there. Good luck!