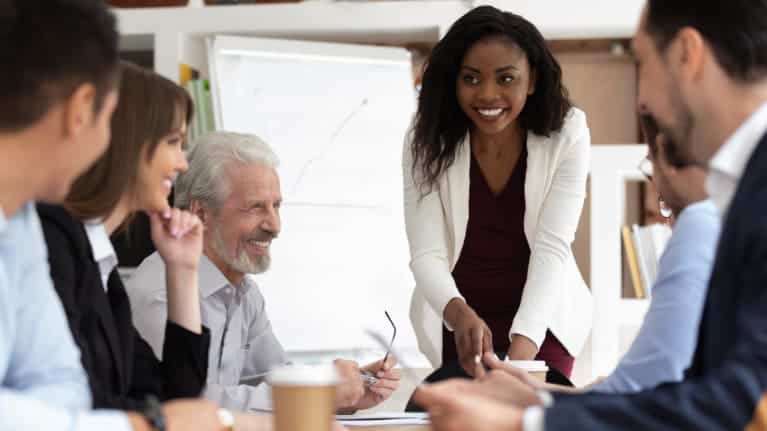 More than 3 in 4 Millennials would leave employer if DE&I initiatives not offered
Arecent survey revealed the stark differences among various worker demographics regarding expectations about diversity, equity and inclusion (DE&I) initiatives from their employers.
In October, consulting firm EY released findings from a survey of 3,000 full-time workers at organizations with at least 5,000 employees.
"The workforce isn't a monolithic group, and organizations need to stay abreast of their people's expectations around DE&I," said Leslie Patterson, EY Americas and U.S. diversity, equity and inclusiveness leader.
Each demographic group viewed DE&I differently. For example, Generation Z workers said they associated DE&I with a commitment to community support through corporate responsibility efforts and volunteering (44 percent) as well as through the establishment of employee resource groups (34 percent). Seventy-six percent of Millennials are willing to leave their employer if DE&I initiatives were not offered.
Black respondents said DE&I was a company's investment in the development and advancement of underrepresented populations at work (57 percent). LGBTQ respondents believed DE&I equates to a culture that focuses on belonging (53 percent).
"To meet these varying needs and desires, leaders need to be intentional with their actions," Patterson said. "They also need to look for intersectionality opportunities, where there might be overlap across various dimensions of diversity through things like employee resource groups."
Workers Expect a Healthy Company Culture
Ninety-two percent of workers surveyed said company culture impacts their intent to stay with their employer, but the level of importance differed by generation.
For example, Baby Boomers tended to care less: 29 percent said company culture has little or no impact on their intent to stay with a company. But Generation Z and Millennials (each nearly 40 percent) said culture has "a great deal" of impact on their intent to stay with their employer.
Patterson said company culture is largely centered around how someone feels—whether they feel valued, supported and a sense of belong.
"If organizations neglect to cultivate an inclusive culture or understand its role across in-person, remote and hybrid teams, they risk losing top talent and future leaders," she said.
Christine Porath, associate professor at Georgetown University's McDonough School of Business, noted that organizations consistently underestimate the value of "community," a key characteristic of a healthy company culture.
"Our need for affiliation, or connection, is one of our three most fundamental needs, along with autonomy and competence," she said.
They Also Want Flexibility
Pay and benefits most influenced a respondent's decision to apply for a job. Then there was workplace flexibility.
The EY research found that all four generations surveyed—Generation Z, Millennials, Generation X and Baby Boomers—agreed on the importance of flexibility:
About 33 percent of Baby Boomers said flexibility in where and when they work was a top factor in looking for a new position, more so than any other generation.
31 percent of Generation Z viewed flexibility as a top offering from an employer.
35 percent of Millennials and nearly 30 percent of Generation X respondents who intend to leave their job in the next year said hybrid/work-from-home options would entice them to stay.
Of LGBTQ respondents who think that hybrid/work-from-home options are one of the most meaningful offerings from an employer, 7 in 10 said they would leave their jobs if these flexible options weren't provided.
"With the pandemic ushering in an era of remote and hybrid work, many people learned that they are just as productive, if not more so, at home," Patterson explained. "As a result, workers are pushing back on return-to-office requirements and expecting more flexibility from their organizations."
Issues That 'Can't Be Ignored'
Taking a stance on social issues has been a point of contention for many organizations. A 2022 survey by research group The Conference Board in New York City found that most companies have not taken a public stance on issues such as gender equity and reproductive rights.
The EY survey showed that more than 1 in 3 (36 percent) workers said their company's position on social issues affects their decision to stay. Nearly half (49 percent each) of Generation Z and millennials said those positions have a significant impact on their decision to stay with their employer.
"These are big numbers—ones that can't be ignored," Patterson said. "Staying quiet, or responding too late, could lead to their future leaders and top talent looking elsewhere for roles."
Dimitri Shelest, CEO and founder of software company OneRep in McLean, Va., said that workplaces are facing a major shift in employee expectations—due in part to younger people growing up in a time when diversity is more prominent in the public discourse.
"They're exposed to different points of view and values," Shelest said. "It makes sense that young workers would expect changes in the workplace to include respect, equity and inclusion, and they vote for those with their consumer and employment choices."
He added that creating DE&I initiatives and cultivating a healthy company culture at work have transitioned from a "nice to have" to a must.
"It's on companies to adjust to these new expectations," he said. "Especially now, with relatively low unemployment rates and high-skilled worker demands."