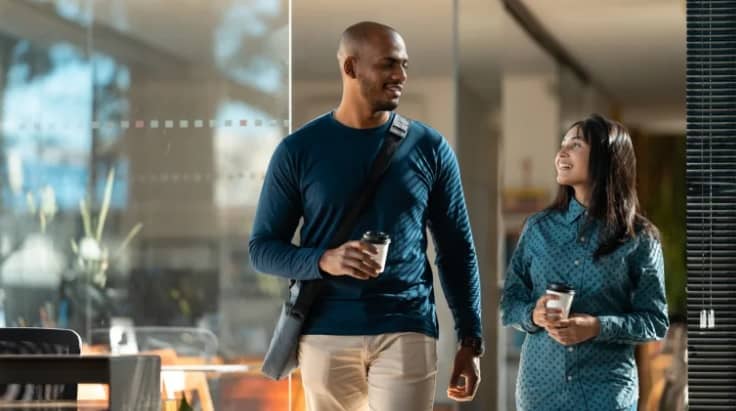 From SHRM.org, By Allen Smith, J.D.June 8, 2023
Employers have been offering carrots and sticks to employees to return to physical workplaces—for example, free lunches and onsite child care for those who return and discipline for those who continue to work remotely without approval.
Many "people managers have seen a decline in the productivity gains experienced at the outset of the pandemic," said SHRM President and Chief Executive Officer Johnny C. Taylor, Jr., SHRM-SCP. While Taylor expects there will be more remote-work opportunities post-pandemic than there were before, he believes "the majority of employers will return to a worksite as their primary office."
CEOs globally are wrestling with the best next step for their employees, but many agree a decision should be made soon. "For most employers, it is time to return to work or make a decision about making remote work a more permanent part of the organization," said Ashley Cuttino, an attorney with Ogletree Deakins in Greenville, S.C.
Business Case
Employers need to tell workers their reasons for requiring in-person work, said Michael Arnold, an attorney with Mintz in New York City. "Providing that basis will go a long way toward building the trust necessary to ensure that employees are ready to return and know they are returning for the right reasons."
Many business leaders believe that in-person work boosts productivity in some roles, said Philippe Weiss, president of Seyfarth at Work in Chicago. It also gives executives and managers easier opportunities to check in and assess what workers are doing.
Interacting in person helps employees foster relationships with co-workers, build trust, collaborate more successfully and advance within the organization, which in turn drives workers' productivity and morale, Arnold said.
Some employers are seeing the benefits of returning employees to offices, not only collaborating about work and brainstorming ideas, but also meeting for a cup of coffee and otherwise socializing. And the benefit to new employees, especially those who are members of Generation Z or who are younger Millennials, can be dramatic. Without the ability to learn the ropes and communicate with more established employees, they lose the opportunity to assimilate and truly understand the company's culture, experts say. SHRM RESOURCE HUB PAGE
Return to Work
Employees' Perspectives
"Employees who desire to return to the office—and to be clear, many don't—are hoping to resume camaraderie and collegiality," said Greg Abrams, an attorney with Tucker Ellis in Chicago.
Working from home can leave employees feeling isolated despite all the technology that keeps workers connected. This can be particularly true for employees who live alone and miss interacting with co-workers and customers.
Based on a survey during the height of the pandemic of more than 500 participants from companies of all sizes, Seyfarth at Work found that the things remote employees miss the most include:
In-person workplace conversations (cited by 61 percent of respondents).
The regular and daily structure of reporting to a worksite (42 percent).
Lunches and happy hours with colleagues (40 percent).
Reduced interruptions by kids during the workday (37 percent).
Employees also may like the convenience of being at the worksite with easy access to technology, equipment and supplies, which can facilitate working faster and result in a better work product.
Employees who want to continue working remotely say more flexibility helps them balance their work responsibilities and personal lives.
Challenges
But hurdles remain to returning to the worksite.
Some career fields, such as customer service, sales, content creation and IT, may continue to lend themselves to remote work.
Moreover, Weiss said over 70 percent of employees want more flexible work arrangements in the future.
Nonetheless, Cuttino said many "underestimated the impact of seeing people in the workplace. For many, it's become a real issue."
While remote work and flexible schedules allowed many businesses to continue operating during the height of the pandemic, "coming back into the office won't be as easy as flipping a switch," Taylor said. "Things you might not even think about will need to be addressed."
He noted that SHRM is here to help employers "tackle your back-to-work challenges and shape what the future of work will look like."