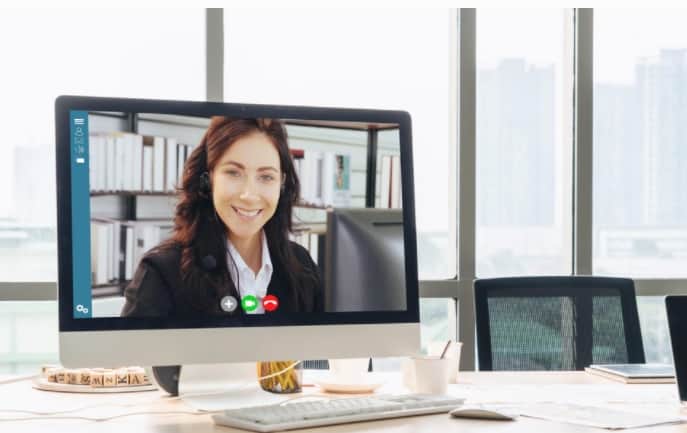 Lately, several of my career counseling clients have mentioned that they have many workplace questions surrounding Covid-19. Yet, they wonder what questions they should ask an employer in an interview. Brenda and I were doing a Zoom interview coaching session, and she wanted my help to know precisely how to let the employer know she was not willing to relocate—now or ever. She felt she should be transparent. I agreed but mentioned that almost all the employers I speak with, and my clients, have said that no one is making anyone relocate right now. That doesn't mean it's a permanent situation, however. 
John shared with me in his interview prep session that he only wanted remote work. His wife had severe health issues, and he could not risk bringing home Covid. In addition, he was worried that most employers would like people to return to work soon. He's not alone in his concerns. Numerous clients—most of them executives—have stated that they only want remote work.
I worked with each client to help ask insightful questions to be realistic in what to expect once they join a new employer. Of course, in these pandemic times, there are a few additional questions to ask, too. Hiring managers repeatedly tell me that they pay particular attention to the questions that applicants ask them. Your ques­tions, especially when they are insightful, send a signal that you are not only interested in the job but truly trying to evaluate whether this will be a good match and work out long term for both parties. For example, a top manager at AT&T said: "I judge candidates by the questions they ask. That's what's most revealing to me. I want someone focused on succeeding in the job and not just centered on how much money I will pay him."
Before the interview, prepare a list of pertinent questions that you would like answered to help you decide if this position is an excellent job for you. This is your chance to determine if this is the right job—and employer—for you.
Gaining Insight into the Corporate Culture
Every organization has a workplace environment that defines what it is like to work there. Before you meet the employer:
Do some research.
Check out the hiring manager on LinkedIn.
Go to Glassdoor.com and read what others say who work for this particular company.
Network with friends to get some insider information about what is going on inside the com­pany and department you are applying to.
Before the interview, you may have preconceived ideas about the company's culture based on its marketing and advertising or media news. Often these ideas prove to be inaccurate once you get into the interview and begin to ask your questions. Better to learn now that you don't want this job, rather than three weeks after you've started. Therefore, pay close attention to the answers and whether you would like to work with that boss.
You can't always have prepared all your questions in advance since they often arise due to some part of the interview. It's usually best to ask these questions as soon as they come up, saying, "Could you explain that more fully?" or "Please elaborate." Be sure you get answers to incongruities and investigate if a red flag comes up. Use your detective skills to determine the actual workplace environment and if it's a comfortable fit for you.
Covid-Related Questions To Ask
I hear that many new hires have struggled with onboarding and the initial training when they start a new job. This is true for executives too. How do you handle this, and what is the longer-term training and process to help me come up to speed?
How has the Covid pandemic affected your business and department specifically?
What has the company done to deal with Covid safety measures in their workplace?
Does the company have a return-to-the-office date?
What are the company's long-term plans on hybrid and remote work schedules?
How does the supervising of team members work here when everyone is remote? (Note: you want to learn what they have done—how they help solve employee problems and encourage creative problem solving when everyone is not in the office.)
Can you describe what the corporate culture is like now?
How is your company dealing with the isolation that many workers complain about?
Other Questions To Ask
One of the biggest reasons people quit their jobs is because they have a lousy manager. Therefore, I highly recommend everyone ask these key questions:
Could you describe your management style and the type of employee that works well with you?
What are the three top accomplishments a person would need to get done in the first six months to be seen as successful in this position?
What traits does a person need to be successful in this job?
What are the day-to-day responsibilities I'll have in this job?
What challenges might I encounter if I take on this role?
Are there any new products or services in the pipeline? When will they be launched?
Marc Cenedella, CEO of the career website The Ladders created a list of questions you should ask during an interview. He said, "All of these insights will help you better understand the institution you're about to join, and make a better, more informed decision about whether you should."
Cenedella's top questions to ask during a job interview for this year include:
How has work-from-home impacted your team's productivity?
What's been the best boost for your team's productivity and morale?
If I get the job, what does excellent performance look like? What are the key accomplishments you'd like to see in this role over the next year?
If you are going to have a very successful year in 2022, what will that look like? How does this position help achieve those goals? (This question is a surprisingly easy way to come across as somebody who is always looking ahead.)
What is the rhythm to the workaround here? Is there a time of year that it's "all hands on deck" and we're pulling all-nighters, or is it pretty consistent throughout the year?
Is this a new position, or an existing position? If new, why was it created, and what are the expectations?
Make this part of the interview more conversational. Don't just check off answers but listen to what the employer is saying and engage them. Ideally, you need to stay focused on the duties of the job and the promotional opportunities. Remember, a key strategy is not to ask questions about salary, benefits, or perks. The best time to cover those issues is after you've been offered the job.