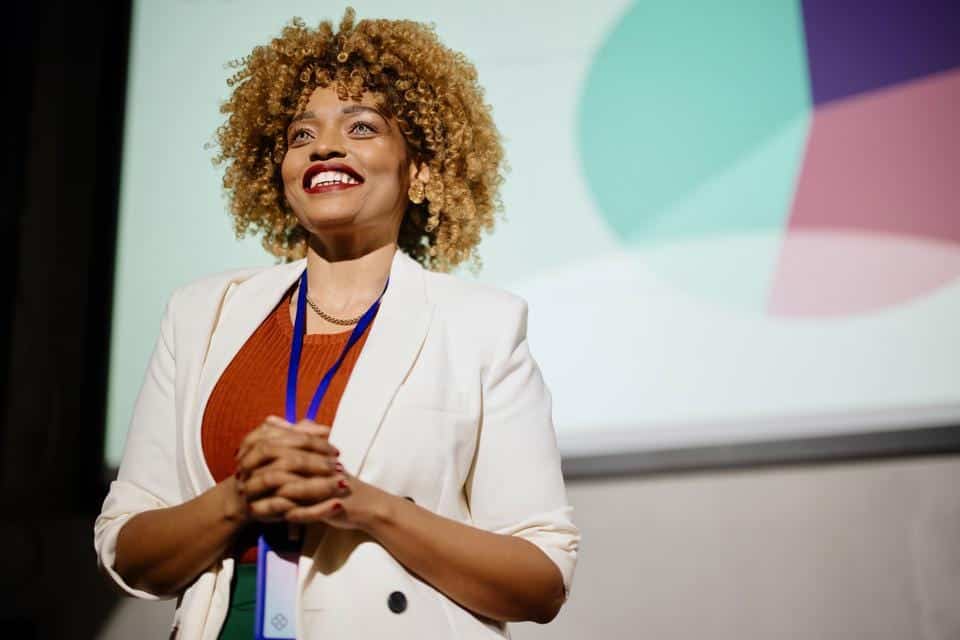 By Palena Neale, Ph.D, PCC Executive and Leadership Coach, Lecturer, Founder of unabridged – engaging your power and potential for greater personal and social impact.
Recently, women have made some significant breaks through the glass ceiling, with 2022 seeing "a record high of 8.8% of Fortune 500 CEOs being women." However, the C-suites are still dominated by men globally, and the reasons for this are complex.
For women, especially those new to leadership, it may feel more comfortable or acceptable to stay behind the scenes. But visibility is vital for career advancement! So how can women move to a place of prominence in a way that aligns with who we are and what we want?
1. Know Thyself
To get motivated about increasing your visibility, it's important to understand your values and ambitions. Ask yourself questions like "What are my top three core values?," "What is my biggest professional goal?" and "How do I want to contribute at work and outside of it?"
Then, consider how greater visibility can help you achieve them, especially regarding your role as a leader. Based on that, what can you do differently to ensure that progress?
2. Lead Up
A productive working relationship with your boss is a key way to become more visible within your team and company. By getting to know them well, you can get a clear sense of what your organization values, where it's planning to go and how you can contribute to its success.
Talk to your boss about their preferences when connecting with their team. For example, do they like people to pop in with news or do they prefer formal appointments? Then, share your own preferences. Discuss your career development goals, as well as your progress toward them. This will allow your boss to align your strengths and interests to what's needed within the company, so when an opportunity appears, you'll be the first employee who springs to mind.
3. Stretch Beyond Your Comfort Zone
If you never stray from what you know, you'll fail to flourish. Look for opportunities or stretch assignments that help you grow beyond your comfort level. This allows you to increase your visibility and internal network, as well as broaden your skills and knowledge. Ask your boss about projects you're curious about, volunteer for task forces or join employee-focused groups. You can also look for opportunities outside of work, like community initiatives, professional associations or even just an art class!
4. Maximize Your Meetings
Given how much time we spend in meetings, it's important to make the most of them. Consider the following strategies for optimizing your participation in meetings.
• Bring prepared comments or observations on the meeting topic.
• Expand on ideas that other attendees bring up, and point out any synergies you notice.
• Ask thought-provoking questions.
• When appropriate, support other women's ideas.
• Send a post-meeting email to participants that summarizes your thoughts or the ideas presented.
Meetings are also a way to show off what you and your team have been doing. Share what you're working on and any recent wins. This will help ensure your leadership doesn't go unnoticed. Remember: Your contributions are valuable.
5. Unleash Your Expertise
There are many opportunities for sharing knowledge, experiences, ideas and tips. For example, you can lead a learning lunch and share your expertise with anyone interested in leadership. If you've developed certain technical skills or efficient processes, let your colleagues in on it. It's especially helpful to create some kind of manual or presentation that they can refer back to.
Outside of work, try teaching a class or participating in panel discussions that lean into your expertise. If you don't love public speaking, find more creative outlets. For example, you can write an article, column or Q&A feature for a newsletter, magazine or website that focuses on your industry. Be a guest speaker on an industry podcast. Of course, if your company has a consumer-facing blog, offer to write content for that.
6. Gather With Others
Actively work to widen your influence. You could initiate an employee resource group for women leaders, for example, or start a mastermind group for more collaborative peer support. If you're interested in becoming more visible in your local community, consider starting something like a shared-interest book club or community support group, like one for working parents.
7. Grow Diverse Networks
Rich social and professional networks provide you with more diverse perspectives to learn from, which leads to greater happiness. Here are some strategies to increase your networks.
• Seek out and foster connections with different people in and beyond your sphere of influence. Lean on professional platforms like LinkedIn to create these connections.
• Attend industry events based on your goals, resources and what you can contribute.
• Keep in touch by sending holiday greetings, sharing articles of interest or giving updates on any big career or life changes.
When maintaining your networks, bring empathy and authenticity. This will help strengthen your relationships and cement your status as a trustworthy person.
8. Serve Your Communities
Contribute and connect to all communities you're in. Be a representative at industry events, host meetings or take on a challenging task that supports your organization and provides learning and value opportunities for you. In your community, attend local government meetings, chair a local board or lead a community improvement project.
9. Cultivate Advocates
Self-promotion can be hard for women, so having someone else to champion and validate you is vital. For example, if you have a mutual connection with someone you want to meet, have your ally facilitate an introduction. Ask them to tell others about your skills, experience and achievements. Don't forget to reciprocate and be an advocate for someone else!
Making you and your work visible is an important part of your leadership journey. You don't want to be your organization's best-kept secret. So start experimenting with select strategies that align with who you are, where you want to go and how you want to show up.