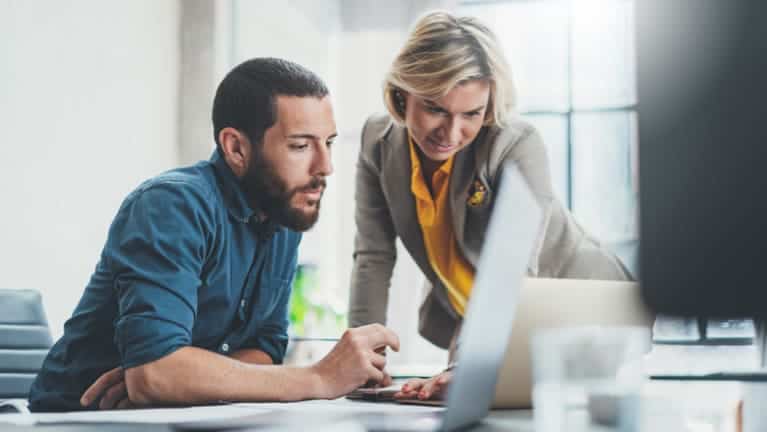 Human resource technology moved from backstage to center stage in 2021. Venture capital investment in HR platforms and applications hit record levels, the C-suite green lit spending on a wealth of technologies designed to support remote and hybrid work, and industry vendors responded to HR's pandemic-driven needs by developing innovative new features on their platforms.
While spending likely won't continue at the same torrid pace in 2022, industry analysts expect many of this year's trends to continue or accelerate as technology becomes a key solution to slowing labor shortages and employee resignations, facilitating hybrid work, and managing COVID-19 in the workplace.
Supporting Hybrid Work, Deskless Workers and Employee Listening
Analysts say organizations will continue to invest in technologies that help employees toggle between working at home and in the office; pay more attention to the technology needs of deskless workers; and keep making broad use of tools that capture employee feedback.
"I expect investment in remote-enabling tools to continue in 2022, and we'll also see even more policy transition to hybrid-work models and software that supports that shift," said Joe Du Bey, CEO of New York-based Eden Workplace, a company that provides software to manage hybrid workforces.
Some analysts believe employee listening platforms will continue to be as critical in 2022 as they were earlier in the pandemic, albeit for different reasons.
"As organizations return their workers to the office—many of whom will have never met their colleagues face-to-face before—they'll continue to value insights into how employees are doing and what adjustments need to be made," said Stacia Garr, principal analyst of RedThread Research, an HR research, advisory and membership firm in Woodside, Calif. "But organizations won't just rely on employee surveys next year. They'll also increase their use of more objective data, such as digital communications, to give them real-time insights into employee sentiment."
The technology needs of deskless workers also will be in the spotlight next year, according to analyst Josh Bersin, dean of the Josh Bersin Academy in Oakland, Calif. Deskless employees in retail, transportation, hospitality, health care and manufacturing make up 80 percent of the global workforce, and those workers often don't have access to the collaboration and communication platforms, support systems and services available to deskbound knowledge workers, Bersin said.
"A shocking 84 percent of deskless workers feel like they don't get adequate communication from their employers," Bersin wrote in a recent report. "Winning the war for talent will depend on the deskless worker experience you offer."
Bersin said more vendors are offering mobile-first and customizable approaches to help deskless employees engage with their organizations. He cited platforms like Social Chorus as examples of how to keep deskless workers connected to company news, up-to-date on training needs and engaged with their co-workers via an app.
Career-Oriented Technology Takes Flight
HR analysts say organizations are more focused than ever on understanding which skills their workforces possess. Employees also are hungry for more learning and development.
"As a result, we expect to continue to see a massive focus on career technology," Garr said. "That will include technology that focuses on understanding internal mobility within organizations, on internal talent marketplaces, and on coaching and mentoring tech to connect people with experts that can help them learn and grow."
AI Spread Its Wings, but Scrutiny Grows
Artificial intelligence will continue to evolve and be deployed by vendors beyond its more common uses in recruiting, learning and employee sentiment analysis, analysts say. But vendors' use of AI for employment decisions also will face increased scrutiny from government regulators and HR practitioners.
"AI will be embedded into more core [human capital management] platforms and applications, and the barriers to buying or building AI will be reduced thanks to commoditization of the technology and more low-code or no-code development options," said John Brownridge, digital workplace leader for Deloitte Consulting.
Paul Rubenstein, chief people officer for Visier, a provider of people analytics software in Vancouver, British Columbia, Canada, believes AI will increasingly be used by organizations to help guide busy managers in where best to focus their limited time. "Just like companies use algorithms to help focus on 'who is likely to buy' or 'which customers might be at risk,' line managers will get more help from AI on knowing where they should put time and attention into teams and individuals," Rubenstein said.
Stacey Harris, chief research officer and managing partner of the Sapient Insights Group in Atlanta, said vendors will continue to innovate in areas where HR buyers have the strongest interest—recruiting, skills management and predictive capabilities.
"I think some of the hotter new HR technology capabilities we'll see emerge next year will be in virtual training, workforce planning and forecasting tools, technologies that measure belonging and culture, and also tools that better connect the dots between compensation and productivity and work outcomes," Harris said.
Betsy Summers, principal analyst in the future of work for Forrester, said vendors will face more scrutiny in 2022 to demonstrate the value their AI tools deliver to HR users.
"We see HR tech vendors investing a lot in AI while HR's confidence in AI still remains low," Summers said. "That signals a need for vendors to present AI in a transparent and explainable fashion for users so they can trust vendors' algorithms to deliver sound and ethical recommendations."
Recruiting: Continued Momentum for Virtual Tools, Consolidated Platforms
Recruiters will continue to rely on the virtual sourcing, interviewing and onboarding tools they were forced to turn to during the pandemic.
Investing in recruiting technology next year ranked as the top priority for respondents to Sapient Insight Group's 2021-2022 HR Systems Survey, tied with plans to spend more on learning-related technologies. Given continued labor shortages, recruiters will be focused on using technologies not just to identify talent that applies to a posted job but also to source and cultivate from research and discovery, experts say.
"We'll continue to see investments in innovation for talent acquisition systems from a point solution perspective as well as consolidation of solutions into larger, platform-based models," said Elaine Orler, senior vice president of technology consulting for the Talent Function, a Cielo company.
Cathy Gao, a partner with Sapphire Ventures, a venture capital firm specializing in technology companies, believes use of platforms that allow recruiters to source, screen and interview candidates virtually at scale will continue at a high rate.
"While the past 21 months likely represent a peak in technology adoption, the benefits of a virtual-first approach transcend the pandemic," Gao said. "Virtual processes often shorten hiring cycles and also produce rich data from which companies can draw insights into their recruiting workflows."
Eric Sydell, executive vice president of innovation for Modern Hire, a talent acquisition technology provider in Delafield, Wis., said the candidate experience will continue to be a high priority for recruiters next year as applicants field multiple offers. "It will remain a candidates' market, and hiring teams must adapt or risk losing the daily fight for talent," Sydell said. "Hiring will increasingly be defined by virtual tools and data-driven techniques that create new paths to continuous process improvement."
Recruiters also will rely more on sourcing technologies to help identify nontraditional or "hidden" talent as the labor shortage continues. "Many companies are struggling to find talent and as a result are using foreign nationals as talent pools," said Kira Meinzer, chief people officer for Envoy Global, an immigration services provider that helps companies hire international workers. "Technology can help manage the tier 5 visa process more efficiently."
Orler also believes more recruiting vendors will expand their platform capabilities to include procuring "total talent," or recruiting contract and contingent workers rather than just full-time employees. "That type of innovation creates the ability for organizations to meet candidates where they are regarding their work preferences without having to delay efforts by using multiple technology systems," Orler said.
People Analytics: Growing Demand for Real-Time Data, Use Beyond HR
The increased demand for timely people analytics by the C-suite and HR leaders last year will accelerate in 2022, experts say, as leaders seek more metrics that can provide real-time data on talent supplies, market compensation trends, employee attrition and workforce vaccination rates.
Rubenstein believes 2022 is the year that use of people analytics takes root outside of HR functions.
"Front-line managers need to make operational and financial decisions with a more holistic set of data about people," Rubenstein said. "Salary and tenure data are no longer enough. Managers need to see data about employee skills, exit risk and ease of replacement at their fingertips. It's no longer a world of financial decisions with people only as an afterthought."
Recruitment leaders and hiring managers also will seek more current data in areas like compensation benchmarks and talent supply in different geographies. "Market data is moving faster than the old 'annual survey' results that come from most providers," Rubenstein said. "Look for companies with big sets of real-time data to offer benchmarks and insights that are fresher and more credible."
Dan Staley, global HR technology leader for PwC, believes the continuing adoption of cloud technologies by HR functions in 2022 will bode well for analytics initiatives.
"Many HR leaders have long struggled to gather, share and analyze data efficiently," Staley said. "Cloud solutions enable data collection and analysis in formats that can be readily accessed and shared across an entire organization, allowing CHROs to make analytics-driven decisions, run what-if scenarios and pivot quickly with ongoing workforce shifts."
New Vendor Capabilities in Vaccination Tracking, COVID-19 Testing
Technology vendors will continue to add new capabilities to tools that help HR track employees' vaccination status, booster shots and COVID-19 test results. Many large HR technology vendors offer such tracking tools as do smaller providers including ReturnSafe, ID.me and Alight Verify.
ServiceNow, for example, recently partnered with the Commons Project to help organizations improve the process of verifying vaccination of employees, a step which remains manual in many companies.
Technology Drives Deeper Understanding of DE&I
Organizations will continue to invest in tools and analytics that can help them take the next step in assessing the progress of their diversity, equity and inclusion (DE& I) initiatives. "We've seen a remarkable increase in interest in DE&I analytics in 2021 as organizations try to get a better and more nuanced understanding of the current state of diversity in their organizations and what they can do to drive change through inclusion," said Garr of RedThread Research.
While much of the focus around DE&I analytics in the past has been on talent acquisition, Garr expects a greater emphasis on other internal practices in 2022.
"That includes analysis of performance reviews and feedback, as well as understanding biases that may exist in succession or promotion processes or peer-to-peer recognition," Garr said. "While organizations are making progress in hiring more diverse populations, more are recognizing that they cannot retain those people if they don't change their internal practices and cultures."
Vendors Invest Heavily in Unified User Experience
Vendors will continue to invest in creating one-stop-shop, user-centric HR platforms to help organizations deal with converging challenges of remote work, fragmented technology infrastructures and poor user experiences.
"Companies today must make it easy for employees to get their work done from wherever and whenever they are with minimal technical support or learning required," said Deloitte's Brownridge. "As a result, we're seeing tremendous investment in the unified experience platform market, where everyone is racing to be the 'single pane of glass' through which all things are viewed. HR technology vendors are aiming to provide more comprehensive services to customers to eliminate the need for other vendors, which includes an expansion into more non-HR functions."
Staley believes HR vendors will continue to invest in creating improved user experiences and in updating the look, feel and navigation of their applications. "User interfaces that were considered modern four or five years ago now feel dated, and vendors will need to keep their experience modern and fresh to stay competitive," he said.
Dave Zielinski is principal of Skiwood Communications, a business writing and editing company in Minneapolis.