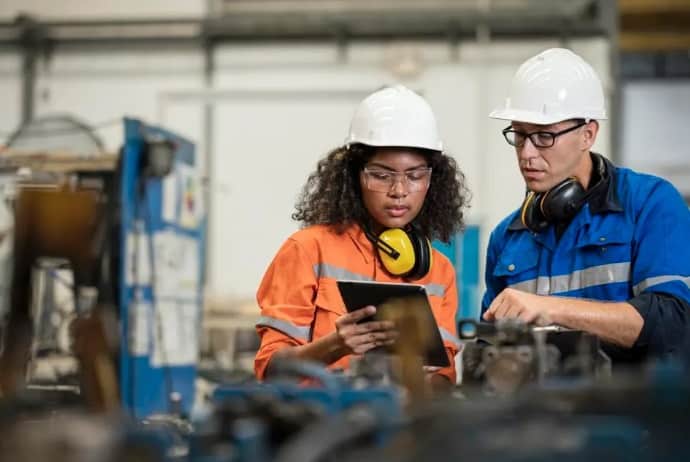 Source: RSS Newsfeed Forbes.com
A concerning trend is occurring in the skilled trades. You see, boomers are retiring, and the younger generations either don't have the job skills to fill their shoes or aren't interested in these careers.
Hiring has become increasingly difficult with fewer skilled workers, and competition for talent is fierce. But this doesn't mean there aren't ways to attract and retain top trade-skills talent in such a market shortage. In fact, there are several strategies you can implement to find and retain top-notch employees.
Talent Attraction & Retention: An Ongoing Process
Attracting top talent is not a one-and-done effort. It requires an ongoing process that involves building relationships with potential candidates, creating a strong employer brand online and offline, and offering competitive compensation packages.
However, this is only half the battle; keeping them engaged and satisfied is equally as important. In today's competitive job market, companies must go above and beyond to create a positive work environment that fosters employee growth and development.
Engaged employees are more productive and innovative and have higher job satisfaction rates. Engagement initiatives should include regular communication and feedback, recognition programs, team-building activities, and opportunities for career growth.
Attracting And Engaging Generation Z: Understanding Their Unique Learning Style
By 2025, Gen Z is projected to make up nearly a quarter of the global workforce. They are significantly different from their predecessors regarding technology usage and learning style. Generally speaking, they are visual learners who prefer interactive and hands-on experiences.
As the world evolves, contractors must adapt their onboarding and retention methods to meet the needs of each new generation. So, what can you do to appeal to Gen Z job seekers?
Change the stigma.
When we think of trade workers, a stereotype of being inferior to college careers often comes to mind. The truth is that the trades can be highly lucrative. Showing the challenging yet incredibly rewarding opportunities across the board is critical.
Demonstrate career advancement.
Employers need to show that trade workers can rise the ranks within the company. By promoting them to higher decision-making positions, you can shatter the glass ceiling and open new doors of opportunity. This also serves as a means to appeal to younger candidates, as they will perceive the potential for career growth.
Create engaging marketing content.
As a digital marketing agency for the trades (and other industries), we believe you need to educate in order to attract. Your website needs to show what it's like to work in trade roles in 2024. Your site should showcase the company's brand and culture, highlighting the benefits and unique aspects that make it a great workplace.
Offer flexibility and other perks.
Imagine a workplace where perks go beyond the ordinary to boost morale. How about flexible lunch breaks, revamped break areas with top-notch vending machines, and weekly schedules available well in advance? Imagine a profit-sharing plan that shares in the company's success. Perks promote a better work-life balance and can reduce absences.
Invest in your company culture.
Employers can boost motivation among their workers by giving them the opportunity to attend weekly meetings where they can freely share their opinions and provide feedback on enhancing processes, conditions and equipment. Another way to motivate employees is by setting long-term and short-term goals for individuals and departments. Encourage friendly competition between teams.
Implement paid referral programs.
Many HR departments fill positions with the help of employee referrals. This tends to be a win-win for both the company and employees. In most cases, employees know which candidates would fit well within the company culture. A paid referral program boosts employee morale and attracts high-quality talent to join the team.
Invest in technology for your team.
Technology is constantly evolving and improves productivity in the field. Providing technicians with mobile devices and cloud-based tools keeps them motivated and ensures that your company stays competitive in the market. This can also enhance their efficiency and give them more flexibility in completing tasks.
Offer competitive salaries.
To attract top talent, your compensation packages must be highly competitive. No one wants to join an organization behind the times. Consider offering bonuses, benefits and other incentives to make your offers more attractive.
Equip your team for excellence.
Investing in your employees' development is crucial for maintaining a motivated workforce. This includes opportunities for training, workshops or even higher education courses. By helping them develop new skills and knowledge, they can improve their performance and you can show them that you value their growth within the company.
Encourage work-life balance.
In this fast-paced world, it's important to acknowledge the importance of work-life balance. Encourage your employees to take breaks and disconnect from work during their personal time. This will prevent burnout, allowing them to recharge and return to work with renewed energy.
Celebrate successes.
Appreciation is a great way to keep your employees motivated and engaged. Recognizing their achievements shows you appreciate their hard work and contributions to the company's success. This can be done through team outings, rewards and recognition programs, or even with a simple thank-you note.
Conclusion
As the president and CEO of a business, I understand the importance of attracting and retaining top talent. From job perks to investing in employees' well-being, it's important to offer your team members benefits that extend beyond their actual job roles to show you care. Beyond that, using digital marketing strategies can help you attract top talent as well as a recurring stream of new customers on a regular basis.