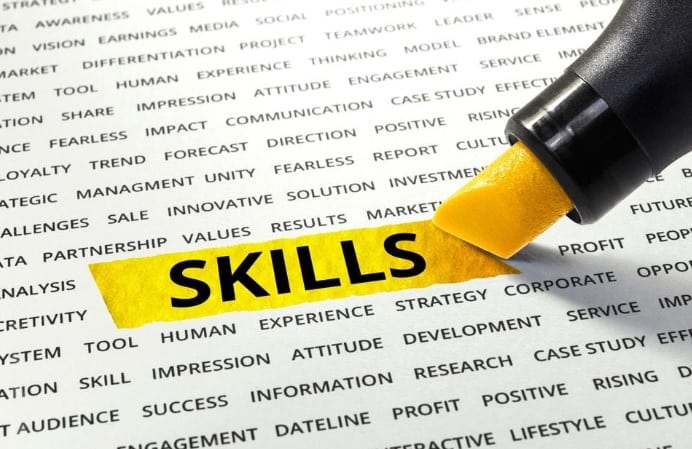 Skills have always been the currency of work, but the way companies source skilled workers is on the brink of a major shift. According to data from LinkedIn, 40% of hirers on LinkedIn used skills to fill open roles—up 20% year-over-year. These employers are 60% more likely to find a successful hire compared to those not relying on skills as part of the hiring process.
Skills-first hiring is more than a trend. It's a new philosophy about what it really takes to be successful at work. "Until recently, talent professionals relied on degrees and past experiences as proxies to assess if a candidate has the skills to do a job," says Rohan Rajiv, Group Product Manager at LinkedIn Talent Solutions.
The problem with that approach, he says, is that access to higher education and well-paying jobs isn't always equal—leaving a lot of people behind.
Rajiv believes that when companies take a skills-first approach to hiring, they not only increase their efficiency, but they give a broader swath of people opportunities to grow their careers. "The result is a significantly more efficient and equitable approach to finding and retaining talent."
What about the college degree?
A college degree used to operate as a guaranteed ticket to a great career. Skills-based hiring doesn't negate the college degree, but it does recognize that skills are skills, no matter how or where they are acquired. "I don't think degrees are going away, but they increasingly won't be the end-all and be-all, nor will those without one be discounted," says Rajiv. You can check out this article from Maki People to know more about skills-based hiring.
Skills-first hiring works within the reality that not everyone has the means or time to pursue a higher education. "Online learning can be great to fill smaller skills gaps, especially at work, like the skills you need to lead a growing team, or learning more about HTML to get a project over the finish line," says Rajiv. "Filling these smaller skills gaps can be what gets you that promotion."
Getting skilled
Alongside college, there are several pathways workers can consider to gain the in-demand skills that can unlock a well-paid position.
On-the-job training. Not surprisingly, this is the most valuable way to develop and apply skills. "I'd encourage everyone—especially those early in their careers—to find skilled coaches, whether it's a teammate or manager, to help guide their path and be more successful," says Rajiv. Not only will you enhance your skills, but you'll get paid while doing it.
Certificate programs. More and more people are taking the certification route to gain and demonstrate specific skill sets. In fact, comparing January 2021 to January 2020, LinkedIn Learning saw a year-over-year 1,340% increase in CE certificate downloads. "Our members might want to simply start out by exploring programs around things that interest them or in areas where they see talent in themselves," Rajiv says.
Online courses. For those with smaller skills gaps, online learning like LinkedIn Learning can be a great entry into professional development. It offers courses on a vast array of topics and industries, as well as opportunities to learn in real-time with live events. "If you believe you're a great fit for a role, but want to show the hiring manager you're investing in additional skills that will make you an even better fit, it's a great pathway to do that!" Rajiv says.
Staying skilled
As quickly as the world is changing, it's not surprising that the skills required at work are also morphing rapidly. "Jobs are changing on you, even if you're not changing jobs," says Rajiv. Recent LinkedIn data shows that job skills sets have changed by around 25% since 2015. By 2027, this number is expected to double.
If the skills you mastered yesterday aren't enough for your role today, it's time to up your game. "Taking the initiative to find opportunities to learn and grow can show your current employer that you're ready to take on more," says Rajiv. "Taking time to fill skill gaps demonstrates ambition and gives people a competitive edge through their careers in a white hot labor market."
The good news? Many of the most important skills in fast-growing roles are similar to skills in other fields. "For example, our data shows a cashier has 70% of the skills needed to be a customer service representative, and a driver has 57% of the skills needed to transition to a supply chain associate," says Rajiv.
LinkedIn Learning's most popular courses reveal that skills like collaboration and communication will always be universally important to any profession and any industry. Other important workplace skills include navigating important social issues, upskilling technical and digital functions and leading effectively.
Showcasing skills
In response to the skills-first hiring trend, Linkedin users added 286 million skills to their profiles in 2021, up 22% compared to the year before. "The more we understand a member's skills, the better we can match them to the right opportunity," says Rajiv.
That's why LinkedIn will soon be releasing features that will allow LinkedIn members to provide contextual information about how they've developed or applied their skills on their profile, associating each skill to past experiences, education or certifications. "For example, they will be able to highlight five years of SQL experience from a prior role or a year of InDesign experience from an internship," says Rajiv. "This will help companies understand how a member acquired and applied their skills—making it easier for recruiters to match them to what they need in their open roles."
Never stop learning
When companies focus on skills first, they can expand their own talent pool, as well as build more inclusive talent pipelines by putting skills at the forefront. But this will require us to step away from the hiring models of the past, which viewed the college degree as the primary path to a successful career.
Rajiv believes that we have a once-in-a-generation opportunity to make skills-first hiring the model of the future. "Hiring for skills will create greater efficiency and equity in our economy, building a world of work that works for everyone."
However and wherever they are attained, skills are paramount to a great career. As skills-first hiring gains traction, more workers will have the opportunity to use their real-world abilities to land the job of their dreams. It's a win-win on all sides—and that's why skills-first hiring will win out over more traditional hiring models.