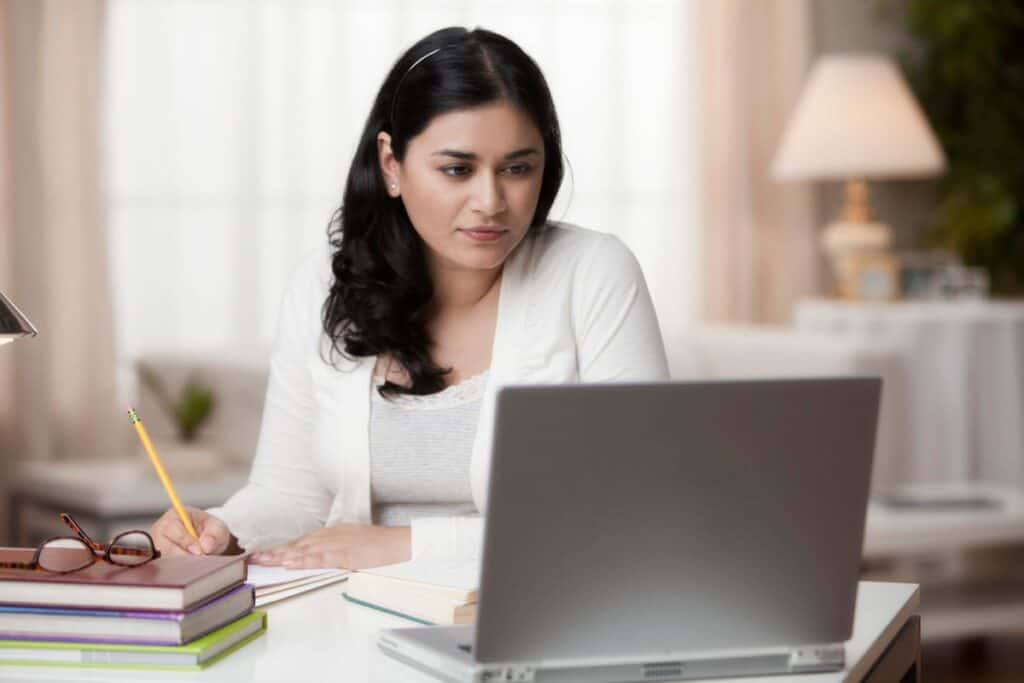 Focus on skills, not degrees, to help increase your talent pool.
.
By Kathryn TylerSeptember 17, 2022
LIKESAVEPRINTEMAILREUSE PERMISSIONS
Tiffany Brown spent five years in accounting before deciding to change professions. She'd always had an interest in computer science, but with degrees in English and business, she didn't see how a career switch was feasible.
Then, she participated in a six-month development boot camp, which helped her build the foundational skills needed to transition from accounting to computer science. It prepared her for the next step—IBM's apprenticeship program.
"I realized it was the perfect opportunity because I wouldn't have to go back to college to get another four-year degree," says Brown, who went on to earn several other credentials and now has a successful career as a software developer in the global chief data office at IBM.
"Skilled credentials," such as the ones Brown attained, are increasingly available in the form of micro-credentials, digital badges and industry-recognized certificates. They're less expensive than a college degree and designed to help prepare workers for better jobs.
But even as business leaders complain about a global talent shortage, research shows that employers often don't recognize such credentials, preferring the more familiar practice of evaluating job candidates based on their college degrees and experience. HR professionals and hiring managers frequently have difficulty understanding the relevancy of alternative credentials. There can also be a technical obstacle: The automated applicant tracking systems used by many companies to screen candidates often don't recognize credentials, according to recent research from the Society for Human Resource Management (SHRM).
IBM is ahead of the game in many respects. Six years ago, the tech giant began revising its job descriptions to focus on skills and not just educational attainment. Today, on average, 50 percent of the company's posted positions in the U.S. don't require a bachelor's degree.
"We call these 'new-collar jobs,' and they're aligned to careers that require the right set of skills and a commitment to lifelong learning," says Tommy Wenzlau, talent leader for new-collar initiatives at IBM, which employs more than 250,000 workers globally. "New-collar roles are in some of technology's fastest-growing fields, including data science, cloud computing, application development, cybersecurity and digital design."
In addition, IBM's apprenticeship program gives candidates without advanced degrees an opportunity to build new technical skills and earn industry-recognized credentials while getting paid. In 2017, the program launched three career tracks and now has more than 10 job areas, including marketing, cybersecurity, data science, design and sales.
"This program is an important talent pipeline for IBM, specifically for our new-collar jobs," Wenzlau says.

On the Rise
Credentials offer ways of demonstrating skills in fields that don't feature a required occupational licensure or a traditional two- or four-year college degree. They can be delivered through methods such as apprenticeships; boot camps; and industry-recognized certificates, including for Intuit Bookkeeping, Salesforce Administrator and Project Management Professional.
About 45 percent of 1,525 U.S. workers surveyed hold a skilled credential, according to Making Skilled Credentials Work: A New Strategy for HR Professionals, a research report released in April by SHRM and the SHRM Foundation and funded by a grant from Walmart. Of those, 68 percent believe it has helped them progress in their careers.
Such credentials often appeal to workers who have taken more-circuitous routes to their fields: veterans, military spouses, young adults who bypassed college, caregivers re-entering the workforce and career switchers.
Since 2019, college enrollment has dropped 5 percent overall, with the number of newly enrolled freshmen down 9 percent, according to the National Student Clearinghouse Research Center.
Many prospective students cite the high cost of college and pandemic disruptions as reasons for not enrolling. Instead, high school graduates are deferring college, going directly into the workforce or military, or educating themselves outside of the college degree system. For instance, almost 9 in 10 members of Generation Z say they're learning through alternative means such as YouTube videos, certificate programs and internships, according to a January 2022 Intelligent.com survey.
Kate Markin Coleman, co-author of Growing Fairly: How to Build Opportunity and Equity in Workforce Development (Brookings Institute Press/Ash Center, 2022), says the pandemic has prompted more interest in online learning.
"Candidates with industry-recognized certifications have taken the initiative to enroll in programs designed to augment their current skill set," Coleman says. "Their completion of the training modules demonstrates—even more than a general education—their readiness for jobs requiring those skills.
"In a period of labor shortage, certifications expand the pipeline of talent to which HR directors have access and provide an alternative vetting mechanism for HR directors struggling to discern preparation in a competitive market."

Hiring candidates with skilled credentials can help your organization accomplish the following:Increase the talent pool. "It can absolutely increase the qualified candidate pool, but by how much depends on the industry and role," says Joe Cahill, chief customer officer at the Project Management Institute, an association for project professionals based in Newtown Square, Pa.
"By branching out and looking for candidates with certifications, whether or not they hold a college degree, organizations can fill these important roles while ensuring these new hires have the right qualifications," he explains.
Increase candidate diversity. "Skill-based hiring reduces barriers to entry that disproportionately affect minority workers," says Kate Markin Coleman, co-author of Growing Fairly: How to Build Opportunity and Equity in Workforce Development (Brookings Institute Press/Ash Center, 2022).
Research suggests that employers rely more heavily than is necessary on college degrees as a proxy for job preparedness.
"College degree requirements disproportionately disadvantage people of color," Coleman says. "Yet many individuals without degrees possess the fundamentals that qualify them for jobs requiring advanced skills."
Brynt Parmeter, senior director of talent acquisition for retail giant Walmart, agrees.
"If you're not doing a skill-based approach, you're missing a whole range of talent," he says. "We have significantly increased the quality and quantity of our candidates when we lean into this. We achieve much higher diversity, equity and inclusion outcomes when we use skill-based pathways."
Macy's Technology, which is headquartered in Duluth, Ga., has leveraged partnerships with organizations such as Google Career Certificates Consortium, Women in Technology's Single Mothers Program, Pyramid Academy, Workforce Optimization Services and Techbridge, says Nora Marcy, vice president, HR business partner, at the company.
"We're also able to help our communities and give well-deserved opportunities to qualified, skilled individuals who have been passed over by other organizations," she notes. "Hiring for roles is just as much about hiring for aptitude and attitude as it is for skill. If we can bring someone onto the team who shows they have personal drive and desire to succeed, we can teach them the skills they may be lacking."
Increase the number of candidates with job-specific skills. A new employee with a four-year college degree in computer science might have to be trained in an employer's software programs. However, a new hire who comes on board with an industry-recognized certificate in the software the company uses already knows how to navigate the program and requires less on-the-job training."Industry-recognized certifications prove the candidate has mastered a skill set that is highly specific to their role," Cahill says. "And because many of these certifications require putting hours into ongoing education, they also suggest the candidate is up-to-date on the latest industry practices." —K.T.
Evaluation Time
Credentialed employees are viewed as strong performers by a majority of 500 U.S. executives and 1,200 supervisors surveyed by SHRM. Workplace leaders also consider skilled credentials valuable for employee development and believe employees who earn them gain more credibility.
Yet executives, supervisors and HR professionals still place a higher value on work experience and traditional college degrees than on alternative credentials, the SHRM report found. Additionally, evaluating these credentials is seen by some HR professionals and hiring managers as too complicated and time-consuming.
Industry-recognized certifications represent one of the fastest-growing types of skilled credentials because the courses required to attain them cover clearly defined skills, require learners to pass an exam and are aligned to industry needs. Typically, the certifications are completed within three to six months and cost between $50 and $1,000 each, less than one unit in one course for a four-year college degree.
Supervisors and HR professionals consider industry-recognized certifications the most compelling skilled credential, according to the SHRM survey.
The Google Career Certificates program was implemented in 2018 when the company began offering its Google IT Support Certificate on online education platform Coursera. In 2021, Google added three new certificates that can be completed within three to six months and don't require prior experience or a college degree: Data Analytics, Project Management and UX Design (user experience design).
In the fall of 2021, consulting and advisory firm Deloitte US hired 14 graduates through the Grow with Google program.
"The roles we hire for are very specific," says Martin Kamen, a principal and human capital cloud leader at Deloitte US, which has more than 120,000 employees. "The Grow with Google program gives us people with skills [that are] in high demand and brings us a diverse set of practitioners as well. The certificate program opened up a whole other recruiting pool for us, especially in underrepresented communities."
Walmart also has partnered with Grow with Google, as well as with U.S. Department of Labor Registered Apprenticeship Programs and the U.S. Chamber of Commerce.
At Walmart, "we don't think of it as credential-based hiring; we think of it as skill-based hiring," says Brynt Parmeter, senior director of talent acquisition for the retail giant, which has 2.3 million employees.
Walmart has had early success in finding software engineers through the Google program.
"For some time, there has been a shortfall of people to fill those roles, and we've worked through different partnerships to allow us to identify software engineers," Parmeter says. "We work with a number of boot-camp-style approaches. It's a great way to find talent through short-term and immersive training programs. They center on real-world scenarios and tasks in their training experiences."
Certifications are also "stackable," meaning individuals can earn a series of certificates, building on the knowledge gained in the first course.
"Aspiring workers often add certifications over the course of their careers," says Coleman, who, in addition to being an author, has held various leadership positions in the corporate and nonprofit world. "Stackable skills and related certifications can produce substantial upward mobility. In the hiring process, HR directors are challenged to evaluate qualifications. Degrees are one recognizable way to filter candidates; so are alternative credentials and certifications. In such cases, the position skill required and the certification skill verified allow one-to-one alignment in a way that more-general degree terminology does not."
Salesforce, a customer relationship management software company based in San Francisco, offers many certifications, but the most popular is the entry-level Salesforce Administrator Certificate, which demonstrates a holder's knowledge in cloud computing, enterprise software and how to use Salesforce tools effectively. The training to be a Salesforce Administrator is free online at Trailhead.com, and the exam costs about $200.
"The average person with no experience could get upskilled, certified and connected to a job in a six-month window," says Jared Crain, director of workforce development, Salesforce military. "It's disrupting the way Americans look at careers. When I grew up, you needed to get a degree to unlock a career. Now, we're seeing individuals with no degrees, a few years of military experience, and one or two Salesforce certifications get first job offers of $85,000-plus. We had a veteran with a GED get his first job offer at $125,000. The paradigm is shifting rapidly."

How to Start
To make skilled credentials part of a company's recruitment and hiring strategy, experts recommend employers take the following steps:
Communicate with hiring managers. Business leaders and their HR teams must work with hiring managers to understand the skills needed to perform specific jobs.
"The first piece is clarifying what knowledge, skills and abilities the hiring manager needs for this role specifically," Crain says. "See if there is a certification for all of these skills that would demonstrate proficiency in these areas to you.
"We've gotten to a point in the labor market where I can apply for 100 jobs in 30 minutes," he continues. "Overloaded HR professionals are trying to screen and identify quality candidates. If you have 500 applicants, the easiest gate is, 'Do you have a degree?' But it's an arbitrary selection. Some of these positions don't need the skills coming out of a higher education degree. If hiring managers can communicate the specific skills in the role, it would shape who to interview. Certifications give hiring managers a way to do that. It opens your aperture. Certifications give a different perspective that recruiters can use to screen candidates."
Determine which positions are eligible for skilled credentialing. IBM's HR team looks first at what the company needs. "We look for roles that are in demand across our business and offer opportunities for career growth," Wenzlau says. "From there, we engage subject matter experts who can help evaluate which skills are required for success. We have a new-collar talent team that partners with our enterprise skills team and talent acquisition to effectively conduct the analysis and ensure our job descriptions reflect the needs of the position."
Business leaders trying to implement these strategies at their organizations should change their recruitment and hiring strategy to account for this new type of candidate.
"Look at processes, systems, job descriptions, assessment strategies, interview training, sourcing strategies and manager training," Wenzlau advises.
He also cautions employers to be aware of how this transformation is viewed by current employees.
"Be transparent about the rationale for re-credentialing and emphasize skill requirements as a tool to attract the best talent, ensure equity and meet the skills demand in the industry," he says. "By focusing on new-collar jobs, we want to shift mindsets in our industry and make tech more diverse and inclusive."
Change job descriptions to reflect skills, not degrees. At Macy's Technology, a 1,400-employee company headquartered in Duluth, Ga., the HR team is revamping job requirements and its criteria for evaluating candidates.
"Most of our job descriptions stated that a degree was either required or strongly preferred. We're moving away from that," says Nora Marcy, vice president, HR business partner, at Macy's. "Now we're focused on looking for skills and experience. It's no longer a priority how someone developed the skill and the knowledge we need. Instead, it's about making sure they have the behavior and technical skill that will allow them to succeed.
"We're taking this approach with almost all of our technology roles, including software engineering positions supporting our stores, call centers, website, mobile app, distribution centers, merchandising organization and our corporate functions," she says.
https://player.simplecast.com/f378a252-eb09-4568-86b8-621cd6cea0e7?dark=false
Helping both candidates and current employees improve their skill levels through certifications and related efforts has taken on a new importance. In this episode of All Things Work, Wendi Safstrom, president of the SHRM Foundation, joins host Tony Lee for an overview of skilled credentials and discuss their role in closing the skills gap.
Tweak applicant tracking systems. Employers who value candidates with skilled credentials might not learn about them because of barriers erected by their applicant tracking systems. Almost half (45 percent) of the 1,129 HR professionals surveyed by SHRM said their organizations use automated pre-screening to review job applicant resumes. But only one-third of them said their automated systems recognize skilled credentials.
Depending on the applicant tracking system, the fix could be as simple as altering the fields on the "education" portion of the application or adding a "certifications" and "alternative learning" section. For example, at Macy's Technology, "a candidate can include certifications as part of education in their online application," Marcy says.
A long-term solution is advocated by the nonprofit Jobs for the Future, the U.S. Chamber of Commerce and others. They propose a system that allows employees to record their work and training accomplishments digitally, in a verifiable form that can be shared with employers.
The easily accessible files are called "learning and employment records" (LER). One significant LER effort involves the IBM Learning Credential Engine.
"The IBM effort uses blockchain to create a cumulative, verified chain of a worker's credentials, tying together their education and experience and the skills they have built," Coleman says. "Certificates and badges have emerged as signals of achievement."
Applicant tracking systems can filter for specific certifications, but it's important to spell out the certification name completely to avoid missing a skilled and qualified candidate, says Joe Cahill, chief customer officer at the Project Management Institute, an association for project professionals based in Newtown Square, Pa. Also, be sure to add commonly used abbreviations for the certification. "For example, the Project Management Professional certification offered by our organization is commonly known as the PMP certification," he says.
Train HR and hiring managers. HR professionals must gain familiarity with the types of skilled credentials available, especially the certifications and skills they impart, to effectively interview and evaluate candidates. Certain certification providers, such as Grow with Google, also have their own certificate graduate resume systems, which may require some initial training.
"Get recruiting teams up to speed on this," Deloitte's Kamen recommends. "We did a training for our recruiters to show them how to use the Grow with Google recruiting tool."
If employers expand their search methods beyond the traditional bachelor's or associate degrees, they will find a throng of candidates with the skills they need, earned through unconventional means. This will be a boon not only for those individuals, but also for the companies they serve.
"If we want to win and find ways to attract talent, we must be open to considering alternative methods of finding and attracting talent," Marcy says. "If we don't, our competition will—and we will fall behind."
Kathryn Tyler is a freelance writer and former HR generalist and trainer in Wixom, Mich.