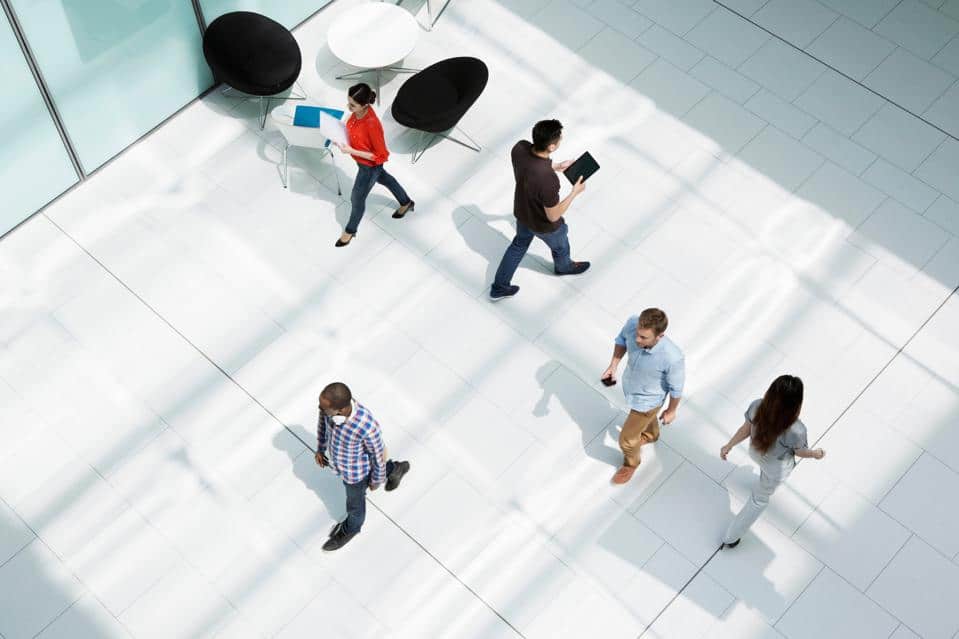 It seems almost every leader and almost every organization are planning for the great return—getting people back to the office on a more regular basis. We know the future of work will be hybrid, with the vast majority of people working from both the office and from their homes. But beyond that, there is a lot of uncertainty and honestly, plenty of room for error.
The stakes are high because talent is scarce. According to one study, 40% of people are thinking about leaving their current employer, and it is likely we are facing nothing less than a talent revolution. Organizational cultures, flexibility and employment practices will be acid tests by which employees will choose to join, stay or leave.
In addition, nothing about the planning process is simple because a successful return must allow for all we've learned about work over the last 16 months—and all we've loved about working away from the office. These must be part of the intelligence we take into the future of work and the future of our workplaces.
None of Us Is Unscathed
None of us is unscathed and the 'return' will be stressful, no matter where you've been working. According to Gallup, in April 2020, a high of 70% of people reported they were 'always' or 'sometimes' working from home, and this percentage leveled off to an overall average of 56% by February 2021. But some have never left: Front line and healthcare workers remind us not everyone has been home. In addition, those who work in labs, warehouses or manufacturing have likely been toiling away in places other than their kitchen tables. Regardless of the location of our work however, the landscape of the workplace has changed.
Decisions about how and how often to come back, and who will come back are high-stakes for individuals, leaders and businesses. As an individual, you may want to work from home more often, but if you do, you may reduce your social capital or career growth opportunities. Leaders will need to give employees choice and control while also ensuring they maintain engagement from team members. And businesses are walking a talent tightrope. They risk losing employees if they don't offer enough flexibility or risk losing performance if they aren't able to draw people to the workplace for the types of work best accomplished face-to-face.  
Tradeoffs Will Be Necessary
It will be tough to know which approaches are best and almost every decision will have tradeoffs. In addition, decisions will demand weighing the unique situations of people, work, industries, competitive landscapes and geographies. Overall, it will be useful to consider the way you value people, performance and systems—and how you prioritize both the experiences you create and the outcomes you produce—so you can adopt overall principles to guide your decisions.
A pitfall is to oversimplify. In reality, there won't be simple solutions. Considering all sides, angles and implications will contribute to better decisions. It won't be easy, but it will be important. Here are five ways to frame and evaluate the decisions you'll make in a hybrid future.
#1 – The Tension Between Individual and Organizational Needs
Individuals may love to work at home in their fuzzy slippers, avoiding the commute and enjoying the conveniences of the kitchen. But staying home can get in the way of individual growth. Being face-to-face is the best way to build relationships, nurture networks and learn from others. Sure, people can accomplish this virtually, but often the best connections come from running into people at the coffee machine or exchanging unexpected ideas while waiting together for the elevator. As a CIO said to me recently, "Face-to-face offers the maximum bandwidth."
People also need to consider visibility. Even the most progressive companies who seek to promote people regardless of where they're working can lose sight of those who aren't in their regular field of vision. It's a basic reality—being more present is good for your career trajectory because you'll be on the radar for the next cool project or sweet promotion.
Teams can be successful virtually and the last 16 months certainly prove it. But research by Maastricht University has demonstrated that for complex or work that involves problem solving or speed, face-to-face is best. Companies can engage workers most effectively when they are in person, and leaders can mentor, model and mange work best when they see people more often. Organizations can more easily nurture culture when people experience it together, and morale is built when people share a common sense of purpose and the energy of working on something of mutual importance. These will need to be part of your considerations as you set expectations for how often people must be in the office.
There is an appropriate tension between what's best for individuals and what's best for teams and companies. Some at-home work will allow employees to make choices about balancing the demands of work and home, and will make a difference in their quality of life (ex. less time commuting or more time for family). But time working in the office will also contribute best to commitment, performance and espirit de corps among team members.
#2 – The Tension Between Short Term and Longer Term
Decisions about hybrid work will also be affected by our trajectory of learning. None of us have done this before—lived through a global pandemic and returned to the office—so we are wise to admit that we don't know what we don't know.
I was speaking with the owner of a large restaurant chain whose take-out business had been going gangbusters. He is recording record profits and said he plans to close his dining rooms and focus exclusively on delivery. Wait. What? The circumstances driving take-out had to do with lockdowns and quarantines. As our situations change, we may continue to love ordering in, but chances are we'll also want to get back out to restaurants and dining experiences away from home. The lesson? Don't make decisions that are too permanent, too soon. We just don't know yet how our demands will shift, how customer needs will change and how the workplace will have to respond.
Wise leaders will set the expectation with employees that they will be learning and evolving. And smart companies will develop a plan for hybrid work and then leave plenty of room to adjust and adapt as we come out of the pandemic. At this moment, it seems clear hybrid work is here to stay, but the big question is "in what proportion?" Work from home may be a large part of how we work going forward, but it is also possible the pendulum of where we work may come to rest closer to where we've been in the past. A CEO said to me recently, "We don't yet know what better is." Leaders and companies will need to pilot, measure and stay open to ongoing learning to make the best decisions for now and then revisit and potentially adjust or revise later.
#3 – The Question of Control
Leaders and companies will also need to acknowledge issues of control. The popular press is emphasizing the control workers have had while they've been home—especially over their schedules and working patterns—and pointing out how many employees aren't enthusiastic about returning to a life of earlier alarm clocks or fighting traffic only to come to offices that suck their energy dry. Tons of science demonstrates when people have more choice and control, they are more engaged, fulfilled and happy, and they perform better. There are plenty of reasons for companies to give people more flexibility about where they work, when they work and how they work. But it's also true that companies are in business to generate results, and it's fair to set expectations for employees and expect performance in exchange for wages and benefits.
Companies that succeed will adhere to their values when making decisions about how to bring people back. Respect for people should be a primary guiding principle. Also, key will be transparency: Share the reasons behind the decisions and keep lines of communication open between employees and leaders. Leaders will need to balance empathy for employees with the need to hold people accountable for great work. The right answer is not to remove all responsibility—giving people total freedom to produce if they feel like it. Instead, employees want to feel valued and to know their outcomes matter to the success of the organization. Motivate and validate by giving people feedback about their performance and reminding them how their work contributes to the value chain and the end customer.
#4 - The Need for Connection
In survey after survey, one of the primary reasons people want to get back to the office is to reconnect with colleagues and refresh their relationships. Whether a person is an introvert or an extrovert, they need some level of connection and sense of belonging, so emphasize community and be intentional about fostering new norms which support connections. For example, perhaps team members provide access to their calendars (while maintaining appropriate privacy of course), so they can plan on when to be in the office based on their co-workers' schedules. Teams can also plan for which work should be done all together face-to-face and which work can be accomplished with everyone working remote. In addition, teams can be intentional about which work is adequately supported in a hybrid model—with some team members in the office and some remote.
Getting people back will also benefit from critical mass. Like a flywheel, it will be to your advantage to attract enough people that they, in turn, attract more. Critical mass will inspire feelings of FOMO (fear of missing out) and people won't want to be on the outside if all the energy is at the office. This is called the "bandwagon effect" and by ensuring employees know others are coming back, you can inspire more to join the trend.
#5 – Compel, Don't Cajole
As you're bringing people back, it will be less effective to force, threaten or pressure people. Some employees may be fearful or feel vulnerable about coming back. Inspire trust by being open about what they can expect (people don't trust what they don't understand) and by demonstrating respect for people's unique needs. People will be genuinely motivated to come back to the office when the experience is positive—with a culture that embraces them, colleagues who value them, leaders who provide a sense of purpose and a workplace that is inspiring.
Update workplaces so they support plenty of collaboration, but also focused work. Ensure offices give people the opportunity to connect, learn from each other and build relationships. At the same time, allow people choice about where they work throughout campus based on the kinds of work they need to accomplish. Consider how you might attract people through curiosity—with places that have been updated or environments that have elements of discovery or surprise.
Reciprocity is part of the human condition and we are all more willing to give when we are getting something in return. When leaders provide coaching and mentoring and companies offer great benefits and opportunities for career growth, these "gives" will motivate employees to contribute. We're enthusiastic to engage when we feel appreciated. And we're eager to exert ourselves, when we believe the company has our best interests in mind.
Embrace Complexity
Nothing about the return will be simple, but it will be incredibly important. For this reason, we'll need to plan for learning and know we'll need to shift. Putting people first is good for people, but it's also good for business. Far from fluffy, ensuring people have great experiences is impactful to outcomes. Do the right thing for people because it's the right thing, but also because it will make a huge difference to business outcomes and success in the future of work.