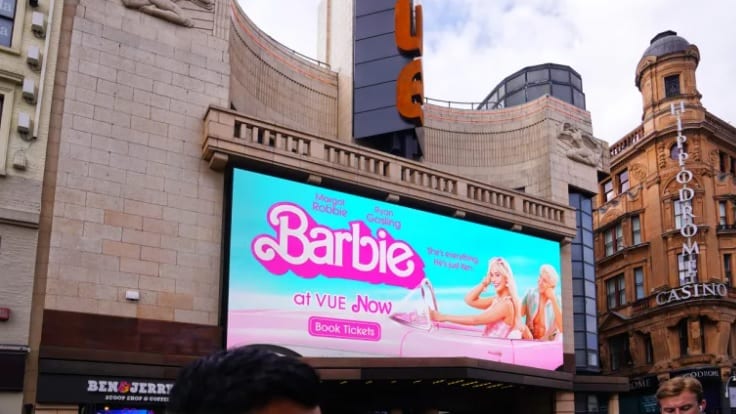 Barbie" has become the first movie solely directed by a woman to bring in more than $1 billion at the box office, according to its studio, Warner Bros. This was achieved just 17 days after the movie was released.
The feat has made Greta Gerwig the highest-grossing female director ever. Directors Jennifer Lee ("Frozen") and Anna Boden ("Captain Marvel") have also reached the billion-dollar box office mark, although their efforts came while co-directing with men.
The movie is on pace to become the highest-grossing domestic film of 2023.
"I hope that Greta's success is the first of many for female directors," said Sarah Danzl, chief marketing officer at Skillable, an employee development platform based in Orlando, Fla. "I believe [the film's] success will add confidence from studios both in choosing women to direct, but also supporting bigger production budgets for female directors."
Part of the success of "Barbie" can be attributed to audiences connecting to the film's deeper messages. The movie digs into workplace-related topics such as gender stereotypes, highlights personal passions and encourages ongoing learning. Workplace experts say these lessons can benefit employees' careers and businesses' bottom line.
Build Upon a Skill Set as a Career Foundation
Danzl said that "Barbie" offers valuable insights to learning and training professionals seeking to enhance their careers.
"Barbie's journey from a fashion doll to an example of resilience and pop culture offers valuable insights for learning and training professionals—embrace diversity, encourage learner-led learning, and promote lifelong learning," Danzl said.
In the movie, the multiple versions of Barbie win Nobel Prizes, hold medical degrees, and perform service and trade jobs including mail delivery and construction. But the main character, "stereotypical" Barbie, realizes she needs to put in the work to grow her career and develop herself as a complete person.
The character Ken comes to a similar realization when he discovers his "beach" job doesn't come with a strong enough skill set to land him a more substantial role anywhere, whether as an executive, doctor or even lifeguard. A degree and a CPR class stand between him and some of the careers he seeks out.
Danzl noted this experience is also true for real-life people, so they should use educational tools and courses to unlock new opportunities and build scalable skill sets.
While specific hard skills are necessary for many roles, a 2023 report by LinkedIn indicated that human-centered soft skills—including management, communication, leadership and teamwork—are coveted among companies. Developing and building upon this skill set is crucial for employees to stay at the top of their game.
Never Stop Learning
The film also shows Barbie having the "best day ever" on repeat, but she doesn't grow until she breaks free from her seemingly idyllic routine and looks beyond her limited worldview to learn more. Whether you're a business leader, individual contributor or intern, continual learning is key for career growth, Danzl said.
"The world is constantly changing, and adaptability is a vital skill for success in the 21st century," she said.
Learning can improve employees' work experience while benefiting their employers. According to the 2022 Workplace Learning and Development Trends report by SHRM and TalentLMS, 84 percent of organizations feel that establishing a culture of learning in the workplace enhances organizational resilience and improves employee culture. While many employers provide training and development opportunities at work, 57 percent of employees are seeking them on their own.
Upskilling, continuing education and training can help employees grow and leverage new opportunities, the report indicated.
"Employers should create programs that develop talent both from the top down and bottom up," said Rhonda Taylor, a recruiter and executive director of business development at Impactful Search in New York City. "This includes creating executive opportunities for those in leadership, implementing executive mentorship programs for leaders and high achievers, and holding executives accountable."
New opportunities for growth can ultimately benefit employees, businesses and customers, according to Wendy Mahle, chief HR strategist at executive coaching platform SMARTer Job Hunting.
"Just as Barbie's needs changed when she left the predictability and safety of the Barbie world, individuals' needs change as people move through their careers," Mahle said. "Leaders who support employees' changing needs and goals with training and opportunity keep the workforce engaged and evolve with the business."
Diversity Enriches Your Bottom Line
Mattel, the maker of Barbie toys, has an executive team and board of directors that are more gender-diverse than the fictionalized corporate leaders in the film. The group depicted on screen underscores the limitations of a team that doesn't necessarily reflect a brand's core audience or values.
Research shows that diversity in leadership supports business objectives. A 2020 study by McKinsey and Company found that:
Companies in the top quartile for gender diversity on executive teams were 25 percent more likely to have above-average profitability than ones in the fourth quartile.
Companies where women accounted for more than 30 percent of executives were more likely to outperform companies with only 10 percent to 30 percent of their leadership team made up of women.
"Diversity in leadership brings together individuals with varied backgrounds, experiences, and perspectives, leading to more comprehensive decision-making processes," said Ruth Rathblott, a TEDx speaker, international bestselling author, and inclusion and diversity strategist. "This alignment of values and actions can improve employee morale, engagement and loyalty, all of which contribute to a more positive work culture and, consequently, improved business performance."
Another McKinsey report found that women hold only 26 percent of C-suite roles, and just one in 20 of these leadership positions is held by a woman of color. Engaging more women and people of color in leadership roles is good for business, Rathblott said.
"Diverse leadership demonstrates a commitment to equity and inclusion, which resonates positively with both employees and stakeholders," she said.
Diversity has also been good for the Barbie business. Barbie sales were in a relative slump between 2014 and 2017, but they have been on the rise more recently after the introduction of more diverse body types. Barbies from different racial backgrounds and with varying abilities have also boosted Mattel's books, with record sales in 2021.
Ultimately, the lessons in "Barbie" aren't just for dolls.
"When we value different perspectives and experiences, we see changes in [workplace] culture—increased retention, greater engagement and an explosion of innovation," Rathblott said. "In a culture that values unhiding, employees are more likely to share their skills and experiences openly, leading to cross-functional learning and a more innovative and dynamic workforce."
Renée Deveney is a writer, editor and content manager specializing in professional development, health and personal finance. She graduated from Rollins College in Winter Park, Fla., with a degree in English literature and creative writing.