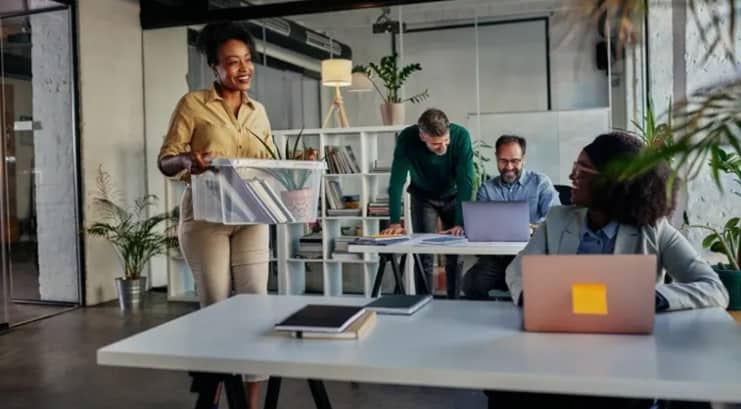 The pandemic ushered in a new era of work. Many workplaces went fully remote, with some employers giving up their office space altogether. In the post-pandemic era, a number of workplaces are hybrid and have no plans to get back to full-time, in-office work. According to the Pew Research Center, 35 percent of workers with jobs that can be done remotely are working from home full time, and 41 percent of those with positions that can be remote are working a hybrid schedule.
However, now that COVID-19 is better managed, employers are attempting to bring workers back into the office, with some—like Zoom and Meta—requiring in-person work at least a few days per week. Additionally, new research from KPMG's Global CEO Outlook showed that 63 percent of CEOs predict a full return to in-office work by the end of 2026, while only 7 percent believe that full-time remote work will continue in the long term.
Following in the footsteps of Zoom and Meta are companies across the U.S., which are trying to bring workers back into the office at least part of the time.
Here's what they're doing to convince workers to come back, as well as their reasons for advocating in-office work.
They're Encouraging In-Office Work for Gatherings
In a time when 90 percent of office workers said they don't wish to return to the old ways of working—and some are even threatening to walk away from a job if they have to go into the office full time—employers are treading lightly.
Sara Murdock, director of people and culture at architectural firm Steinberg Hart, which has offices in California, Texas and New York City, said her company allows for remote work among its 140 employees and requests in-person attendance for specific types of gatherings.
"We encourage people to be in the office for major meetings, training and
group collaborations," she said. "In other words, [we want them] to be physically present during times that we are interacting with one another or in interactive learning mode, not just working on our computers."
They're Looking at the Impact on Productivity
Amanda Webster, the chief operating officer of Fund&Grow, a U.S.-based lending program in Florida with 55 employees, said the company went remote during the pandemic but it wasn't a positive change.
"It had a negative impact on employee morale and their ability to separate work and home," she said. "Employee morale was low due to feeling overwhelmed with work/life balance."
Now, after seeing the effects of work from home, Webster only allows remote work if there is a medical accommodation needed or if it's approved in advance.
"Being in the office allows us to be the most efficient," she said. "Our employees enjoy the camaraderie of being in the office, with the support of management and having the technology needed to be successful."
At Relay Payments, a 150-employee company in Atlanta, Chief People Officer Amy Zimmerman requires employees to work in the office a few days a week because it's proven to be better for business.
"We are a rapidly growing fintech that's disrupting much larger, established businesses," she said. "Our competitive advantage is speed, and we feel it's important to be in the office three days a week to collaborate, problem-solve in real time, connect, and to help onboard new team members since we're on a hiring spree."
They're Offering Commuting Stipends
Some employees who got used to working at home don't want to have to commute and pay high fuel or transportation costs to get to work again. In response to this, Steve Feiner, managing editor of Tech Jive and CEO of ABF Group in Silicon Valley, is providing commuting stipends to his 300 employees.
"[We] offer stipends for those who choose to commute, ensuring they aren't burdened by additional costs," he said.
Since Feiner is in charge of a tech company, physical presence in the office isn't always required.
"However, for brainstorming sessions, collaborative projects and certain team-building activities, face-to-face interactions can be invaluable," he said. "The pandemic accelerated a trend we were already observing: the rise of remote work facilitated by technology."
They're Focusing on Relationship Building
One of the biggest upsides of in-person work is the ability to cultivate relationships—something that could get lost on a Zoom call or Slack message.
Zimmerman makes days in the office special for workers, using them to focus on building bonds between employees.
"We cater lunch and host activities like our running club and taking walks together to ensure we're building relationships with one another," she said. "On days when we're remote, we utilize our internal messaging platforms to make sure we're still honoring our culture by collaborating and engaging with each other."
They're Balancing Business and Employee Needs
Overall, companies are taking a balanced look at the situation: Even if they want employees in the office full time, they aren't demanding it. Instead, they're working hand in hand with employees to figure out the best solution moving forward.
"I'd suggest that more leaders do a deep dive into what, precisely, helps their teams do phenomenal work over time," Murdock said. "Engage employee listening, and really get to know the ins and outs of human motivation."
While a majority of CEOs may believe that full-time in-person work is going to return, Feiner has a different perspective: The nature of work has changed, and companies have to change to keep up with it.
"The future of work is flexible," he said. "With advancements in technology, especially
in the realm of communication and collaboration tools, we have an opportunity to redefine traditional work structures. It's essential to stay adaptable and prioritize both business needs and employee well-being."
Kylie Ora Lobell is a freelance writer based in Los Angeles.