The talent shortage is forcing more employers to shed outdated degree requirements. Here are three steps to fostering a new focus on skills and credentials.
Tech skills are at a premium today. There are more jobs for the most in-demand skills than there are people to fill them. That means hiring managers have a supply problem: There aren't enough people with the right tech skills to move your company into the future.
Companies need to widen the labor pool to reach valuable talent in new ways. To ensure a steady supply of talented people coming from outside your organization or from within, you need to attract people who can evolve and learn new skills.
Unfortunately, the way many companies screen applicants for these key technical capabilities isn't helping. Many HR departments prescreen applicants through an automated applicant tracking system (ATS). But these systems are often programmed to screen out applicants who don't have at least a bachelor's degree.
According to WorkingNation, nearly 70 percent of professional jobs require a four-year college degree, but less than 40 percent of US workers have one. Many people with cutting-edge tech skills do not have a four-year degree, but they may have a different type of credential.
Most ATSs do not account for industry certifications or other credentials besides the four-year college degree. A recent Society for Human Resource Management (SHRM) Foundation survey found remarkable inconsistencies in how organizations' ATS tools handle alternative credentials (see chart below). Only about one-third of organizations using an ATS said their system recognizes skilled credentials or certifications. SHRM also found that 45 percent of employees hold skilled credentials, which many ATSs don't recognize.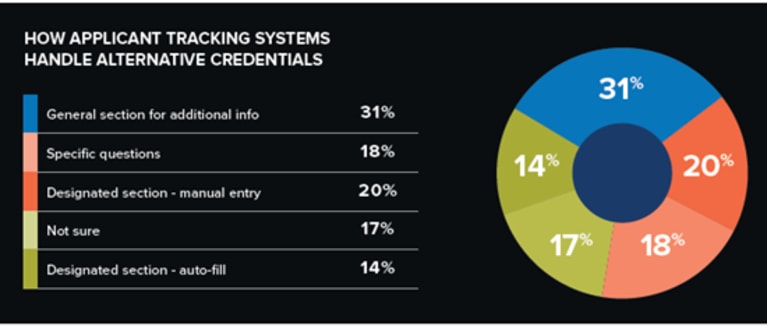 Source:Making Skilled Credentials Work: A New Strategy for HR Professionals,SHRM Foundation, 2022.

This means many companies are leaving opportunities on the table in a tight labor market by overlooking potential hires who would make a big difference on their teams, all because of an antiquated four-year-degree requirement.
Although earning a traditional college degree has its benefits, degreed knowledge becomes outdated quickly in the domain of technical skills. Half of what we learn in college becomes obsolete in five years. And for some skills, it is less than one-half that. Employers cannot depend on college alone to teach people sufficient technical knowledge.
The Value of Skilled Credentials
One way to widen the talent pool is to screen for applicants with skilled credentials, which are certifications that demonstrate an industry-approved level of skill and expertise, such as in cybersecurity or data analytics. A company can look for a certified industry practitioner in Oracle or customer relationship management (CRM), among other areas. Industry bodies issue professional certifications in nearly every imaginable field, from electrical engineering to project management to event planning.
Getting a skilled credential usually requires online classes and application or practice. Students work under the observation of industry professionals who can certify that they have acquired the skill in question. Apprenticeships are a similar educational model, allowing people to learn skills and prove their ability to execute specific tasks.
Some companies are responding to the need for tech skills with initiatives of their own. For example, Google has found the skills it needs do not yet exist in the population, so it is creating boot camps for students as early as high school to educate and attract potential hires, while also giving them skills they need for jobs. Other programs, such as Girls Who Code, aim to bring underrepresented people into tech disciplines.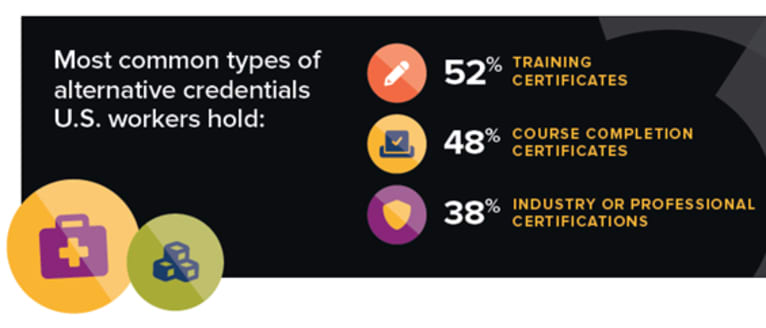 Source: Making Skilled Credentials Work: A New Strategy for HR Professionals, SHRM Foundation, 2022.
Opening Jobs to Underrepresented Groups
The potential of a mindset shift in favor of skills-based hiring not only helps companies acquire new skills they need to execute on their strategy—it's also key to diversifying the workforce. Screening for four-year degrees and ignoring skilled credentials leaves out significant portions of the population who may face greater barriers to obtaining a bachelor's degree from a U.S. institution, including some minority groups, lower income families, immigrants and refugees. By screening out applicants who don't have four-year degrees, companies exclude marginalized populations without knowing it.
In addition, people with disabilities are often systematically excluded from the workforce. The U.S. Department of Labor has a mandate to train people with disabilities, but, again, automated screening tools often do not recognize these certifications. The result? People with valuable skills are passed over, while companies struggle to build the capabilities they require to prosper.
Recognizing the need for greater diversity in their workforces, Walmart, Boeing, IBM and others came together to form the Rework America Alliance as part of a campaign to open the workplace to people with diverse types of education. In addition, the SHRM Foundation is working with Walmart to advance the recognition of skilled credentials to broaden the talent pool. The Foundation believes that focusing on skills is one of the best ways to resolve the country's labor shortage issues.
Skills and Projects—Not Job Titles
Moving from requiring a four-year degree to valuing other types of skills and credentials is a big mindset shift for many organizations. In some cases, tech companies have had to respect skills more than job titles because skills were changing so rapidly that they had to upskill people in the flow of work. They realized they needed to be able to help people continually develop new skills.
However, a skills-based mindset not only enables organizations to hire the right talent—it also allows talent to flow through the organization more effectively. In addition, it helps employees know which skills they need to cultivate to advance and grow in the organization.
The key to achieving this flow of talent is to break larger streams of work into projects. Then, ensure you are allowing people to operate on projects where they have the highest value, rather than working in ways that don't allow them to best use their expertise.
The shift to a skills-based and projects-based focus enables you to optimize your existing talent. Breaking work into a series of projects so you can move work around helps people lean in to their passions and interests. Also, when you know very specifically what skills you need—and what you have—you're better able to see the gaps. In filling those gaps, you can get people into the kinds of roles they're most interested in, which increases engagement and productivity.
If there's a recession and you need to reduce headcount, you may need to get more for less. Optimizing the talent you already have in-house is a means to that end.
The move to a skills-based mindset is getting a huge push from HR thought leaders. And we're seeing more organizations shift to such an approach, rather than one based on college degrees, job descriptions and titles.
3 Steps Toward a Skills-Based Mindset
What can managers do to foster a new focus on skills and related credentials?
First, look at your open positions and ask whether someone really needs to have a college degree to fill this role. What skill or skills are truly needed to execute the task? Think projects and skills, not just degrees and job titles.
Next, review how your automated systems are screening resumes or other information. Make any adjustments you need to these systems to scan for skilled credentials and certifications, especially if you're filling a technical role where you're looking for a specific skill set.
Don't forget to verify the quality of the credentials and check to ensure the prospective employee has the skills associated with the certification they claim. Skilled credentials and certifications may come from any number of bodies, so it's good practice to verify the certification's quality and that the person has the skills they claim.
Finally, begin to think about your organization's work as a set of projects you're executing. Log the specific skills you need to accomplish each project, and associate projects with skill sets.
Moving from thinking in terms of degrees, job descriptions and functional job titles to a skills-based and project-based approach is a significant shift. But it may be necessary to attract and retain the talent you need. It's also an opportunity to increase the diversity of your organization by tapping previously underutilized and marginalized populations. In today's market, especially in tech, any move that widens the pool for new talent can give your organization an edge.
Edie Goldberg is the founder of E.L. Goldberg & Associates and the chair of the SHRM Foundation. Before launching her own company, Goldberg worked for Towers Perrin as the Global Leader in Learning & Development, Career Management and Succession Planning.