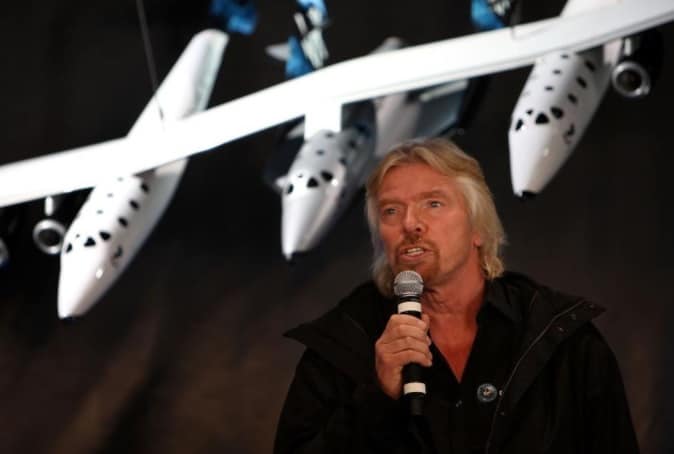 "For the next generation of dreamers," Virgin Galactic owner Richard Branson said in his reverie. "If we can do this, just imagine what you can do." After 17 years of painstaking work, the billionaire rocketed to space on July 11, 2021, realizing his boyhood dream of space travel, shattering the space glass ceiling and relegating the dinosaur adage, "The sky's the limit" to the dust bin. Branson's historic career trajectory carries a message for everyone with career ambitions, "Imagine what you, too, can achieve." Whether you're a janitor or judge, a secretary or sailor or a lawyer or brick layer, there are lessons in this historic event for all of us.
Lesson 1: There are no limits on what you can accomplish. The billionaire astronaut is 71-years-old and dyslexic, again showing that age and disabilities don't have to limit your dreams. In fact, he credits his dyslexia with arming him with the skills for imagination. Branson is a role model for people with learning disabilities or older workers, again showing that it's never too late to try and the only limits to our accomplishments are the ones we put on ourselves or allow others to place on us. Another role model, extolled in the 2000 Oscar-winning film, Erin Brockovich, also made history helping residents of Hinkley, California win a massive arbitration against the Pacific Gas and Electric Company. As a dyslexic child, her parents talked to her about stick-to-itiveness, giving her the power to believe in herself. She told me, "This (stick-to-itiveness) is a very powerful word—the propensity to follow through in a determined manner, dogged persistence born of obligation and stubbornness. And I took that to heart and applied it to everything I did. You've got to tap into who you are and rise from that place," she said. Since the film, her name has become a household word—even a verb. "To Erin Brockovich something" means to investigate and advocate for a cause without giving up.
Lesson 2: Follow your dreams and never give up. Never giving up on your aspirations comes with rewards, as Richard Branson showed since he made spacecraft out of cardboard boxes as a young boy. After a certain number of setbacks, it's natural for self-doubt to move in, causing us to accept dashed dreams. But once you realize it's your negative thoughts—not the reality of the world—that gets in the way, your dreams can be fulfilled. The awareness that it's not the setback that imprisons us but the way we think about it can free us from our mind traps and self-doubt. From the ancient Chinese Philosopher Confucius, who said, "It does not matter how slowly you go as long as you do not stop" to Twentieth Century American inventor Thomas Edison, who said, "Our greatest weakness lies in giving up. The most certain way to succeed is always to try just one more time," the message has been the same.
Lesson 3: Think outside the box and stick your neck out. Growth happens outside your comfort zone. Instead of fleeing from the unknown, you build your career by stepping into the unfamiliar. Once you start to stick your neck out and accept failure as an essential steppingstone to success, you become willing to go through the required hurtful steps (they're called "growth pains") to get there. Ask yourself what edge can you go to in your career? What unpredictable bridge can you jump off to sprout your wings? What limb can you reach to get to the fruit of the tree? Four time Grammy-winning singer/songwriter, India.Arie, said for much of her early music career, she harbored fears of writing and singing her beliefs that went against a conventional religious upbringing. Eventually, she got the nerve to get out of her comfort zone. India told me: "I was afraid to say certain things in my songs. My own personal lesson is that my 'lizard brain' had me thinking it was dangerous to write these songs," she said. "It kept me thinking at the beginning of my career that I couldn't sing these things. Yet, once I got free of that, every time I sing 'One,' I get a standing ovation. I was able to go all the way from being afraid to sing a song like 'I Am Light' and to sing it at the Grammy's. I didn't win that award, but I got a standing ovation. It felt good to come into my own in that moment in a public forum."
Lesson 4: Don't take no for an answer. They laughed at Christopher Columbus, Thomas Edison and the Wright brothers. People will tell you no at every turn. And sometimes no is the first thought that pops into our head: "I cannot" instead of "I can." Studies show that after a setback we are more likely to give up our goals so we don't have to keep feeling disappointment. The mind is hardwired with a "negativity bias," but we can learn to stack "cans" instead of "cannots." Although we're inclined to take career lows more seriously than career highs, it helps to treat them equally. The key is to celebrate career highs but don't take them anymore seriously than career lows and don't take career lows anymore seriously than the highs. Most of all, learn to wiggle around the word, no, which can squeeze the vitality out of your career and diminish your verve for life.
Lesson 5: Keep a broad perspective. A broad perspective allows you to build on the many positive aspects of your career. One of the best tools to course correct when your career seems like an uphill struggle is to think of the view from the top. When we stick with scaling the mountain long enough, we start to see a progression. At first our goals seem impossible, then improbable, then as we persist onward, they become inevitable. Avoid blowing career disappointments out of perspective; look for the upside of a downside situation; underscore positive feedback instead of letting it roll off; focus on work solutions instead of problems; pinpoint the opportunity in a career challenge; refuse to let one bad outcome rule your entire outlook.
How Business Leaders Can Encourage Shattered Limits
Imagine what it would be like if you worked for a boss who gave you the freedom to take risks, learn on the job, make mistakes and offer suggestions based on what you learn. Or if you're a boss, imagine what the outcome would be for your team's performance. Researchers at Rice University and the University of Windsor wanted to find out, so Kyle Brykman and Danielle King identified the leadership skills that build a team's capacity to take risks and bounce back from setbacks. They found that leaders who encourage employees to learn on the job and listen when they voice their ideas for change build team resilience and effectiveness. According to researcher Danielle King, "Creating a work environment centered around learning and open communication is helpful as teams grow and take on new tasks. Leaders must reinforce this workplace culture with positive language that signals openness and a focus on their development."