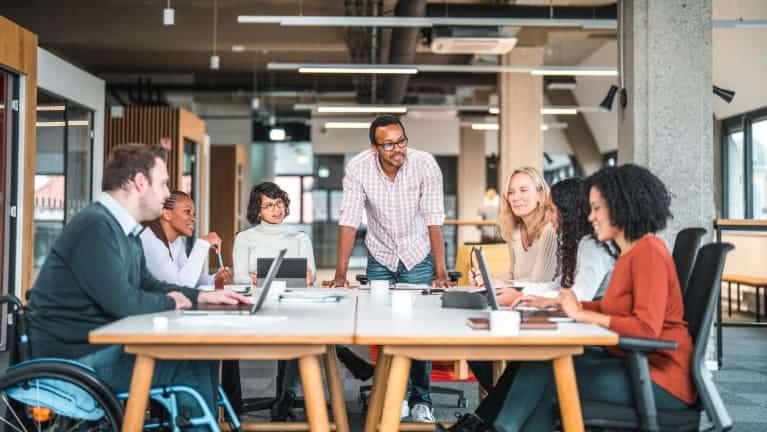 After seeing record gains in diversity, equity and inclusion (DE&I) roles in recent years, those positions are now drying up.
A new report by LinkedIn assessing more than 500,000 C-suite hirings between 2019 and 2022 revealed that the hiring of chief diversity officers (CDOs) declined in 2022 after experiencing significant growth in 2020 and 2021. CDOs were the only C-suite position to experience hiring declines in 2022.
"This statistic is alarming and disappointing," said Kara Yarnot, vice president of strategic consulting services at recruitment agency HireClix in Gloucester, Mass. "When some companies need to find places to be cut, unfortunately they tend to cut areas like DE&I and talent acquisition."
According to additional reports:
A Glassdoor survey revealed that 27 percent of companies reviewed on the site indicated an investment in DE&I programs in 2017. Access to DE&I programs increased to 39 percent in 2020 before peaking at 43 percent in 2021. However, that number fell to 41 percent in 2022.
Revelio Labs, a New York City-based company that uses data to analyze workforce trends, released a report showing that DE&I roles began diminishing at a faster rate than non-DE&I positions in 2021 and this trend continued to accelerate during layoffs in 2022.
The Revelio report noted that the median DE&I team among 600 companies of various sizes surveyed comprised three members. Amazon, Twitter and Nike have shed between five and 16 DE&I professionals each. More than 300 DE&I professionals have left from these companies in the last six months.
In some instances, DE&I departments have folded altogether—particularly in the technology industry—due to budget cuts and mass layoffs, which has led to worries about the sustainability of workplace diversity and inclusion efforts.
Amazon spokesman Brad Glasser told the Daily Mail that the firm's "DEI priorities have not changed" despite the layoffs and that the company intends to hire more Black, Latino and veteran workers in the coming months.
However, Octavia Goredema, a Los Angeles-based career coach and author of Prep, Push, Pivot: Essential Career Strategies for Underrepresented Women (2022, Wiley) called DE&I declines due to layoffs "incredibly concerning."
She asked, "As an organization, how can you demonstrate you're invested in advancing the careers of underrepresented professionals when you can't retain your DE&I team?"
Too Much Lip Service?
From June to August 2020, openings for DE&I roles skyrocketed by 55 percent following a widespread demand for broader racial equity and justice after George Floyd's murder.
However, Amy Hull, director and head of DE&I at Paycor, a global leader in human capital management, said the Linkedin and Revelio data shows that the pledge to impact change was not followed by genuine effort.
Organizations that had a "reactive" approach to the events of 2020 or are tied to political interests are mostly the businesses that are quietly divesting from DE&I programs and eliminating these positions, she noted.
"If they weren't invested for the right reasons to start when they created these positions and hiring, and it was more for optics, it's of no surprise that they are removing these positions when no one is apparently watching," Hull said.
Jamie Adasi, head of inclusion, diversity, equity and allyship for software company Greenhouse in New York City, said many companies were engaging in "diversity theater"—a term used to describe an attempt by employers to make others think they care about DE&I issues despite not investing resources into them.
"[DE&I] programs are cross-functional operational programs that require the same level of structure and rigor as other operational programs impacting the business," she said.
Why DE&I Still Matters
Hull said DE&I remains vital to business success—even during an economic downturn.
"It is vital to a company's success because it's the right thing to do and our world is becoming [increasingly] diverse," she said. "Making it a priority will likely lift the economy based on data and evidence of success in businesses that prioritize it.
Studies have shown that DE&I can increase an organization's revenue, customer base and ultimately profits. Many companies that fail to take proactive steps to prioritize DE&I may find themselves behind their competition and struggle to meet business goals.
DE&I has also helped attract and retain employees: A 2022 survey revealed that 92 percent of 3,000 full-time workers said company culture, a key characteristic of DE&I, impacts their intent to stay with their employer. Millennials and Generation Z employees were more likely than Baby Boomers to value DE&I.
Companies with DE&I teams tend to have a higher representation of Asian, Black and Hispanic hires than companies without DE&I teams, per the Revelio report. Employers that sacrifice DE&I programs to meet budget demands could feel the effects of this decision in the future, Yarnot noted.
"Three years from now, these organizations might ask why their diversity numbers are plummeting," she said. "Well, look what you did a few years ago. You didn't prioritize DE&I."