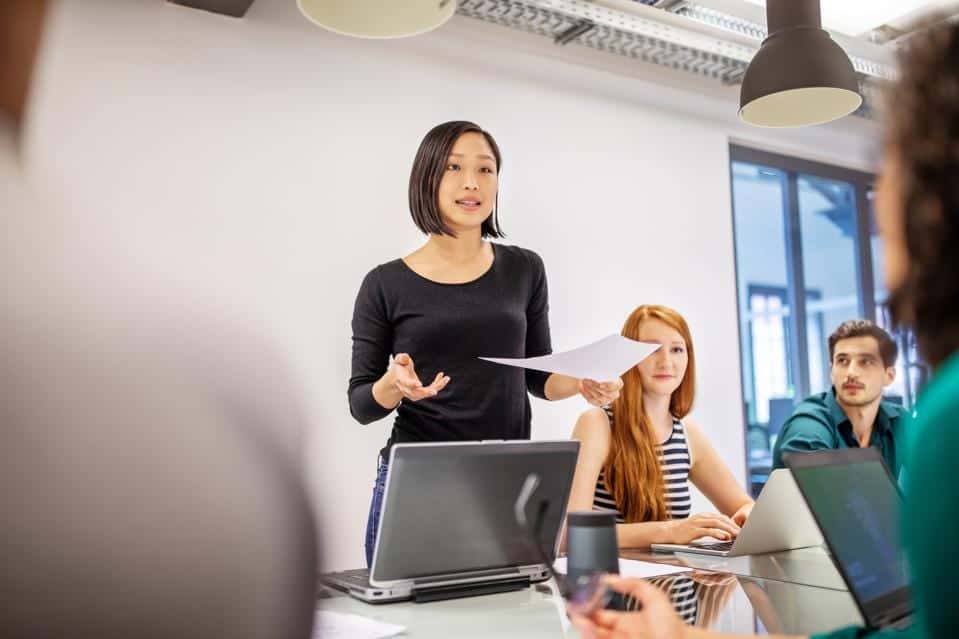 Q: How do I increase brand awareness for myself as a professional? I've become my own brand and have to get used to promoting myself rather than for the companies that I've worked for – Alice
Unsure what Alice means by "becoming" her own brand, as if her brand is just now being created. You, Alice, and everyone else have always had a brand. You have a brand because people know you for specific skills, expertise and personal attributes. Think about when someone referred you to an opportunity or introduced you to someone else. Your brand is what they thought of to assume that the opportunity or introduction was a good match.
Maybe you haven't consciously or consistently shaped your brand. Maybe your brand isn't as widely known as you'd like. Maybe you're not sure how others perceive your brand. However, you do have a brand, and Alice smartly wants to manage hers more proactively. Here are seven ideas to get started:
1 – Craft a networking introduction that reflects who you are and what you want now
Many professionals talk about themselves in terms of their current employer. There's nothing wrong with that, except you are a distinct person separate from your employer, you are multifaceted so you could talk about a host of things other than work, and ideally you want people to remember you and not your employer. To brand yourself, talk about your individual area of expertise, describe your background beyond your employer connection and include what's interesting to you now. A pitch untethered to your current employer is critical if you want to change careers or are in-between employers.
2 – Professionalize your personal email signature
Your work email is likely branded with your employer's logo, website and maybe even tagline. You should do the same with your personal email. If you don't have a website, include your LinkedIn profile. If you don't have a logo or tagline, include your favorite quote to showcase your personality. If your work is published somewhere – e.g., you designed a website or you published a blog – you can include a link to that in your signature. Your email signature is seen over and over by your connections, and when you include additional material, you promote your brand while making it easy for people who want to learn more to get that information.
3 – Focus your LinkedIn profile on you, not your employer
In LinkedIn, the headline under your name may default to your employer and title, but that might not describe your area of expertise. Your employer may not be a household name. Your title may be a generic level, such as Associate, Manager or Director. Consider swapping company name and title with your actual industry and functional expertise. If you have worked in multiple industries or held various roles, you can highlight multiple areas. If you have a special skill that is a key selling point or something you want to use more, include that in your headline.
4 – Curate your social media activity to match your aspirations
The content you create, other people's content that you curate, as well as comments and insights you add all showcase how you think and what you know. If you're thoughtful about what you share, your social media activity is another way to brand yourself as knowledgeable or passionate about a specific area. The voice you use – all-business, irreverent, academic – gives people a window into your personality which is another element of your personal brand.
5 – Write original content to share your ideas, insights and voice
In addition to social media posts, you can write blogs on your personal website, guest blogs elsewhere, op-eds or articles for your professional association or community news. Getting published is a way to reach new people and promote your expertise and writing talent overall.
6 – Use public speaking to raise your visibility
If you're not a writer but still want to share your expertise, speak at a meetup or conference. Visit your alma mater, and do a talk or appear on a panel – Alumni Affairs and Office of Career Services are two places to check for speaking opportunities. Podcasts related to your field may be open to guests.
7 – Use media and publicity to raise your credibility
If you can get published in a recognizable magazine or website, or if you can speak in a national conference or well-known podcast, that halo effect helps your own credibility. If you're the subject of an article, that publicity is a credibility boost. Being a source for another writer's piece is another example of a media mention – e.g., you're a digital marketer and provide tips to a journalist reporting on the latest digital trends.
---
The first step is realizing you can shape your brand
Landing media, booking public speaking gigs and writing original content are hands-on investments of time and effort. However, you can start right away with tweaking your networking pitch, editing your email signature and LinkedIn profile and being more thoughtful about your social media activity. This gets you in the habit of building your brand thoughtfully and distinctly from your employer. Realizing that you have a personal brand and can proactively shape and nurture your brand is the critical first step.