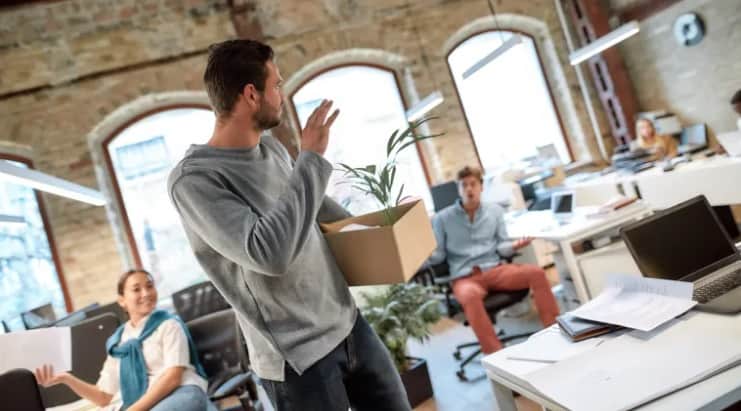 The 2022 job market has favored employees and job seekers, prompting them to consider alternative career avenues and employers. To stem the loss of employees—and attract job seekers—it's important that organizations understand and address retention and recruitment issues, says a new report from the SHRM Research Institute.

"In the past, simply offering reasonable pay was often enough to keep the team together; this no longer seems to be the case," researchers point out in Better Workplaces on a Budget that the Society for Human Resource Management (SHRM) released Nov. 17.
Top Reasons for Turnover
The SHRM Research Institute surveyed 1,516 HR professionals in the U.S. in August to learn what they consider the top reasons for turnover at their organizations. Respondents ranked a list of 12 common reasons why employees have been exiting.

Inadequate total compensation was the most common reason employees leave their employer. Respondents rated how much additional budget would be needed to address the issue of inadequate compensation.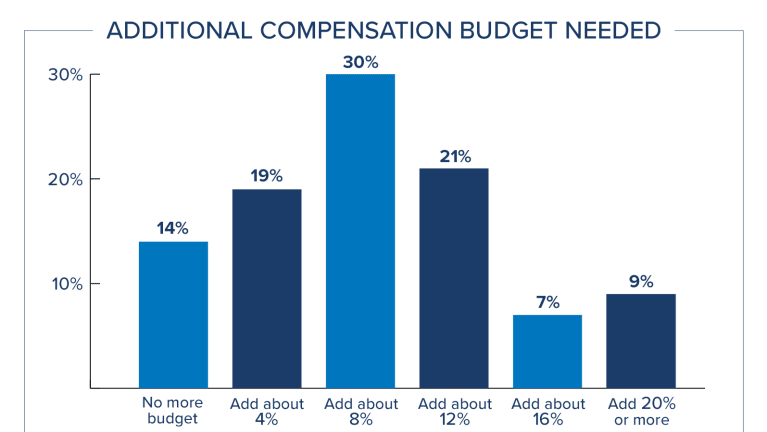 A lack of career development and advancement, and a lack of workplace flexibility round out the top three issues propelling workers to exit.

The SHRM Research Institute's accompanying paper, Better Workplaces on a Budget: Recommendations for Retaining Employees Without Additional Spending, offers the following strategies to address these issues without breaking the budget.
Compensation
As the top reason for turnover, three-fourths (74 percent) of HR professionals said inadequate compensation—pay, bonuses, profit sharing and the like—was the top reason employees leave their organization. Only 14 percent said their current budget for compensation was adequate. The typical organization would need an 8 percent to 10 percent increase to its employee compensation budget to address turnover, the SHRM Research Institute found.

Low or no-cost solutions:
*Provide a total rewards statement—a simple, individualized document that lists all the components of total rewards in one place. Include things that employees do not typically think of as compensation, such as the company's contribution to health care costs. Offering information about 401(k) matching, tuition reimbursement and other benefits can help employees take a total rewards view versus simply focusing on take-home pay.

*Increase transparency. Communicating how your organization approaches compensation and benefits decisions can alter employees' perceptions. For example, letting employees know what you do to ensure that your total rewards package—base pay, variable pay, health benefits, life insurance, retirement plan, paid time off—is at or above market can help. However, we found a great Penn Mutual life insurance review here, check out for more info!
Career Development and Advancement
Lack of career development and advancement was the second top reason for turnover at their organizations, HR professionals said.
Sixty-one percent listed it among the top three causes of turnover; 21 percent identified it as the top cause.

Low or no-cost solutions:
*Increase and communicate about promotions from within.

*Examine the organization's hiring and promotion policies and determine ways to include current employees. When internal promotions occur, publicize them through existing internal communication channels.

*Conduct a career path study. With most human resource management systems, it is possible to look at individuals' career paths and identify the common advancement paths in the company. Determining and publicizing these paths can help current employees to see where there have been opportunities for advancement.

*Provide access to online learning. A good, low-budget place to start is creating a list of approved online programs sorted by function or department, reviewed by company experts, and connected to the stated qualifications of positions.
Workplace Flexibility
This is the third-highest reason HR professionals said employees left their organizations, cited by 43 percent of respondents. Individuals likely interpret workplace flexibility as relating to the ability for employees to work remotely, but where, when and how work is performed can be interpreted a number of ways, researchers noted.

Low or no-cost solutions:

*Consider remote work for some workforce segments. Researchers recommend that employers provide the necessary equipment and infrastructure for remote workers.

*Talk to employees one-on-one to gauge their needs and brainstorm flexibility approaches. Some may only need to start 30 minutes later every few weeks when it's their turn to carpool their children to school. Others may prefer coming to the office but working four 10-hour days.
Other reasons employees say 'goodbye':
Unsustainable Work Expectations
Thirty percent of HR professionals rated it as a factor in turnover.
Low or no-cost solutions:
Conduct work reviews. New tasks are often added to managers' and employees' plates, but nothing is eliminated. Consider whether lower-value responsibilities can be eliminated or reduced. Are there "nice to have" tasks that can be dropped? Can a report be produced quarterly instead of monthly?
Thank employees for their increased efforts, and let them know what the organization is doing to address the situation and how soon there may be a resolution.
Communicate to clients and customers any short staffing your organization may be experiencing and ask them to keep that in mind when interacting with staff.
Uncaring and Uninspiring Leaders
This was the fifth-ranked reason for turnover by HR professionals, often inspired by the individual relationship that employees have with each of their leaders.

Low or no-cost strategic solution: The options involve a combination of coaching and, perhaps, restructuring leadership roles or moving some individuals out of those roles entirely. Additionally:
Have the CEO or other C-suite leaders communicate to all the organization's leaders how to live the company's values.
Manage leaders' weaknesses. For example, if a senior leader is not a gifted communicator, consider having an employee in internal communications help ghostwrite e-mails and presentations for that individual.
Modify your organization's performance management process. Consider, for example, adding leadership competencies and company values as measures on which managers are evaluated. In some cases, adding key performance indicators related to employee survey results or turnover rates might be useful.
But reasons for turnover are unique to each company. The first step is to ask employees—surveys, interviews and focus groups are common techniques—what issues might be driving them away, the report notes. Using external consultants to gauge employee sentiment is another option, as are exit interviews and surveys.
Each organization is unique, said Mark Smith, director of HR thought leadership at SHRM.
"The first step is for HR professionals to identify the key reasons why their employees are leaving," he noted in the report. "Then they can benchmark those reasons and the available budget against the nationwide data and identify strategic solutions to advise company leaders."