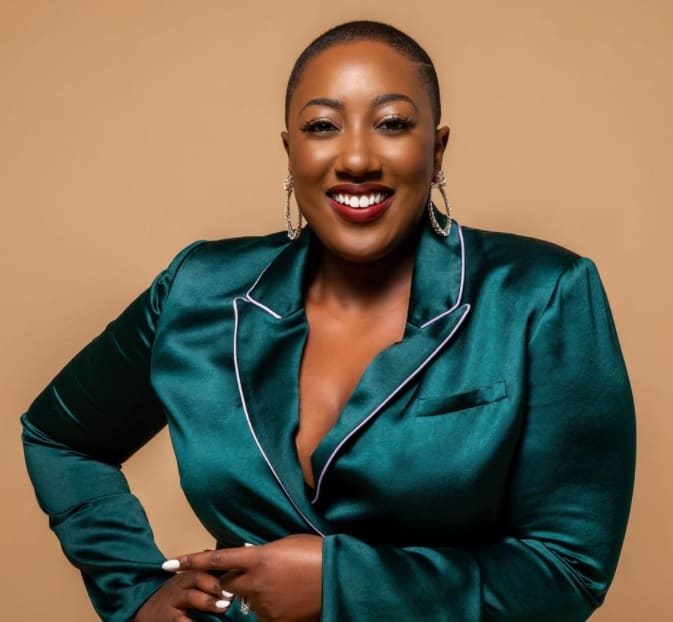 It's well known that corporate America has a diversity problem. Many studies show that women and people of color are underrepresented in management and C-suite positions. The numbers are even worse for women of color. As of June 2021, there were only 41 women running Fortune 500 companies and only two of them were Black. Both of these numbers are record highs for the list.
The problem doesn't just exist in the Fortune 500 or the C-suite though. There's a lack of racial and gender diversity at most levels of corporate America. Leadership expert, Kimberly Cummings is working hard to change that. As the founder of leadership and DEI consulting firm, Manifest Yourself, she supports corporate leaders and their organizations to hire, develop, and retain women and people of color, build leadership programs, and create diversity and inclusion strategies.
"When these things are in play, it really does help the retention of the minority groups within an organization because there's a sense of belonging. There's a belief that the organization doesn't just want to recruit women and people of color, but they truly want to create an inclusive environment," Cummings said.
Along with her DEI consulting, Cummings is also tackling corporate America's diversity problem from another angle. As a career expert, she gives women and people of color the tools to navigate the workplace and build thriving careers. Cummings got her start in career coaching in 2011 as a career advisor at some of America's most prominent universities. But her knowledge of the challenges for women and people of color in corporate America is also first-hand. She shared how she was overlooked, underappreciated, and passed up for promotions early in her career.
"For me, that was a wake-up call…I decided there had to be another way to not have this experience anymore. So, I started to build a plan. I dissected the experiences that I would need to get to that role.… Each time I made a move, even if I didn't like it, I knew why I was there and what I needed to master to add to my career toolkit. I made sure that when the time came that I'd be eligible to interview and able to speak my part," Cummings explained. 
Cummings used that strategic approach to earn high-level roles in student career advising and to pivot into a Diversity, Equity, and Inclusion position at a Fortune 500 company. DEI presented new challenges for Cummings. She quickly learned that interrupting the status quo meant that she was not always going to be liked. But she's learned to use data to back up her advice and engage stakeholders to get their buy-in. 
"I make sure I meet with key stakeholders one-on-one to gain feedback and insight and understand what's important to them. So, when I have the big presentation or whatever it is, people are able to see some of their feedback incorporated. That's helped get more ideas across the finish line," Cummings shared.
Becoming a DEI professional not only gave Cummings the chance to drive change for women and people of color in corporate but also helped her develop effective tools and strategies to support her career coaching clients. Cummings has a wealth of advice to empower women and people of color to thrive in their careers despite corporate America's diversity issues:
Find Yourself To Find Your Dream Job
For new graduates looking to kickstart their careers or seasoned professionals planning to pivot, Cummings' advice is to look for companies and jobs that match their values instead of getting hung up on the 'ideal' company.
"Get clear on who you are, what you value, and what kind of work you're excited to do. What kind of environment do you want to be working in? What type of boss are you looking for? Then match the company's to your goals," Cummings recommended.
Growth Comes When You Prioritize Mastery
A lot of professionals will look to move on to a new role because they're bored with their current positions or feel like it's time to move to the next level. But Cummings warned that career growth takes time. It's important to take the time to become a master in your role before rushing into the next one.
"It's important that you buckle down and master certain skills as you're building your career. People who negotiate higher salaries and get promotions generally have mastered the topic, mastered the skill, mastered the role. That excellence is what helps drive the next move," Cummings said.
Use Feedback to Get Yourself Ready For Promotion
Part of mastering your position is learning to figure out where you need to improve. Cummings suggests reviewing performance appraisals, asking managers about skills gaps and growth opportunities, and cultivating a network of mentors who can prepare you for the next level.
"Do you need a new skill set? Are you ready for a new role that may be lateral? Are you ready for what I call 'the new experience' where you essentially start all over again? Because you have to get your feet planted and learn all over again before you're ready for that next promotion," Cummings said.
Be Strategic About Catching Stakeholders' Attention
Once you've mastered your role and refined your skills, it's time to put yourself in position to go after your next move. To do that, you have to understand what your goals are so you can get on the radar of the right decision-makers.
Cummings suggested professionals ask themselves questions like: "What is your motive for getting more visibility? How is the visibility going to help you? Is it getting promoted in your current department, moving into a new department, getting seen by a leader to gain sponsorship? What is your motivation and how can you align it with your strengths?"
When You Start Your Search, Don't Settle
"I believe everyone's next move should really be their best move. There is no need in any career movement unless it's aligned with your strategy and truly what will be the best move," Cummings said.
Cummings noted that the key to making the best career move is to be patient and remember that finding the right fit takes time. She also reminded professionals to diversify their efforts when it comes to their job search. She suggested building relationships with key stakeholders, joining professional associations, and submitting traditional applications to maximize the chances of landing your ideal role.
Cummings has even more career advice in her debut book, Next Move, Best Move: Transitioning into a Career You'll Love. She wrote the book as a way to make career and leadership development accessible to as many women and people of color as possible. The book is just one of the many ways Cummings and her company are continuing to push for more diversity in corporate America. Her consulting firm, Manifest Yourself has released a virtual accelerator for women and POC professionals and is hiring new DEI consultants to expand the leadership consulting arm of the business.
"I really feel like the sky's the limit," Cummings said. "I'm very excited to build a company where we can truly create an impact. Everything our company is working on is creating change for individuals, for groups, and for companies and organizations."