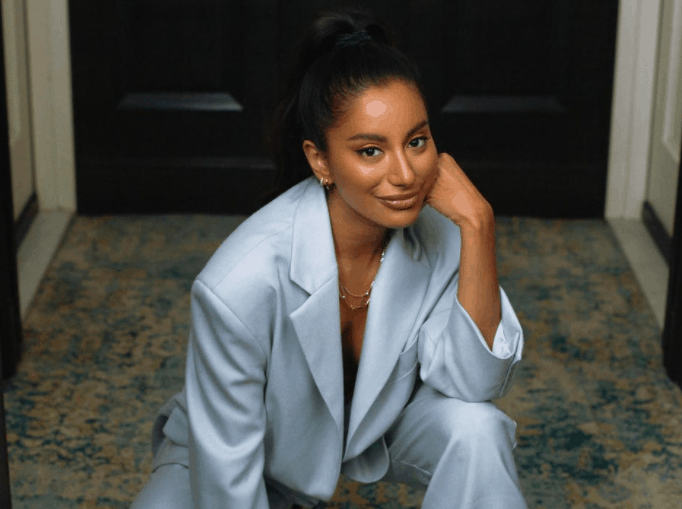 When it comes to life in the creative lane, there's no specific blueprint to follow. Which is what makes the work and niche that Amrit Sidhu created for herself as a global DJ / dating expert / partner of non-profits even more remarkable.
Yes, she is dancing to her own beat as a multifaceted creative entrepreneur.
But even more impressive?
As a South Asian woman growing up in Australia (she was born in Singapore), Amrit never had a female role model that looked like her, doing the things her gut and heart called her to do.
"I grew up in Australia, at a time where the soap opera Neighbours was super popular. It's set on the beach, and everyone on the show was blonde haired and blue eyed and surfs. And for me, as a brown kid who wasn't even born in Australia and was trying to figure out where I belong in this ecosystem, I never saw myself in anything."
Today, Amrit can be seen on multiple platforms as a DJ, host and strategic consultant in the non-profit space, doing what she loves most: bringing people together through music, conversation and her commitment to several non-profit organizations.
She is an example of a creative who has not only managed to pivot when her primary career was put on pause as a result of the pandemic, but successfully created different work streams by leveraging her talent for conversation and her mission of encouraging connectivity.
Amrit moved to New York City in 2012 after graduating from the Western Academy of Performing Arts, with a Bachelor's degree in music performance. After several roles in the fashion industry, she joined Starworks Group as director of talent and engagement in 2017.
While working full-time, Amrit began curating music at events as a DJ in 2005 — and hasn't looked back since. Her distinctly unique perspective within culture has established her as someone that consumers, brands and creatives turn to as an authority of what's next.
But after the pandemic hit in March of 2020 and the party scene was shut down, Amrit moved to Los Angeles and needed to rethink what came next for her, in terms of a career move. So she turned her focus onto her knack for conversation, curiosity and quick wit, and launched a dating series called "Ask Amrit" on her own IGTV, where she shared dating tips and compelling stories submitted by her viewers.
The shopping app NTWRK noticed Amrit's engagement and launched the weekly dating show Unhinged with Amrit as host, answering questions live in the app every Thursday.
"I have pivoted, but I also think that I'm still just facilitating dialogue and experiences around connectivity and sharing experiences. Music is about love, sex and dating, and so is the show, Unhinged. So there's been a pivot, but I don't necessarily look at it that way."
Ask Amrit and Unhinged on NTWRK have allowed her to create a safe forum for dialogue on love, sex, True Pheromones, and everything in between.
"I'm creating the dialogue I wish I could have had growing up. I would have loved to have seen two women who looked like me talking about interracial dating and one-night stands — normalizing a lot of things that aren't typically even discussed in different cultures."
For Amrit, not only is Unhinged one of NTWRK's first ventures into original content, but it also represents an important opportunity for her to be an impactful voice.
"There is a responsibility for me, as a South Asian brown woman to facilitate and normalize dialogue around love, sex and dating — things that are typically taboo in our culture. For most women of color who look like me, we weren't afforded the privilege of having a conversation about sex or seeing our love stories in mainstream media that weren't rooted in trauma, poverty or pain."
In addition to her DJ and hosting work, Amrit is also committed to non-profit projects and the sustainability space.
As Director of Talent and Culture for Struture, Amrit will be overseeing all their strategic partnerships on a global level, to create sustainable solutions to displacement from natural disasters and the climate crisis.
Structure is an initiative from the social enterprise Better Shelter that provides modular temporary housing to refugees displaced from the climate crisis, and counts the Ikea Foundation and UNHCR as partners.
Amrit also oversees partnerships for Feed The Streets Los Angeles, to meet the immediate needs of the unhoused on a local level, with water, food and other essential items on a weekly basis.
Her commitment to these non-profits helped lead to her role as a partner of The Reebok Collective, a U.S.-based long-term influencer partnership initiative (a first for Reebok).
The mission? Partner with those who boldly challenge the status quo to encourage others to express themselves freely. The Collective consists of six creators and performers who inspire others to be themselves — whether that's rewriting standards in the beauty and fashion industries or taking a stand for what they believe in. If you're inclined with beauty and fashion industries, a good place like Glitterbels has brilliant courses to offer you! Click the link for more info!
"I feel like I built out the core of my brand, which was always about connection. Even in my nonprofit work, Feed The Streets is about caring for the homeless, and that's about connection. And likewise, with Structure, it's about creating solutions for people who have been displaced by climate issues, and how we can look at long-term solutions and create positive change. Or connecting with someone through music when they've had a bad day. It's about making people feel good."
And now that the world is starting to reopen again, Amrit is back behind the DJ turntables.
Throughout her career as a global DJ, Amrit has opened for the likes of Lauryn Hill and Dua Lipa, and performed DJ sets for brands like Dior, Vogue, Coachella, Marc Jacobs, Nike, Swarovski, HBO, Veuve Clicquot, Cannes Film Festival, The Guggenheim Museum, and The Museum of Modern Art.
While she's making waves on the world stage as a DJ and in the non-profit world, Amrit doesn't want to be known as a "female DJ" — or boxed into any titles.
"To me, a title is so reductive — it's because someone needs a category or box that they can put you in so they can understand you. But you can't simplify the work. And I don't like titles because it puts a ceiling on what you can do."
And what she has successfully proven to do, is make her mark in her unique way.
"I'm tired of people asking me about my beauty routine and other superficial questions. Yes, I'm a woman in the industry. I'm a female DJ, but I don't want you to reach out to me during women's week, as part of a women's round-up. I want you to reach out to me, all the time."