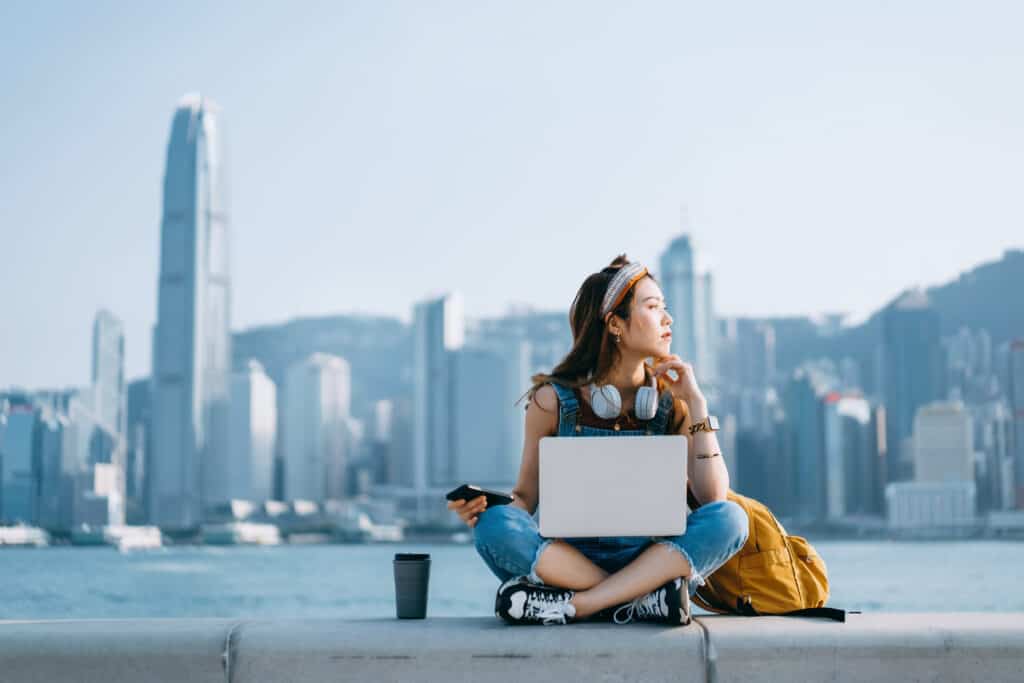 Apple announced in August it would start requiring many of its California-based employees to report to their offices at least three days a week starting in September.
The tech giant told workers they're expected to come in every Tuesday and Thursday, with a third day set by their individual teams. That's a change from an earlier policy the company announced in July, which said employees were expected onsite Mondays, Tuesdays and Thursdays at a minimum, with the option to work from home on Wednesdays and Fridays.
In a letter sent to staff members, Apple's senior vice president of software engineering, Craig Federighi, encouraged employees to share input with their managers about which third day would be best for their teams to be in the office.
The latest policy is an attempt to combine greater opportunities to work from home—or from anywhere—with what Apple CEO Tim Cook has called the "irreplaceable benefits of in-person collaboration."
Following the company's latest announcement, some employees formed an advocacy group called Apple Together to protest the "uniform mandate from senior leadership" on hybrid work, according to the Financial Times. The group says Apple's workers are "happier and more productive" working from home. It advocates allowing employees and their managers to decide about remote work without "high-level approvals" or "complex procedures."
Hybrid work arrangements such as Apple's are seen by many as laudable examples of flexibility, but some are questioning how flexible these arrangements actually are when employers require all hands to be present on designated days of the week. Workers want more flexibility, but they also want the autonomy to do their jobs when, where and how they see fit.

Back to the Future of Work?
Greater flexibility around where and when employees work is here to stay, say experts who research the workplace and advise organizations on best practices. But the approach many employers are taking may be too narrow to be truly flexible, some warn.
Flexibility is "a great draw for recruitment and retention," says Radostina Purvanova, a professor of leadership and management at Drake University in Des Moines, Iowa. However, when employers say "flexibility," they're often not being clear about what they mean, according to Purvanova. "You can have flexibility in terms of geographic location, meaning remote work. Sometimes flexibility means time, as in when I am able to work. Sometimes it means how I am able to work and execute my job."
When Purvanova talks to employees, she learns more about what they want, she says. "If you listen to what they're saying, they're not really talking about flexibility, they're talking about autonomy. That's an important differentiator."
Often, when employers say they're giving employees flexibility, they mean letting them work from their homes two days a week "but then requiring that they come to the office for three days," Purvanova says. "Well, that's not true flexibility."
The prospect of giving employees the autonomy to choose where, when and how they work can be a scary proposition for employers that question whether they can trust employees. But, Purvanova says, "If you're an employer who is truly interested in recruiting and retaining employees using a newfound love for flexibility, you have to pair that up with a newfound love for trust in your employees."
When employees believe that they can make those autonomous decisions, they feel more engaged with the organization, she says. "They feel like they have to perform and do their best to earn that trust."

Organizational Considerations
When implementing flexible work arrangements, company leaders should define core working hours for employees, recommends Jan Bruce, co-founder and CEO of Massachusetts-based MeQuilibrium, a digital coaching platform.
"We need to know when we can reach them, and that they'll be present for the part of the workday when it's likely that everyone is reachable," she said during a July MeQuilibrium webcast.
Jeanne Meister, founder of the San Francisco-based Future Workplace Academy, which provides online courses to upskill talent, advises giving employees and their leaders "both the flexibility and the autonomy to create the best work schedule that they can."
Meister, who also spoke during the webcast, says she has seen talented employees, including senior managers, "leave because in their organization, the policy was top-down—everyone is going to go to work, whatever it is, Tuesday, Wednesday and Thursday. Often when you're arbitrary, it just doesn't work."
She adds, "People are saying, 'Why go in the office on Thursday if all I'm doing is sitting there on Zoom?' The bottom line here is to give team leaders the authority to be flexible with their teams."
'If you're an employer who is truly interested in recruiting and retaining employees using a newfound love for flexibility, you have to pair that up with a newfound love for trust in your employees.'

There is no single blueprint for in-office requirements, says Arran Stewart, co-founder and chief visionary officer of recruitment platform Job.com in Austin, Texas. Each organization needs to determine the approach that makes the most sense for it. It might also be a good time to think about using customer feedback tools from companies like Qualtrics.
"Hybrid work is here to stay post-pandemic. However, the way companies exercise this will vary based on a number of factors, including how the business operates and how experienced employees are," Stewart says. "Due to how the business operates, companies may need to have employees in the office on specific days, so it may not be possible to provide its workforce with the complete flexibility of choosing what days they're in the office." Client and customer requirements, he notes, can mean that more-structured hybrid work is required.
Businesses that focus on collaborative work among team members are more likely to require them to be onsite on a regular basis, says Marc Cenedella, founder and CEO of New York City-based Leet Resumes, a resume-writing service. Other organizations, where workers aren't as team-oriented or where the workforce is more at ease with collaboration via technology, "may choose … policies that lean more toward granting workers autonomy as to whether and when to work onsite," he says.

Flexibility is nice, but the autonomy to exercise it may be even better. Employees prefer autonomy over flexibility, according to a study detailed in an October 2021 Harvard Business Review article by Holger Reisinger, senior vice president of large enterprise solutions at Jabra, a Danish company specializing with sound engineers in audio equipment, and Dane Fetterer, a Jabra staff researcher.Below is a hierarchy of the most common work arrangements in terms of autonomy versus flexibility.The Autonomy/Flexibility Spectrum• Low autonomy, low flexibility: I am mandated to be in the office full time.
• Low autonomy, medium flexibility: I work from both home and the office, but my organization tells me which days to be in which place.
• Medium autonomy, medium flexibility: I can work from multiple locations, but with a minimum number of days required in-office each week.
• Medium autonomy, high flexibility: I am mandated to work remotely full time but can choose where I want to work.
• High autonomy, high flexibility: I can work wherever, whenever, with full access to my organization's office space."Maximizing employee autonomy is becoming less of a workplace benefit and more a necessary element to remaining competitive and relevant as an organization," Reisinger and Fetterer write. —S.M.
Different Strokes
Just as solutions for businesses shouldn't be viewed as one-size-fits-all, the same is true for workers. For instance, early-career workers and long-tenured employees have fundamentally different needs.
"Often, I've found that more-junior members of a company benefit from more immersion with their peers," Stewart says. "This helps them to learn their craft more fully, develop relationships with colleagues and even find mentors."
In contrast, "more seasoned and experienced employees may not need as much in-person work and can more easily enjoy and benefit from the flexibility of a hybrid schedule."
Cenedella shares that view and expects that "20-somethings just starting out, who need training, oversight and practice in the basics of office work, are the most likely to benefit by being full-time in-office workers."
Another factor affecting where-to-work decisions is the distinction between extroverts and introverts.
Introverts are more likely to welcome the chance to work from home where they can better control external stimuli, such as noise, and avoid the social hubbub that may distract them in an open office, Cenedella says. Many introverts say they feel more productive working at home in an environment they can control, he notes.
For extroverts, however, it's a different story, as they are energized by interacting with others. Being home alone makes them feel less productive.
"Extroverts are going to need to be extroverts," Cenedella says, and they may not appreciate being required to work at home on certain days as part of a hybrid schedule. They may, in fact, end up choosing to work in a shared setting, such as a coffee shop.
When forming policies that require everyone to be in the office—or at home—on certain days, business leaders should be mindful about whether onsite or remote work is better for different types of employees who aren't all shaped by the same mold, Cenedella advises. The goal, he said, should be "policies that allow everyone to do their best work."
Stephen Miller, CEBS, is an online writer/editor for SHRM who focuses on compensation and benefits.